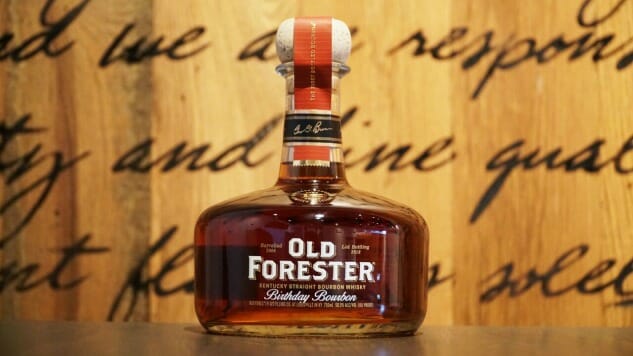 Each year, Old Forester releases Birthday Bourbon, a special release to commemorate the birthday of its founder, George Garvin Brown on September 2nd and this year is no different.
Actually, it is a little different; this year's bottle is the first to be bottled at the company's new distillery in Louisville's iconic Whiskey Row. It recently took over the same spot where it existed prior to Prohibition.
The small-batch bourbon was made using 120 different barrels that were all distilled on June 9, 2006 — and it's pretty fantastic.
"I find this year's expression to possess a flavor profile perfectly aligned with the time of year in which it is released – days are subtly shortening, and we find ourselves indulging on the last remnants summer has to offer, all the while longing for the upcoming autumn transition – like a late summer evening at a lake house, enjoying a cherry cobbler, speckled with crunchy toasted almonds, still perfectly residually warm from the oven; sipping a tepid hot toddy, lemon wheel lazily floating in the mug as the stars begin to present themselves across the falling night sky," Old Forester's Master Taster, Jackie Zykan said in a release announcing the bourbon.
Old Forester recently sent us a tiny taste of what's going into the bottles this year, and suffice to say: it's pretty fantastic.
On the nose, you get cherry cobbler, caramel, and a touch of charred oak. Your first sip of the mahogany liquid is also packed with caramel notes with hints of dark chocolate, It's a description that makes it sound overly sweet, but it's not. That caramel gives way to charred oak, and a bit of creaminess. The spirit finishes with hints of lemon and honey, as well as a little bit of that cherry cobbler.
It's a divine release, and a limited one. This year only 2,400 6-bottle cases will be released, each at a suggested retail price of $99.99. If you happen to come across one, I assure you that it's worth every penny.