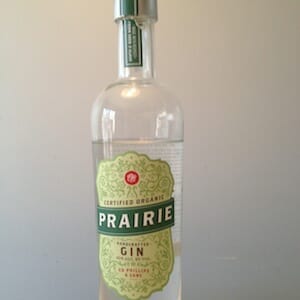 As a rule, I'm a big fan of alcoholic beverages that make me feel good about myself as a person. Like, if the proceeds from a certain beer go to outfit an orphanage with Wiis and big screen TV's, I'll buy that beer. See, I'm a giver.
Enter Prairie Gin, a certified organic gin made from corn harvested from family farms in Minnesota. You see, if I read a marketing nugget like that, I think to myself, "if I drink this gin, I'll send a farmer's kid to college." So I drink that gin. Because, like I said, I'm a giver.
There's a great deal of detail on Prairie's website about the meticulous nature of organic farming that's actually kind of interesting. For instance, instead of herbicides, the farmers used field fires to eliminate weeds. Who knew? And the distillery turns the leftover corn husks into biofuel.
Okay, I'm getting all warm and fuzzy inside just thinking about the do-good actions that go into this bottle. As for the gin inside that bottle? The attention to detail in the farming and distilling pays off. Prairie Gin won gold at the San Francisco World Spirits Competition this year, and I think I know why. I'm just speculating here, but I think this gin is wrapped in a gold medal because it's so damned easy to drink.
Prairie goes easy on the botanicals, with much lighter notes of juniper than you might expect from a gin. The proof is also slightly lower (80 proof, compared to many gins that hit the mid 90s), so there's less heat on the backend of each sip.
As a result, Prairie is incredibly smooth when sipped neat, with a mild mingling of botanicals—just enough to let you know you're drinking gin, not vodka—and a faint hint of pepper. Hardcore gin lovers might miss the heavy notes of juniper, but in its place, you get a rich, almost creamy texture that's hard to find in most gins.
It's a hell of a gin to sip neat (not something I say too often), but drop an ice cube into the mix, and the botanicals all but vanish. Mix in tonic, and Prairie disappears altogether. Instead, consider this your go-to martini gin.
In fact, here's an easy recipe for Prairie's Garden Martini.
2 Ounces Prairie Organic Gin
2 Teaspoons dry vermouth
1 Rosemary sprig
3 Pitted olives
Combing gin, vermouth, and ice in a shaker and gyrate. Strain into a martini glass. Skewer the olives with the sprig of rosemary for a garnish that beats the hell out of a toothpick.