Though mainly mixed with tonic for a refreshing summer drink, gin makes an excellent base for winter drinks. Derived from the juniper tree, an evergreen, it adds a touch of seasonal festivity for this cold time of year. Fun trivia: In Greek mythology, pomegranate seeds are the cause for winter in the myth of Demeter, Persephone, and Hades. So we give you two pomegranate based cocktails in the list below. And so, so much more. Here are five gin-based cocktails that will cure your winter blues.
Pomegranate Punch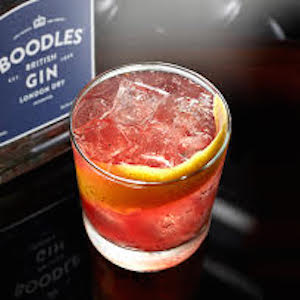 Courtesy of Boodles Gin
Ingredients
2 oz. Boodles Gin
.75 oz.100% pomegranate juice
.25 oz. fresh lemon juice
.5 oz. sumac syrup *
1 dash grapefruit bitters
Directions: Combine all ingredients in a cocktail shaker over ice and shake vigorously. Pour over fresh ice in a rocks glass. Add a splash of club soda. Garnish with a long lemon peel.
*Sumac simple syrup: To make one quart: Bring 16 oz. water to a boil. Remove from heat. Add 6 tablespoons ground sumac. Steep 10 minutes. Add 16 oz. white granulated sugar. Stir until dissolved. Let steep overnight, then strain through fine mesh.
Aviation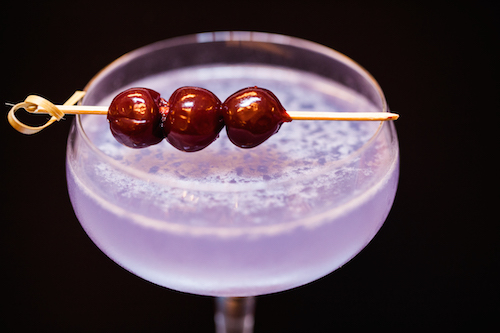 Courtesy of Kingside, located in the Viceroy New York hotel, NYC
Ingredients
.75 oz. Lemon juice
.5 oz. Creme de Violette
.5 oz. Maraschino
2 oz. Bombay Sapphire Gin
Directions: Shake ingredients over ice. Serve in a coupe glass and garnish with three bourbon-soaked cherries
Grizzly Berry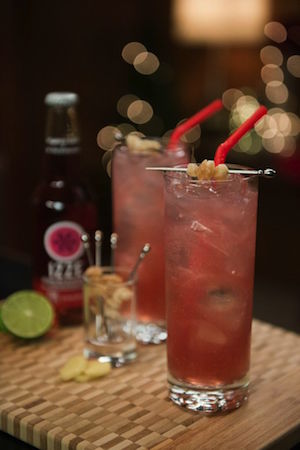 Recipes curated by Alie Ward & Georgia Hardstark, a.k.a. Alie & Georgia, host Cooking Channel food-travel series Tripping Out with Alie & Georgia
Ingredients
3 coins of peeled fresh ginger?
2 oz. gin?
.5 oz. fresh squeezed lime juice?
Two dashes bitters?
3 oz. IZZE Sparkling Blackberry
Candied ginger for garnish
Directions: Peel fresh ginger and cut three coins into coarse pieces. Muddle in the bottom of a metal cocktail shaker until well macerated. Add gin, lime, bitters, and ice, and shake vigorously. Pour into a collins glass filled with ice and top with IZZE Sparkling Blackberry. Garnish with a pick speared with candied ginger. Rejoice in berry spicy deliciousness. Yield: 1 serving
Basil Haven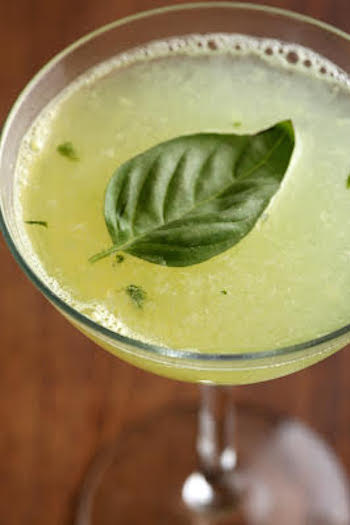 Courtesy of BLT Bar & Grill, NYC
Ingredients
1 oz. Hendricks Gin
.5 oz. St. Germain Elderflower Liqueur
.75 oz. Lemon Juice
.75 oz. Simple Syrup
2 Basil Leaves
1 tbsp. Cucumber
Directions: Muddle basil leaves and cucumber and shake with remaining ingredients over ice. Strain into a coupe glass.
The Garnet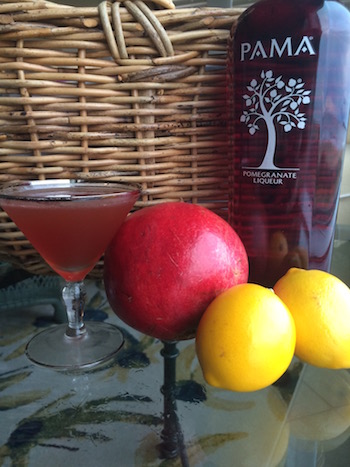 Courtesy of Jason Cousins of Da Claudio, NYC
Ingredients
.75 oz. London dry gin
.75 oz. PAMA Pomegranate Liqueur
.75 oz. sweet vermouth
.75 oz. Meyer lemon juice
Directions: Juice a few Meyer lemons in a hand juicer. Combine all ingredients in a cocktail shaker with ice and shake. Strain into a chilled cocktail glass. No garnish.