This Beer Bar is Throwing an Epic Rick and Morty Party, Complete with "Eye Holes" and "Fleeb Juice"
Drink
News
Rick and Morty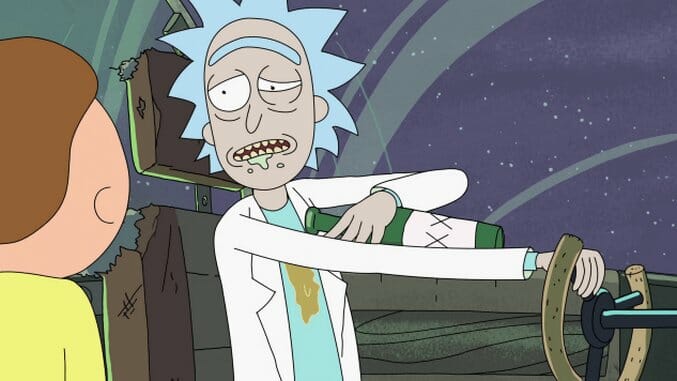 In today's "Oh god, just hurry up and get here already" news for Rick and Morty fans salivating over the prospect of season 3 finally beginning to air on Adult Swim at the end of July, we have an epic R&M bash in Chicago that will surely be a must-attend for any fans of the show in the Windy City. The July 23 brunch party is bringing a full array of R&M-themed food and drink for its festivities.
The bar in question is Headquarters Beercade, a small chain of craft beer/arcade bars with two locations in Chicago and one in Nashville. On the beer side, the event will be presided over sought-after Indiana beer/heavy metal gods Three Floyds, who will be pouring a variety of selections. Combined with the arcade setting, it seems that Headquarters is trying to replicate their very own spin on Rick's favorite destination … BLIPS AND CHITZZZZZZ! No word yet on if Roy 2: Dave will be among the games present.
The real fun, though, is in the absurd themed dishes and drinks that Headquarters has crafted for the occasion. They include:
– Concentrated Dark Matter, made with bacon jam, charred mushrooms, caramelized onions, truffles, and sea salt served on toast;
– Eye Holes, made of meatballs in a green tomato sauce with mustard and greens;
– King Jellybean Wings, Cap'n Crunch coated chicken wings with a reduced Jelly Bean sauce.
– Fleeb Juice made with violet liqueur, rosebud syrup, lemon, Hendrick's gin, and champagne;
– Love Potion Morty-ni's made with tangerine Red Bull, cream, vanilla, Galliano, and Control pisco.
All we can say to that is: REDUCED JELLY BEAN SAUCE???
The event will also involve a costume contest, and "Virtual Rick-ality" will also be on-site for anyone who wants to partake in the official Rick & Morty virtual reality experience.
Tickets to this epic R&M brunch party are $37, and one has to assume they will sell out fast. You can find more information and snag a ticket here, if you're lucky.