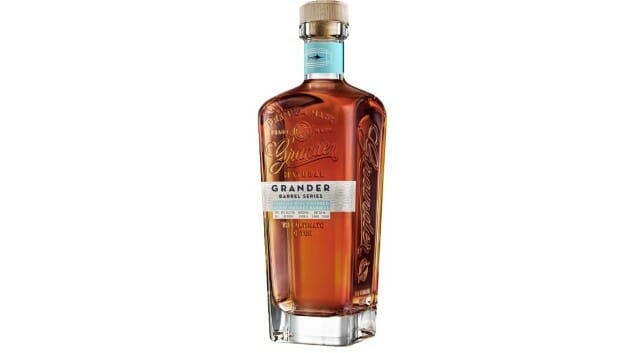 Spirits geeks have a tendency to refer to whiskeys or rums that spend their last few months (or years) in a new style of barrel as being "finished" products. That terminology flows from the distillers and marketers themselves, as terms like "sherry cask-finished" or "wine barrel-finished" have become ubiquitous. It's the sort of classification that is a godsend for smaller blending companies in particular, as it allows them to source an interesting spirit, finish it in whatever way sounds appealing to them, and end up with a product that is distinct enough to base a press release around. Certainly, it's one of the most feasible ways to stand out when competing against the giants of an industry like whiskey or rum—cook up some unusual finishes and hope the public is intrigued by them.
Grander Rum, to its credit, doesn't base its entire company around that concept, though. The bulk of their releases are simply sourced, aged rums from Panama, ranging from 8 to 12 years, available in several strengths, including a cask strength single-barrel bottling. The newest, however, is dipping a toe into those "finished" waters, with the release of Grander Rye Finished Rum.
This first batch, designated 1908-R, is a blend of 12-15 year old, 100 proof Panamanian rums, "aged in ex-bourbon barrels from Kentucky and then finished 8 months in American white oak barrels previously used for aging Kentucky rye whiskey." A different press source notes that the rye barrels are from Heaven Hill, a personal favorite distillery of mine, and the producers of notable ryes such as Rittenhouse, Pikesville and the just-released Elijah Craig Rye. Certainly, hearing that, my curiosity was piqued, so I requested a sample of Grander Rye Finished Rum. Here's what company founder Dan DeHart says by way of description:
"Time in the barrel plays a momentous role in developing the profile of a spirit and we are excited to add new layers of flavor by finishing our rums in unique barrels. Rye whiskey imparts a beautiful spicy note that is distinctive and finishing in rye barrels delivers a uniquely different and beautiful rum hard to find in the market today."
This is a pretty limited release, with only 1,680 bottles available, although the MSRP is actually considerably lower than I would have assumed, at roughly $65 per 750 ml bottle.
So with all that said, let's get to tasting and see how this rye whiskey barrel finish affected its Panamanian rum.
On the nose, I have to admit that my immediate impressions on this rum were a bit on the confused side. It's possible that my relative lack of familiarity with rum from Panama plays a role here, as I have consumed considerably more Caribbean rum/agricole rhums over the last few years, but I was initially thrown for a loop by either the rum itself or the results of its rye whiskey barrel finish. There's a fruity element, which reminded me of something like pears, and a strong waft of perfumey potpourri and florals. At the same time, however, the nose was afflicted by a solventy note, which reminded me somewhat of the abrasive nature of permanent markers—not the kind of "raw booze" note you expect in a 12-15 year aged rum by any means. To its credit, I found that this note on the nose began to fade over time as the rum sat in my glass, as if it really needed some time to breathe, which brought forth new notes of rye spice and sour apple.
On the palate, thankfully, I don't really get that solventy note, but this is still pretty hot, even considering the 100 proof. Toffee, marzipan and citrus present themselves immediately, leading into peppery spice and an almost chile-like, tingling warmth. There's a bit of molasses cookie sweetness, but it's a bit difficult to know which aspects to attribute to that rye whiskey finishing barrel. The spice, most likely? The heat, probably not.
Rarely do I advocate for whiskey and rum expressions to be bottled at lower strengths, but I wonder if perhaps a 90 proof expression of this Grander Rye Finished Rum would have allowed for more focus on its richer elements and tamed the harsher elements of its alcohol presence a bit more. All in all, there are elements of this that I quite like, but it feels a bit disjointed as a whole. Still, it's certainly fairly priced, and devotees of Heaven Hill and its ryes may find the prospect irresistible.
Distillery: Grander Rum (DeHart Spirits, LLC)
Country of origin: Panama
ABV: 50% (100 proof)
Availability: Limited, 750 ml bottles, $65 MSRP
---
Jim Vorel is a Paste staff writer and resident spirits geek. You can follow him on Twitter for more drink writing.