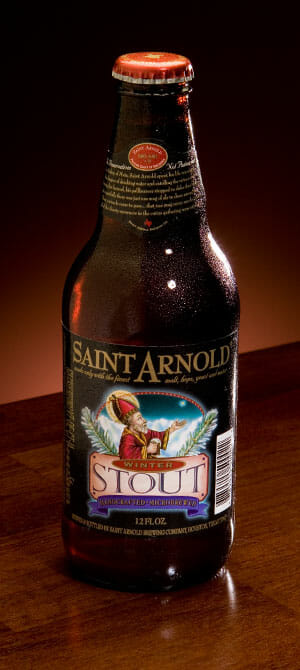 If you're in the midst of one of our nation's many blizzards or freakish cold snaps, have no fear: there is a stout from Saint Arnold Brewing in Houston that is sure to warm your bones.
The famed Houston brewery (and oldest craft brewery in Texas) introduced its Winter Stout in 1997. Over the years, it has earned renown and awards across the globe, including the silver medal in the sweet stout category of the Great American Beer Festival in 2002. It's still a fine example of what a sweet stout should be.
There is something delightful about this stout, which has a Grand Canyon-like depth, a complexity that most likely stems from the care and time that is put into this particular beer. Saint Arnold uses four different types of roasted barley in the brewing process, including a large helping of specialty malts, and two different varieties of Pacific Northwest hops.
All of this effort results in an incredibly full-bodied beer, packed with lots of coffee and dark chocolate flavor, and a strong roasted malt backbone. The beer pours dark (this is a stout, after all) but if held up to the light, there is a reddish tint to the brew. It begins with a pounding of malt on your palate, then delivers a bitter kick that's quickly subdued by a wave of dark chocolate. The beer starts and finishes strong, and continues to hang out on your tongue even after your final sip. It's almost like having a dark chocolate milkshake, an idea that I'm copyrighting right now.
Like all good sweet stouts, Saint Arnold's Winter Stout is layered and complicated, and the perfect beer to look forward to during our nation's current stretch of Day After Tomorrow weather.
Brewery: Saint Arnold
Style: Stout
IBU: 36
ABV: 5.6%
Availability: December through February