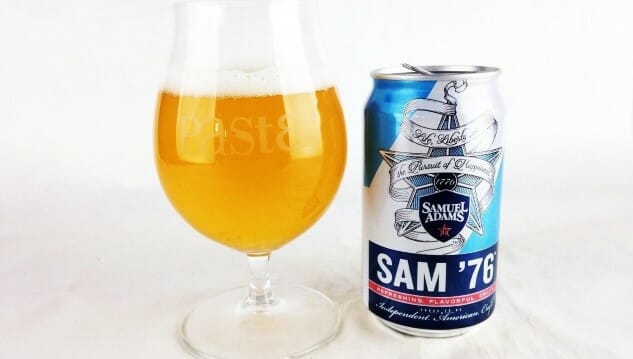 It's been well publicized that Boston Beer Co. has been having a pretty tough year—or a pretty tough couple of years. As the number of breweries in the U.S. balloons past 6,000 and local competition keeps springing up, sometimes irresponsibly, in markets that likely can't support another brewery, and the overall beer market simultaneously shrinks, many brewers are feeling the pinch. This goes double for BBC, the makers of Samuel Adams, who have seen their beer sales contracting and have increasingly turned to the boost they get from their Twisted Tea and Truly Spiked and Sparkling brands.
What Boston Beer Co. needs, in their own eyes, is a shot in the arm—a beer to galvanize a mass market and get people excited.
I'm not positive that beer is Sam '76. But I am certain that this beer is delicious. A unique fusion between lager and ale, it's a beautifully made, easy-drinking triumph that the guys at Samuel Adams should be very proud of.
Reportedly made by blending together completed lager and ale recipes, the results are subtle and sublime. On the nose there's a significant hop presence—more than I personally expected—with pleasant notes of Meyer lemon and sweet Clementine, chased by touches of bready, doughy malt and grass/florals. It reminds me a little bit of a great American pale wheat ale, dosed with hops.
On the palate, you get more of that very nice crisp grainy/biscuit/doughy malt character, with a little bit more body/chewy texture than expected, followed by citrusy hops in good balance. Hops are a bit less assertive here than they are on the nose; you won't be mistaking it for a pale ale anytime soon. Rather, it's a very well-balanced interplay between bready malt and lemon zesty hop flavors, and as easy drinking as you would likely expect it to be.
What Boston Beer Co. has pulled off here is something not easy to do—a very drinkable, positively "crushable" beer that still has plenty of soul to it. It feels like a new go-to poolside beer. An inner-tubing beer. A golf course beer; my god, this beer was meant for a golf bag. More than anything, while drinking it, I get the sense that the brewer achieved exactly what he or she was setting out to do, and I can easily admire that. Credit where credit is due.
Is it the kind of thing that turns around the fortunes of the country's second largest craft brewer? Hard to say, but it's certainly a great place to start.
Brewery: Boston Beer Co.
City: Boston, MA
ABV: 4.7%
Availability: 12 and 16 oz cans, nationwide
---
Jim Vorel is a Paste staff writer and resident beer guru. You can follow him on Twitter for more drink content.