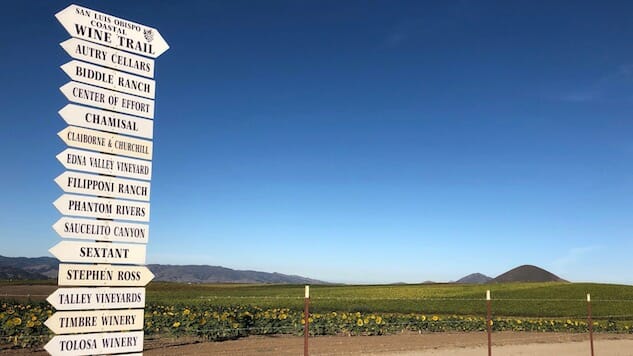 I don't care where you're going. No one wants to wake up at four a.m. and endure an hour-long drive to the airport, just to spend the better part of a day flying. But if you live on the East Coast, getting to Central California ain't easy.
But at the end of what proved to be a very long day, I was standing on the beach at dusk with a can of craft beer in my hand as the sun dropped into the Pacific and a bon fire raged behind me. Next to me sat a bowling ball-sized bread bowl filled with Splash Café's famous clam chowder, made from three different kinds of bivalves and fortified by a hearty dose of their own Raucous Daucus carrot pepper hot sauce, flavors that perfectly complimented that can of light blonde ale—and suddenly all that exhaustion, time zone confusion, and lost time pulling myself across the country simply added a touch of surreal to all the splendor.
I honestly didn't know what to expect when I arrived in San Luis Obispo's airport and posted up in Pismo Beach, a sleepy beachside town replete with retro '50s neon signs adorning most store fronts and restaurants and an overall low-key vibe that lives at the intersection of surfing, 4×4s and dirt bikes, dive bars, and family-friendly boardwalks. It's a place of gourmet donuts served without pretense to a steady queue of customers at Surfside Donuts, massive liquor stores that stock 14-ounce cans of local beers, a rooftop bar that serves slushy wine cocktails, and the near-constant temptation of tri-tip BBQ, a slow-cooked triangular cut of beef from the bottom of the sirloin, rubbed with spices and cooked over wood chips, a local specialty. But expectations are a fool's gambit. Standing on that beach as dusk gave way to night and the sparks from the fire rose up to meet the stars, I knew I was in precisely the right place, 40 degrees warmer than where I had waited in the pre-dawn hours for a ride to the airport.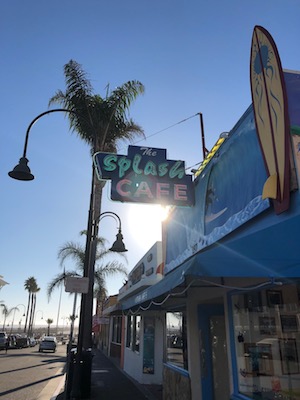 San Luis Obispo County sits equidistant between Los Angeles and San Francisco—a four-hour drive from both metropolises. But SLO CAL, as it's known, is much further away than those two high-energy cities in terms of atmosphere and attitude. Squint and you might see a bit of San Fran's early hippy hey day in here, long before Silicon Valley transformed SF into a landscape of impossibly high-cost real estate ventures. But SLO CAL also embraces other elements of its host state—a love of the ocean, mountains, wine, craft beer, locally sourced cuisine—and blends it with a very relaxed, chill vibe more akin to the iconic "hang ten" image of 1960s California, mixed with a welcome touch of rough-neck affection for fishing, drinking beer, driving hummers over vast sand dunes, and building bon fires on the beach.
Much of that low-key vibe likely originates from the opulent nature that's on easy display. You've got the crashing waves of the Pacific, along with the rugged and steep cliffs that give way to Big Sur, which butts up against the northern border of the county. But you also get mountain ranges that rise from the ocean, creating a natural barrier from the brisk breeze that blows off the Pacific during the off season, followed by gentle slopes that give way to extensive valleys filled with more mountains, ranchland, and pockets of small towns dotting major throughways like the 101 and the iconic Route 1. And, unlike its densely populated neighbors to the north and south, much of San Louis Obispo is refreshingly undeveloped, in large part because a good chunk of the land is preserved by national and marine protection areas, including Monterey Bay National Marine Sanctuary, which stretches from San Fran's Golden Gate Bridge down to Cambria in San Luis Obispo County. Locals are also in on the game. Most private land-owners are farmers, vineyard-owners, or ranchers, committed to keeping the land—and the beaches—as pristine as they are right now.
As a result, it's an outdoor-lover's playground. In a 72-hour period I rode in a Hummer across the vast sand dunes on Pismo State Beach, the only state park in California that allows 4×4s and camping on the beach, with Pacific Adventure Tours. I soaked in the natural hot springs at Sycamore Mineral Springs Resort, biked vineyard to vineyard in the Edna Valley, sailed off the coast of Avila Beach, paraglided with WingEnvy over a sprawling ranch, and zip-lined over the vineyards at Ancient Peaks Winery with Margarita Adventures, the leaves on the vines a brilliant autumn red—and that's not even counting the things I didn't do, like surf off Pismo Beach, or hike the Boucher Trail to the Piedras Blancas Lighthouse after cavorting with a massive elephant seal population, or stand-up paddle in Morro Bay.
The cities and towns of SLO CAL are arranged the way a handful of dice would fall haphazardly on a table, some rolling to the western edge, making for quintessential beach towns like Pismo Beach or the sleepy 'burg of San Simeon, which makes Pismo feel like a thriving metropolis. (If it's a remote and rugged beachfront view you crave, bed down at San Simeon's Cavalier, an oceanfront resort that carries an impressive array of local beer, wine, and cider.) Other cities are scattered across the eastern stretches of the county, both big-scale scenes like San Luis Obisbo proper—your likely gateway city—as well as smaller spots like Santa Margarita and Templeton. With a total footprint of 3,616 square miles, San Luis Obispo offers a range of different tastes for a variety of appetites, but they all come with that decidedly friendly, low-key vibe.
Wine-lovers should laser focus first on Enda Valley. Unlike Napa or Sonoma, this verdant valley carries a distinct lack of pretention, with wine tastings that run around $20 for five pours—a charge that's dismissed if you buy a bottle (and you will). The region has won copious praise for their chardonnays, the first variety planted in the valley. But thanks in large part to its proximity to the ocean, the soil here lends grapes that highlight minerality over sweeter, buttery chardonnays typically associated with California. Chamisal Vineyards pours a 2016 chardonnay that's aged in stainless steel to avoid any of the sometimes cloying oakiness derived from barrel-aging, while Biddle Ranch makes a chardonnay that goes through it all—French oak barrels, stainless steel, and concrete—that really highlights the mineral presence of its soil, which is rich with ancient oyster shells. If you can find it, their syrah alone is worth the flight to SLO CAL. The region also produces surprising varietals like brightly acidic albarenos, sav blancs, and refined and complex pinot noirs.
The two vineyards mentioned above are part of the bike-friendly San Luis Obispo Coastal Wine Trail, which includes 250 or so vineyards scattered throughout the valley. Rumor has it that Uber is developing a "vineyard" program (pay a driver a flat fee for a set time so you can tour the vineyards to your drinking content without driving). But the rolling hills of Enda Valley and cars that (mostly) give cyclists four feet of clearance when they pass makes it one of the better bike-friendly vineyard locales in the state.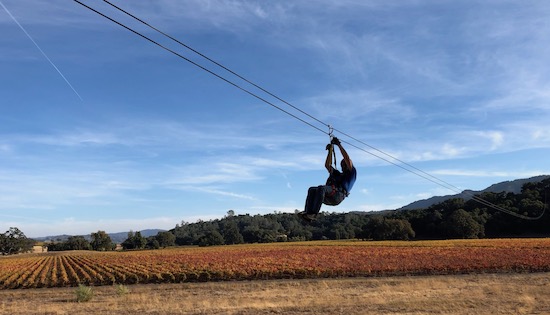 Then there's the small town of Santa Margarita and the tasting room and café for Ancient Peaks Winery, the same outfit that can organize those zip-lines tours through the vineyards. Here the land is more rugged and windswept than the rolling hills of the Edna Valley. Ancient Peaks' Margarita Vineyard is composed of five different soil types within its 857 acres—shale, volcanic, rocky alluvium, granitic, and ancient sea bed—that collectively lend intense complexity and minerality to every bottle they produce, which includes a range of 16 wine types like sauvignon Blanc, merlot, syrah, cab franc, malbec, viognier, and pinot noir.
Craft beer is plentiful in SLO CAL—this is California, after all. And Firestone Walker, located about 40 minutes north of Pismo Beach in Paso Robles, is still one of the region's king crafters. Even though they're now owned by Belgium-based Duvel, the easy-drinking 805 blonde ale seems to be the unofficial beer of the region. But there are legions of lower-profile heavy hitters, including the aptly-named Pismo Brewing Company, as well as MaRock Brewing and Shell Beach Brew House, also in Pismo Beach. But pretty much any restaurant, pub, or liquor store stocks local craft as well as harder-to-find California beers like sours from San Fran's Almanac. Be sure to seek out Figueroa Mountain Brewery's Lizard Mouth IPA as well as beer from San Luis Obispo-based SLO Brew.
Morro Bay's Libertine Brewing should also not be missed. Though they have other outposts in the area, this original pub offers an easy way to taste their range of beers, including a gose blended with rose, a saison mixed with Riesling, and a red ale aged on raisons. From here, head to the small town of Templeton and visit Tin City. This outpost just outside of the city center boasts a motley collection of allures—wine tasting rooms (including one that focuses on low-cost bottles), a cidery with a constantly-changing array of seasonal ciders (some mixed with regional wines), Barrelhouse Brewing, an ice cream shop, a pasta-maker, and food trucks. It's far too easy to spend an idle day just enjoying the California sun and drinking your way from wine to cider to beer.
That said, having a loose itinerary for your first SLO CAL foray compliments the laid-back spirit of the region. You spent most of your waking life—as well as the time it'll take to get you to SLO CAL—rushing from one thing to the next. Here, refreshingly, not rushing is precisely the point. And as for that inevitable, shrill cry of your alarm in the pre-dawn hours on the day you're scheduled to fly home, because the flights all seem to depart far too early from this part of California? A bottle of two packed carefully into your checked luggage will comfort you on the long flight back to reality. Just try to stop yourself from rushing through the first few glasses once you're home.