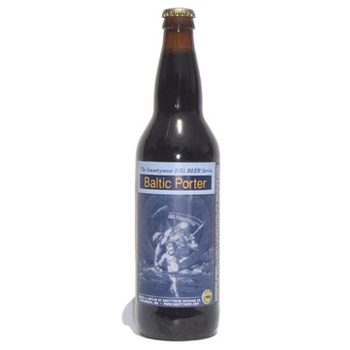 When English porters were introduced into Latvia, Estonia and Lithuania in the 1700s, locals tweaked the brews to more closely reflect the sweeter and stronger Russian Imperial Stouts they were used to. The result, the Baltic Porter, is a delicious roasted blend of two European worlds that was mostly locked behind the Iron Curtain until the Soviet Union dissolved in 1991.
Smuttynose has been making a Baltic Porter seasonal since 2007, part of its short-run Big Beer Series. The 2013 was released last month, and it's another giant malty beer—9.8% ABV, six different malts (North American 2-Row, Munich 10L, C-120, Carastan, Chocolate and black), bottle- and keg-conditioned.
The Smuttynose Baltic Porter is an excellent example of the style, boozy with a giant, frothy head. Sweet fruit notes balance the roasted, almost smoky, chocolate and coffee flavors. The Bittering-Sterling and Flavor-Willamette hops are buried in the mix, but keep it from becoming syrupy sweet. It's a big, rich beer, closer to its Russian Imperial Stout cousins than a typical porter. The nose is very subtle and smooth—exactly how the beer finishes.
Brewery: Smuttynose Brewing Co.
Hometown: Portsmouth, N.H.
Style: Baltic Porter
ABV: 9.8%