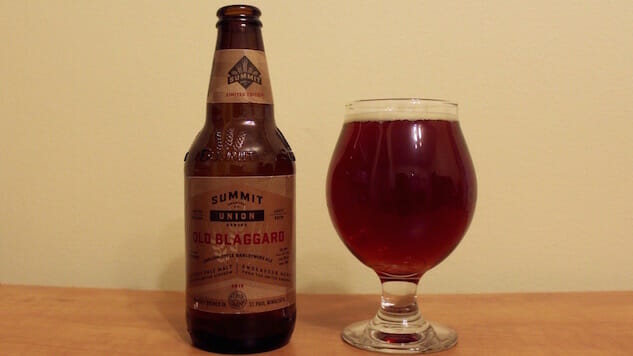 There are hyped beers, IBU-dependent beers, and beers made strictly for the hashtag. Then there are traditional English ales, seemingly relegated to the background as new breeds of hops and barley come and take over the minds, hearts, and tongues of beer scribes. Leave it to Summit's Union Series to focus on the English-style barleywine, a less popular cousin of the brash American styles often sold in expensive 750ml bottles.
The Union Series is a noble concept, marrying modern ingredients with elder styles of British ales. It's something new with a clean lineage to the past. Series entry #5 is a big beer. Surprisingly it's sold in 12 oz. bottles, though in four-packs instead of Summit's usual sixers. This beer features an Odyssey pale malt and Endeavor hops, both out of England.
When it hits the glass, the beer is caramel in color, sparkling with a minimal head and a rising crop of carbonation that dances in the light. The beer carries an aroma of honey, fig, and a tinge of orange and alcohol permeating through that softer vibe, a perfect introduction for what happens when it hits the taste buds.
Like any barleywine—or like any old blaggard—the beer is direct and memorable. First impressions are toffee with a heavy grain base that gives depth. It's malt forward and sweet, with little bite save for a neat little hop bitterness to clip off the end. At fridge temperature it lacks depth, starting with the high alcohol regimen overpowering the subtleties: it's sweet without any afterglow. But that's not how a barleywine should be served. That impression just comes because I'm impatient. As it warms a few degrees, Old Blaggard comes around. That toffee note is definitely leading the dance, but it's soothing and rich with a mid-body mouthfeel that lulls the drinker into a calm, swaying two-step as the glass empties.
While it's rating increases significantly when served at the appropriate temperature, the beer is still a smidge on the sweet side, making it feel more like an after dinner beer than a fireside snifter type, garnished with pipe in hand. Old Blaggard isn't such a hooligan after all, it just needs a little time to warm up.
Brewery: Summit Brewing Company
City: St. Paul, MN
Style: English-style barleywine
ABV: 10.1% ABV
Availability: 12 oz. 4-packs, draft