On a recent chilly early spring evening I had the pleasure of warming up with a dinner at New York City's Maysville, featuring a five-course meal where each dish was paired with a different expression of George Dickel Tennessee Whisky (Dickel drops the "e"). There's no reason to think of whisky as a pre-dinner cocktail or post-meal nightcap anymore, as many are used to doing. Given the variety in age, mash bill, blending, and proof of the huge variety of American whisky available these days, it makes perfect sense to pair whisky with different foods just as you would with wine.
Chef Adam Perry Lang, a BBQ master who has partnered with Dickel for the past few years, curated the meal with Maysville's Chef Kyle Knall. Dickel brand ambassador Doug Kragel hosted the event and gave copious tasting notes throughout, while mentioning several times that anyone who might need assistance getting a cab home after their sixth whisky need just ask. Fortunately it didn't come to that for anyone.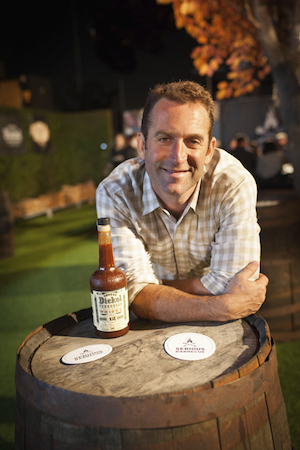 Chef Lang has created a BBQ sauce line with Dickel. Photo credit: George Dickel
The meal started out with two cocktails, a classic old fashioned made with Dickel Rye, and a Hound Dog made with Dickel No. 12, grapefruit, honey, mint, and lime. The drinks' flavors mingled with the intense smell of toasting spices floating through the air, as Chef Lang opened up his mini travel BBQ kit and heated up cardamom, cumin, peppercorn, and other spices in an iron skillet over a lava stone. He spoke about his love of "urban BBQ," a style in which he tries to bring a slice of country living to the city, and his focus on "handmade" cooking – an ideal that fits well with Dickel's slogan, "Handmade the hard way."
For the first course, marinated razor clams with cilantro and pickled carrots paired with Dickel No. 1 White Corn Whisky. I normally don't care for white whiskey, which is essentially un-aged whiskey bottled before barreling, but this spirit complemented the acidity and bite of the clams nicely. Kragel encouraged us not to think about whiskey as we sipped, which makes sense given how different this tastes from aged bourbon. Many brands would market their white whiskey as "moonshine," but when I asked Kragel about this he put it very simply: "Moonshine isn't moonshine if you pay tax on it." A couple of other white whiskies that might work with cilantro clams—White Dog and High West Silver.
Next up was a slow roasted arctic char with smoked oyster broth and country ham paired with Dickel No. 8, the brand's signature expression, aged between five and seven years at 80 proof. This is classic sipping whisky, as Kragel likes to call it, in the vein of Maker's Mark or Eagle Rare. It had just the right amount of sweetness to counter the smoky flavor of the oyster broth and ham. Kragel, a Kentucky native, took a few moments here to talk about the Kentucky Vs. Tennessee whiskey rivalry; a contest that he thinks should be left to NCAA team loyalties. He believes we should look at American whiskey the same way people look at Scottish single malts—in a regional sense with each part of the country having its own unique characteristics, instead of trying to figure out which is best. Makes sense to me.
The third course was a charcoal grilled quail with pickled ramps and potato salad, a nod towards classic Southern cooking. This was paired with Dickel No. 12, a 90 proof blend of older whiskies with bold and forward flavors and a strong hint of caramel in the nose. During this course, Kragel explained what legally defines a Tennessee whiskey. First, according to the federal government, it must be made in the state of Tennessee—simple as that. The state of Tennessee takes it a bit further, requiring the whiskey to be filtered through sugar maple charcoal (Pritchard's was granted an exception to this rule). On April 1, however, according to WBIR, a bill was sent to the House and Senate to repeal this law, and will be voted on next week, potentially opening the doors for other whiskies to call themselves Tennessee whisky.
The last entrée course of the night was a roasted suckling pig, still pink and tender, with sweet potato and pickled turnips. This was paired with Dickel Barrel Select, which is selected from only 10 barrels at the distillery aged between 10 and 12 years. Smooth, soft, and velvety, this is a truly fine whisky-and not just because this was my fourth sampling of the night. Still even more intense was the APL Single Barrel that ended the meal along with an unbelievable dessert of goat's milk cheesecake and honey rosemary granita. Chef Lang personally selected this barrel at the Dickel distillery, and at 103 proof this whisky is no joke. But there's barely any alcoholic sting even as you breathe it in; instead, this whisky drinks with the deep complexity of an older Michter's but with the accessibility that defines the entire Dickel line. Not a bad way to end this or any meal.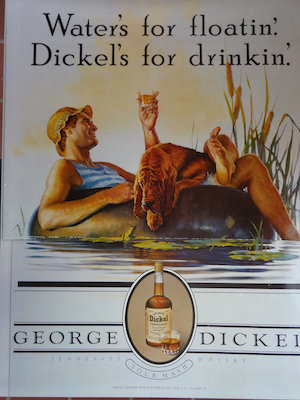 Check out this sweet vintage ad from George Dickel