Tasting: 4 Cierto Tequilas (Blanco, Reposado, Añejo, Extra Añejo)
Photos via Cierto Tequila
Drink
Features
tequila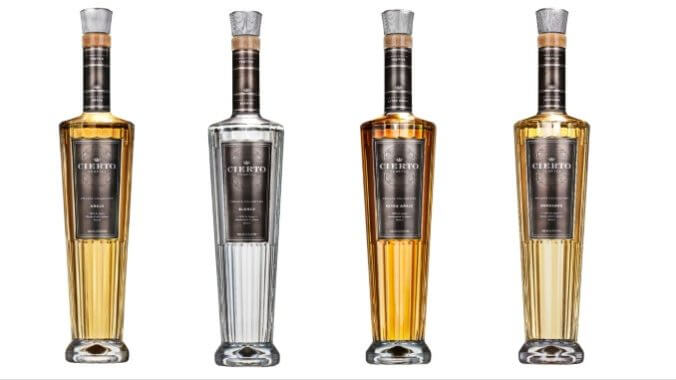 In recent years, U.S. consumers have demonstrated not only an ever-growing thirst for agave spirits such as tequila and mezcal, but also a willingness to embrace the premiumization of those spirits categories. This has always been something I've found a bit curious, because unlike in the field of say, American whiskey, it can often be more difficult for a tequila or mezcal brand to explain concisely on the label exactly why it costs what it does, or what makes it more "premium" than the tequila on the shelf next to it. If we're talking about bourbon, by contrast, then your average bourbon geek eventually develops a sixth sense for "value," factoring in aspects such as age statement, secondary finishes, proof point, and the size of the distilling company producing it. But in tequila, where even the aged expressions don't really vary much in aspects such as a visible age statement, consumers may have a much harder time looking at two reposados or anejos, and knowing why one costs twice as much as the other.
And yet, none of that potential confusion has slowed the growth of ultra-premium tequila brands–not even the fears of inflation could slow it down much. People out there are willing to drop some serious coin on what they perceive to be a high-quality bottle of tequila or mezcal, so it's only natural that we'd see more high-priced brands continuing to enter the market to take advantage of that demand.
Cierto Tequila is one such brand, combining eye-catching (though a bit impractical) bottle design with luxe French oak casks in its aged expressions. Made from "hand-selected, estate-grown agave in the Jalisco Highlands of Mexico, Cierto Tequila is a 100% additive-free luxury tequila, distilled and co-founded by some of Mexico's brightest tequila farmers, Sergio Mendoza and Enrique Fonesca," operating out of NOM 1146. They boast that their expressions have won more than "600+ international medals and awards," which they say makes Cierto the "most awarded tequila in history." And all that as it's only now making its way into the U.S. market.
It's hard to tell how much of this is puffery, but the company certainly isn't lying about positioning Cierto as "luxury tequila," that's for certain. The $89 price tag of its unaged blanco tequila makes that quite clear off the bat, with subsequently higher prices for aged expressions. That's a range reminding me of Patsch Tequila, another series of expressions I tasted with similarly high price points. Curious as to how the company might justify those kinds of price points, I asked for clarification and received the following statement:
Cierto is a portfolio of handcrafted, exceptional-tasting and globally-acclaimed tequilas meant to showcase a pure expression of agave. Its elevated position within the luxury tequila space reflects the effort, patience and artisanship of our Master Distillers; the unmatched integrity and maturity of our agave; the proprietary distillation and barreling processes; the rarity of our aged spirits; and ultimately the award-winning quality, complexity and smooth taste of our tequilas.
Well … alright then. Not a ton to go on, other than the assurance that this liquid is very special. "Cierto" in Spanish of course means "true," meaning that this is "true tequila." An agave geek might well expect that to mean a brand that is ultra traditional, which raises eyebrows in the sense that Cierto reportedly uses an autoclave to cook their agave rather than the more traditional, slower brick ovens. That isn't to say you can't produce great tequila with an autoclave, but it's worth noting.
The one area that definitely can be attributed for some part of Cierto's eventual cost to the consumer is the brand's widespread use of French Limousin oak casks to mature their spirits. These casks, previously used to age wine and spirits such as cognac and Armagnac, are quite expensive and distinctive, and are the sort of oak you would only expect to find in a brand marketing itself in luxury territory. Cierto also says that "Each expression is blended with aged tequilas from the Fonseca family's private library, containing some of the oldest and rarest tequilas in existence," which is an interesting detail I'd like to know more baout.
So, with all that said, let's get into tasting Cierto's newly launched Private Collection, which includes a blanco, reposado, añejo and extra añejo. No cristalino tequila, which is a gimmick I think we can all do without. All expressions at 40% ABV (80 proof).
---
Cierto Tequila Private Collection BlancoMSRP: $89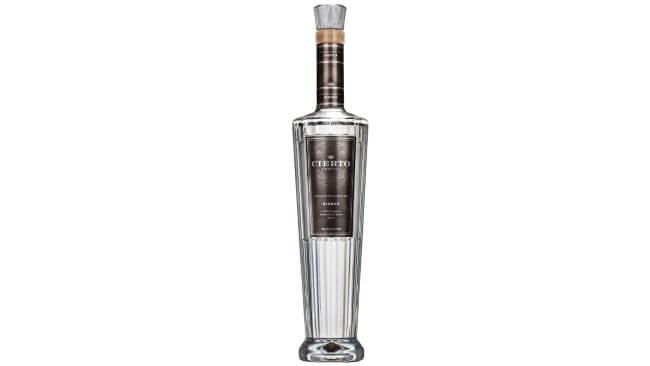 According to the company, Cierto's flagship unaged tequila is "smooth and fresh, with an herbaceous aroma that imparts sweet floral and agave notes." In my perception, the herbaceousness is definitely there in a big way–this is exotically herbal on the nose, with some hard-to-pinpoint funkiness and more than a little earthiness. I'm getting both raw and roasted agave, and complex herbal notes on the palate that are a bit hard to parse. There are floral elements, and moderate sweetness, evoking white chocolate. On the palate, this is peppery, earthy and a little bit musty, with a mineral finish. It's fresh and "plant forward," if you will, strongly evoking the greener aspects of agave and desert flora.
All in all, the profile isn't lacking in complexity, though it doesn't necessarily tickle my specific taste preferences. Of the lineup, this is the expression where I also have the most difficult time justifying the MSRP right off the bat, due to the fact that it's obviously unaged. How many consumers are ready to drop $90 on a new bottle of blanco tequila, presented at the baseline of 40% ABV? At least the others have their use of Limousin oak as an exotic element. I typically gravitate more toward unaged rather than aged tequilas, but in the Cierto lineup I ultimately found the opposite to be true.
---
Cierto Tequila Private Collection ReposadoMSRP: $119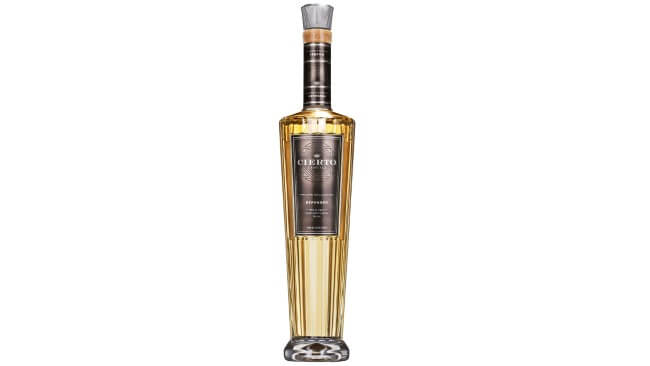 To be honest, I wasn't really sure how much the specific, spice-laden character of the French oak would likely show up in these aged tequilas from Cierto–if they would be all that notably distinguishable from agave spirits aged in more common forms of American oak, such as reused bourbon barrels. But after tasting them, I can definitely see the appeal, because they do pick up genuinely novel, exotic flavors from the Limousin oak that you don't encounter as often in comparable bottles of aged tequila.
Cierto Reposado doesn't display quite as much of that character on the nose, thanks to its shorter aging window, with more of the underlying herbal and earthy profile still shining through. The nose here is slightly resinous, evoking something like rosemary, but more spice and sweetness is also poking out–pink peppercorns and sweet corn. On the palate, the difference is more pronounced, as the reposado is significantly more round in texture and sweeter, with flashes of cinnamon sugar. There's a little bit of nutty cocoa, and a rich spicebox quality that is quite alluring–it accents, but doesn't overwhelm. I immediately find myself liking the quality that the French oak has imparted here, which became a running theme of these aged Cierto Tequila expressions.
---
Cierto Tequila Private Collection AñejoMSRP: $169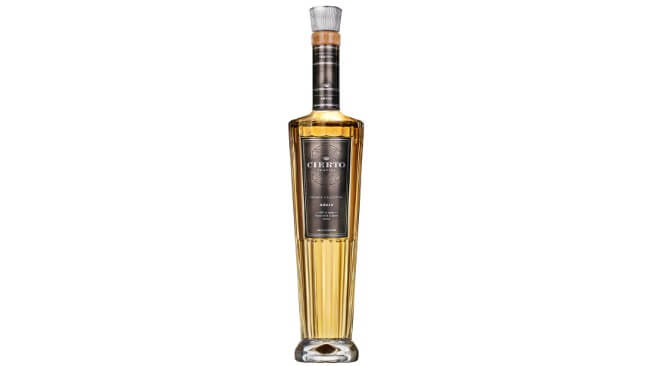 Cierto Tequila's Añejo takes its oak influence a step further, really showing us what the Limousin oak casks can do. On the nose here the roasted agave has taken on an even more savory, salty and sweet dimension, and it's been joined by more tropical fruit, with notes of roasted pineapple and plantain. There's roasted nuts now on the palate, along with cocoa and slated caramel. Roasted sweet agave dusted in cinnamon is a strong theme, like it's been dipped in churro sugar, with trailing oak spice. I'm also getting some fruit impressions here, with bruleed grapefruit and pineapple. Oak tannin is starting to show up a little bit, but it's quite mild and on the delicate side.
All in all, I quite like this. Añejo tequila is almost never the direction I gravitate toward, but the character they're getting out of these barrels is extremely easy to like.
---
Cierto Tequila Private Collection Extra AñejoMSRP: $279
There's no specific age statement on this Extra Añejo, but tequilas with this designation have spent at least three years in oak casks, and sometimes significantly more. Regardless, one can see it from the color in the glass, which is several shades darker here than even the regular Cierto Añejo. The nose, meanwhile, has become genuinely oak-driven at this point, with suggestions of honey and toffee, but also woody spice, baking spices and a little char. Milk chocolate becomes a star note on the palate, with cinnamon and cardamom. The oak spice is pronounced, joining rich caramel, ginger snaps, and almond paste, giving the overall profile something of a pastry shop vibe. There is still some funky earthiness hanging out under the oak, spice and caramelized sugars, but it's absolutely thrown its weight behind the barrel-derived flavors as you would no doubt expect. It's slightly decadent and desserty, but I'm sure there are plenty of whiskey drinkers out there who would be really captivated by this one.
All in all, it's the aged expressions of Cierto that really stand out thanks to their use of novel wood maturation and possibly the aforementioned blending of "aged tequilas from the Fonseca family's private library." The MSRPs will still be difficult to justify to a large portion of the tequila market, but those who have kept the ultra-premium segment growing will want to take notice of the aged spirits here in particular.
---
Jim Vorel is a Paste staff writer and resident beer and liquor geek. You can follow him on Twitter for more drink writing.