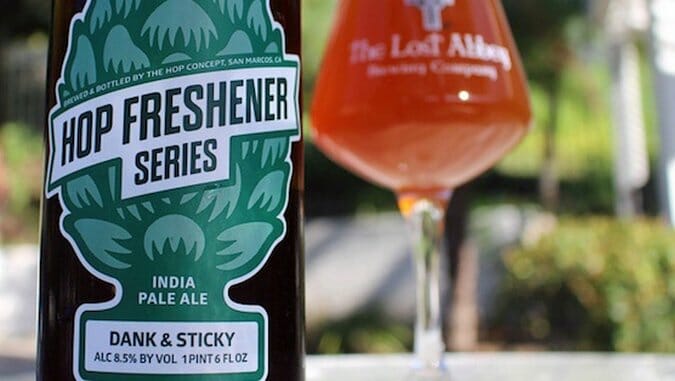 San Diego is hardly a market that's lacking diversity in the IPA department, which might have made some people raise an eyebrow over Port Brewing & The Lost Abbey's decision to launch a third brand dedicated solely to hoppy beers. Still, the reputation for quality that the San Marcos operation has cultivated over the years makes it pretty close to a sure thing that anything they brew will be thoroughly enjoyable, and the maiden product from the new line is no exception. Dank & Sticky, the first offering in The Hop Concept's four-beer "Hop Freshener" series, delivers quite well on its namesake, and serves as a message that this new brand is not to be taken lightly.
Earthy dankness infiltrates your nose and tongue thanks to irresponsible levels of Columbus and Centennial hops, but this beer is no one-trick pony. Dank & Sticky pours a beautiful shade of orange, and citrus aromas waft up as it hits the glass and the carbon dioxide bubbles start to burst forth with their pungent payload. The flavor is a masterful combination of pine and fruit notes from the hops, sweetness from the malt and that telltale bitterness that lets you know that you're drinking an IPA. The brew does have a bit of viscosity to it, which makes it extra sticky, but it doesn't come off as boozy as its 8.5% ABV would have you believe.
The simplistic beer name and label art play on the classic cardboard air freshener that stereotypically hangs from the rearview mirror of every movie or television taxi cab. I've always contended that Yankee Candle could make a killing if they offered a line of hop-scented candles for men, and maybe this beer might give them a few ideas. If Chris Farley's Tommy Callahan had used an air freshener like this to cover up his nerve-induced musk, Ray Zalinsky might not have asked him to wash it off.
The Hop Concept plans on releasing new beers every few months, and they'll continue to forego cute names in lieu of simply describing flavors and aromas. Citrus & Piney is scheduled for an April release, and features a different hop blend and fresh orange zest. Rounding out the quartet is Lemon & Grassy, which comes out in August, and Tropical & Juicy finishes it up in November.
Brewery: The Hop Concept
City: San Marcos, Calif.
Style: IPA
ABV: 8.5%
Availability: Limited draft and 22 oz. bottles