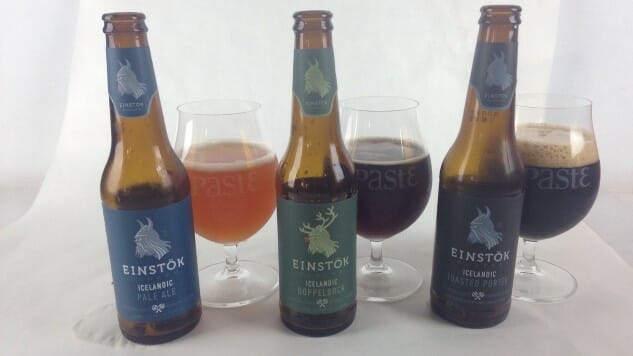 Every day brings some kind of new beer-related opportunity, when you're working at Paste. Sometimes it's a local brewery bringing by their latest product for you to sample. And other times it's getting an email in your inbox from Iceland with an offer to ship a few beers internationally.
That's what happened with Einstök Beer Co., an Icelandic brewery that has been around since 2011, located in the small city of Akureyri. I woke up one morning to an email asking if we'd like to taste a small variety of Icelandic beer. My response, as you can imagine, was "I get to drink the beer? Sure, let's do that." As far as I know, it's the first beer I've ever had from Iceland, and it's interesting to see how the brewing styles have been influenced by the spectre of American craft beer.
The box we eventually received contained three of Einstök's year-rounders: An "Icelandic pale ale," a "toasted porter" and a doppelbock. I'll break down each of the three individually below.
Einstök Icelandic Pale Ale
The brewery's pale ale strikes me as a crossover or fusion of sorts between aspects of the American style and influences of English pale ales as well. Lightly biscuity malt is supported by toffee-like crystal malt, with an interesting hop bouquet that is herbal and floral on the nose. It combines Cascade and Northern Brewer hops, but gets more of the floral aspect of Cascade than the grapefruit it's also known for. Hop flavors do contribute some lightly bitter citrus—orange marmalade, perhaps—with additional flavors of black tea. Northern Brewer often contributes some "woody" flavors, and those are present as well. It's a serviceable pale ale that doesn't really reinvent the wheel.
Rating: 6.8
Einstök Icelandic Toasted Porter
The word "toasted" in this title is potentially a little confusing, and might make one think that there's toasted coconut or something of that nature in this porter, but that isn't the case. Rather, it's just a really well-made, clean robust porter made with judicious use of Icelandic coffee.
That point is important to note—this is a "coffee porter," but Einstök takes a different approach than most by making that coffee addition a truly supporting player rather than the star of the show. You might not even identify it positively as coffee on first inspection unless you saw the small text of the label. From my notes: "Strongly malty, with a burnt toast roastiness and lots of cocoa. Really solid, good roast, with silky, full texture and medium residual sweetness." To me, this was the star of the three beers that Einstök sent to us; right in the wheelhouse of flavors I like in a porter. Bittersweet, with a solid roast profile that is enhanced in a sophisticated way by the coffee addition rather than simply being a vessel for coffee flavors. Good stuff.
Rating: 8.3
Einstök Icelandic Doppelbock
At 6.7% ABV, this seems like more of a lightweight take on doppelbock, but it tastes a bit bigger than it really is. Like most of the classic doppelbock examples it's very bready-malty, and nicely dry for the style … certainly drier than most doppelbocks, which is understandable given the lower ABV. There's no shortage of flavor, though—slight sherry-like booze, red fruit and dried fruit flavors complement the dark breadiness pretty nicely. Perhaps one might call this a "session doppelbock," if that wasn't a ridiculous thing to say. Or perhaps they'd just call it "a bock," albeit one that's a little stronger than usual. Regardless, it's a solid beer, and falls in between the two other offerings.
Rating: 7.6
---
So, closing thoughts. What we had here from Einstök were three fairly different beer styles. In particular, they demonstrated a nice grasp of brewing basics, especially when it comes to maltier beer styles. I was impressed by the restraint they showed on their coffee beer in particular, which is not something you see all that often in the American scene. Perhaps this is something common to the Icelandic beer scene, although I can't claim to know. But if you're able to find these beers to check out in the U.S., you'll probably find them interesting and approachable.
---
Jim Vorel is Paste's news editor. You can follow him on Twitter.