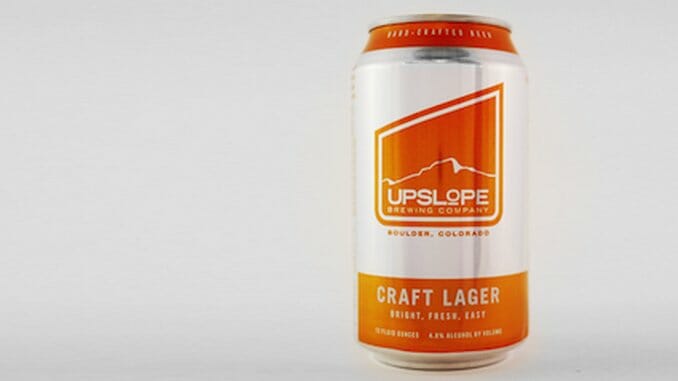 Upslope's Craft Lager is the Boulder brewery's session beer: the low alcohol content and light, crisp taste make it ideal for people who want to drink enough beers to make it through watching an entire football game without passing out in the third quarter. We're talking about a straight up lawnmower beer here, but don't mistake Upslope's easy drinking Craft Lager for the tasteless macro brews that dominated the '70s and '80s. This is a Craft Lager, after all, and no, that's not an oxymoron.
The Craft Lager's sweet malty taste and light Czech hops make for a light, malty sip with an oddly appealing toasted French bread aftertaste. Seriously, this stuff makes chowing down on plain toast seem like a great idea.
This beer isn't for people who want a dose of hops, but if you want that, snag one of Upslope's Imperial IPA's and chew on its 90 IBU's. It's clear that Upslope was aiming to develop a mellow sipper with the Craft Lager. It's light, malty, crisp, and refreshing as hell. It's a beer that you can put down quickly after a hot run or a sweaty hike into the backcountry; or if you're feeling lazy, six of these would pair perfectly with a hammock, a good book, and an afternoon with nothing to do.
And you can feel good about drinking this lawnmower beer too. Upslope donates 1% of revenues from the Craft Lager to Colorado Trout Unlimited to help protect watersheds across the state.
Brewery: Upslope Brewing Company
City: Boulder, CO
Components: Czech Saaz Hops, malted barley.
ABV: 4.8%