If you're looking, veganism is everywhere. For many, what once used to be associated only with hacky-sack-equipped, dreadlocked Grateful Dead fans has extended to a former president, one of the biggest faces of daytime TV and yes, even our Oscar winners.
The diet cuts out a lot of things included in the traditional American diet, removing any animal meat or byproduct (including milk, eggs, honey and gelatin). For many, the appeal is ethical, an issue that's been pushed to front pages of newspapers& this month because of "ag-gag" bills and explored recently by one of our most celebrated contemporary authors. Others cite the health aspect most notably pointed out by the recent doc Forks Over Knives, which emphasizes a whole food, plant-based diet that many credit for their drastic health changes.
My own path to veganism started when my family adopted a malnourished puppy named Bruce. At the Humane Society, he was an excitable runt with a spotted eye that was too hard to turn down, and we didn't even realize he was a pit bull until the adoption papers were being signed. Our path to training him and researching his breed sent me on a trail of Internet links to countless animal rights resources. The resources not only advocated his breed, but shed some light on issues I hadn't bothered to investigate, including factory farming conditions. Although I had been a vegetarian for almost 10 years, the further research showed that—while this lifestyle isn't for everyone—it's what made the most sense to me.
But whatever the reason, the national interest is there. I spoke to eight artists—whether they were actors, musicians or podcast hosts—about their veganism and asked them to share a recipe of their own.
1. Alicia Silverstone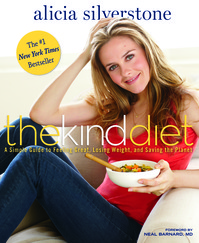 Chocolate Peanut Butter Cups
Back in the day, I was obsessed with Reese's Peanut Butter Cups. Now I make this healthier version, and they are way better. In fact, I think they are the most ridiculously delicious things in the entire world. Look for graham crackers that are naturally sweetened or low in sugar (Health Valley makes a good one), and store the leftover crackers or crumbs in an airtight container for future use. (Makes 12)
Ingredients
10 graham cracker squares (5 whole crackers)
1/2 cup Earth Balance butter
3/4 cup crunchy peanut butter (preferably unsweetened and unsalted)
1/4 cup maple sugar or other granulated sweetener
1 cup grain-sweetened, nondairy chocolate or carob chips
1/4 cup soy, rice or nut milk
1/4 cup chopped pecans, almonds or peanuts
1. Line a 12-cup muffin tin with paper liners. (If You Care makes unbleached liners made from recycled paper.) Set aside.
2. Break the graham crackers into large chunks and place in a food processor or blender. Pulse on and off until they are ground to fine crumbs. Measure out 3/4 cup of crumbs (reserve the rest for another use) and set aside. Melt the butter in a small saucepan over medium heat. Stir in the peanut butter, graham-cracker crumbs and maple sugar, and mix well. Remove the mixture from the heat. Evenly divide the mixture, approximately 2 tablespoons per cup, among the muffin cups.
3. Combine the chocolate and milk in another pan. Stir over medium heat until the chocolate has melted. Spoon the chocolate evenly over the peanut-butter mixture. Top with chopped nuts. Place in the refrigerator to set for at least 2 hours before serving.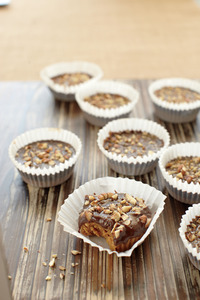 Alicia Silverstone's cookbook, The Kind Diet, is out now.
2. Kristen Bell
Ed. This is Kristen's take on Martha Stewart's Braised Fennel and White Beans, adapted to be cooked vegan.
This recipe is so filling and rich, but all the ingredients are healthy and simple.
Ingredients
2 tablespoons extra-virgin olive oil
1 medium fennel bulb, trimmed, halved lengthwise and cut crosswise into 1/4-inch-thick slices (about 3 cups)
1 medium red onion, halved lengthwise and cut lengthwise into 1/4-inch-thick slices (about 2 cups)
1 can (15 1/2 ounces) white beans
1 cup homemade or low-sodium store-bought vegetable stock
2 teaspoons coarsely chopped fresh oregano, plus whole leaves for garnish
Coarse salt and freshly ground pepper
2 tablespoons red-wine vinegar
1 tablespoon Earth Balance buttery spread
Directions
1. Heat oil in a large, heavy saute pan over medium-high heat. Add fennel and onion; cook, stirring occasionally, until tender and edges are brown, about 10 minutes.
2. Add beans, stock, chopped oregano, 1 teaspoon salt, and 1/4 teaspoon pepper. Cook, stirring occasionally, until liquid has reduced by about half, 3 to 4 minutes. Stir in vinegar and buttery spread; remove from heat. Garnish with oregano leaves.
3. Dave Davison (Maps and Atlases)
Mac and Vegan Cheese Casserole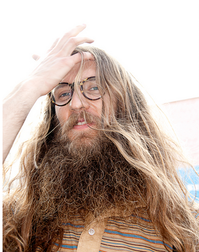 Photo by Clint Alwahab
After being on tour, I often feel a strong desire to make comfort foods like mac and cheese, so when a friend recommended this recipe I tried it out.
I figured I would give it a try. I really liked the inclusion of peas, but also wanted the nostalgic taste, so I thought that I'd adapt it in an attempt to make it simultaneously more mac and cheesy and more casserole-y. I added two heads of broccoli, a handful of sliced grape tomatoes and some smoked tofu, but to make it more cheesy I took a cue from the Post-Punk Kitchen "Mac and Shews" recipe, and added 1 1/2 cups of cashews (soaked overnight and blended)
Because of the extra cashews, I bumped up the garlic, nutritional yeast, salt and mustard content slightly: an extra clove of garlic as well a jalapeño for spice, an extra shake of salt/nutritional yeast, extra tablespoon of mustard. Next I blended all the cheese ingredients before putting them in a saucepan. Obviously this made way more cheese than could be consumed in one sitting, but I just stored the cheese in a jar and made it a couple times in a week. After cooking the pasta and simmering the cheese sauce, I mixed the two, as well as the peas, broccoli and baked tofu in an 11" x 15" glass baking dish and baked at 450 degrees for about 10 minutes.
While baking, I used Ezekiel 4:9 Sprouted Whole Grain Cereal instead of bread crumbs to make the crispy top.
It ended up being delicious and I will definitely be making it again upon returning from this tour!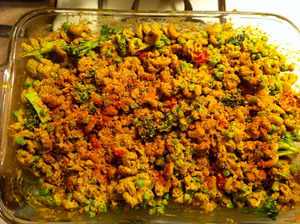 We spoke to eight artists—whether they were actors, musicians or podcasters—about their veganism and asked them to share a recipe of their own.
4. Matisyahu
Tempeh Ruben Sandwiches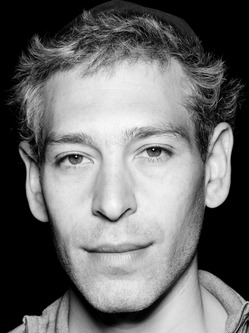 Photo by Mark Squires
One of my favorite vegan sandwiches ever! The tempeh reuben!  This sandwich is vegan but packs about 40 grams of protein! Tempeh is a complete protein food that contains all the essential amino acids. It taste good too. It will please your taste buds and fill you up.
Tempeh Marinade
1 package of organic Tempeh
1/2 teaspoon of caraway seeds
4 large cloves of garlic, minced
1 teaspoon of organic agave nectar
2 teaspoons of organic tamari soy sauce
1/2 tea spoon of sea salt
2 teaspoons of lapsang Souchong smoked black tea in a tea filter (if already in tea bags, use 4 tea bags)
1 cup of vegetable broth
1/2 teaspoon of pepper
2 cups of water
Combine all ingredients except for tea in a small pan. Bring to a boil and turn off heat. Add the tea bags and let step for 10 minutes, discard the tea bags. 
Take tempeh and cut into 4 square pieces—cut once length wise and once down the middle. Then stab tempeh with a fork 5-10 times to create small holes (this helps the marinade soak into the tempeh faster).
Put marinade and tempeh into a container with a tight lid, let sit for at least 4 hours, and no more than 24 hours in a refrigerator 
Special Sauce
1/8 a cup of organic veganaise (or other vegan mayonnaise) 
1 clove of organic garlic, minced
1/2 a small organic shallot, minced
1 small organic pickle minced (about 1/4 cup minced)
1/4 teaspoon of pepper
1/2 teaspoon of organic pickle juice
1/2 a teaspoon of organic ketchup
Mix all ingredients together, set aside.
Other Ingredients
1 cup organic raw sauerkraut 
4 pieces of good quality organic rye bread (Try getting it from a local bakery instead and buying it packaged at a store.)
1/2 cup of Daiya vegan cheese (I like the pepper jack.) 
Vegan butter (Enough to butter the top and bottom of the sandwich before grilling.) 
Directions
For this sandwich, you're going to need a panini press!
1. Set up and turn on your panini press.
2. Remove tempeh from the marinade and place directly on the panini press, let cook until both sides are golden brown (about 5 minutes)
3. in a small pan sauté the sauerkraut just until its hot—do not over cook or you will lose a lot of the living enzymes.
4. Take your pieces of rye bread and butter one side of each piece, then lay down on the unbuttered side the vegan cheese, followed by the tempeh, and then the sauerkraut. Put the second piece of bread on top.
5. Place sandwich in the middle of the panini press and cook until both sides of the bread are golden brown and the cheese is melted.
6. Remove the sandwich from the panini press and add the special sauce. cut down the middle and serve while hot!
5. Jasmin Singer and Mariann Sullivan, co-founders of Our Hen House
Bean Pasta with Cashew Tomato Sauce (Gluten-Free)
Here at Our Hen House, we know that vegan food can range from wickedly decadent (think beer-battered fries, seitan picatta and coconut ice cream) to the ultimate in nutrient-dense (think kale smoothies, quinoa salad and carrot pulp cookies). While they can all be delicious, we try our best to keep it healthy (most of the time). So we were quickly wooed by the latest craze to hit our grocery store: bean pasta. Made from nothing more than beans and water, varieties include black bean spaghetti, soybean spaghetti, and mung bean fettuccine. They taste better than you think, we swear.
In between recording the Our Hen House podcast and producing our online magazine, we need to keep our energy and spirits up. This recipe—made with bean pasta (though you can easily substitute a different type of noodle), along with nut butter—packs a protein punch. But we've also managed to sneak some spinach into the sauce (you won't be able to tell, promise!), giving you added vitamins and minerals.
This dish is delightfully dense, giving you a satisfyingly full feeling. It's our go-to comfort food when we want something substantial but don't have a lot of time to cook. Though it might sound weird, give it a chance. It's creamy and healthy, proving that you can eat a whole-foods-based vegan diet without sacrificing taste. Best part? No animals were harmed in the making of this dinner.
Ingredients:
7 oz. bean noodles (we used one package of Explore Asian Authentic Cuisine Organic Mung Bean Fettucine)
1 teaspoon oregano
1 clove garlic, chopped finely
1 cup of fresh spinach leaves (approx. 1/2 pound with stems or 6 oz. baby spinach) 6-oz. can tomato paste1 tablespoon agave (or sweetener of choice)
2 tablespoons cashew butter (or other nut butter)
2 tablespoons nutritional yeast
Salt to taste
*If you want this recipe to be gluten-free, be sure to purchase herbs, nutritional yeast and tomato paste that are certified GF.
Directions:
1. Water-sauté oregano and garlic in 3 tablespoons water for about 5 minutes.
2. In a high-speed blender, blend spinach, tomato paste, and agave.
3. Add blended mixture to the water-sauté pan with seasoning.
4. Simmer for 10 minutes, stirring frequently. Add small amounts of water as needed if the sauce gets too thick.
5. While that is simmering, cook your noodles according to the package directions. Make enough for 2 large servings (we used the entire package of our Mung Bean Fettucine for the two of us, we have large appetites!) Drain and rinse the noodles and set aside.
After you've simmered the sauce for 10 minutes, add the nut butter and mix in thoroughly. Simmer for an additional 5 minutes.
In a large bowl, combine noodles with sauce, add yeast and mix thoroughly. Add salt to taste. Serve. Yields 2 large or 4 small servings.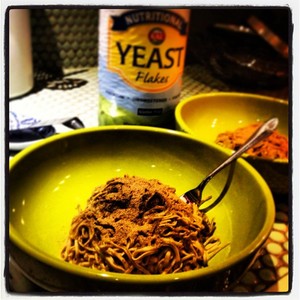 6. Nellie McKay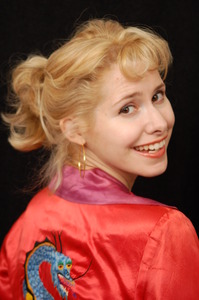 Photo by Rick Gonzalez
Singer/songwriter Nellie McKay is currently starring in and wrote the music for the off-Broadway show Old Hats. She also wrote the forward to the 20th anniversary edition of the Sexual Politics of Meat by Carol J. Adams.
I got this recipe from my friend CJ. Vegan food is so healthy people seem to think it must be boring, but this recipe for vegan macaroni & cheese is delicious! I think it should qualify as junk food because it's so tasty and easy to make. Plus you can add fresh vegetables for a primavera kick.
Ingredients:
3-4 cups macaroni or pasta of your choice
4-6 oz vegan cream cheese
1 bag Daiya cheddar shreds
1/4 cup soy milk
1/4 cup fake butter
Salt and pepper to taste
Optional: fresh vegetables
Instructions:
1. Boil pasta.
2. Drain water and return pasta to pot.
3. Add in vegan cream cheese, let warm, and stir together gently until melted evenly.
4. Stir in Daiya cheddar shreds, 1/4 bag at a time to help maintain consistency.
5. Add fake butter and soy milk and vegetables if desired.
6. Mix/fold pasta for about 15 seconds and then cover with lid.
7. Let simmer for 5 minutes on stove (8-10 minutes for softer veggies).
8. Stir briefly, then serve.
We spoke to eight artists—whether they were actors, musicians or podcasters—about their veganism and asked them to share a recipe of their own.
7. Chrisette Michele
Michele, a Grammy-award-winning artist, has a new album titled Better out on June 11. The album's title comes from a transformation that included a switch to a vegan diet. She's currently working on a cookbook titled Fat Vegan.
Rumazing Banana Fatso Sunday
Becoming vegan… No wait, becoming a #FatVegan, has changed my life. I'm so much cleaner inside and out. I feel a new found level of self respect because I'm more concerned about what I put in my body.
I love farmers markets! It's so much fun to come up with new recipes with all the fun fruits 'n veggies among other fattening delicacies like gourmet peanut butter and ripe avocados I find. I've lost 30 pounds of physical and emotional weight, and I've never felt #Better!
Summer time is on its way, and everyone likes ice cream! Here's one of my favorite #FatVegan treats! Everyone will love this fun summertime treat.
Ingredients
Icecream:
2 frozen bananas
1 room temp banana
3 dates
Sauce:
6 dates
Your favorite rum
Coconut water
Topping (optional):
Dried coconut shavings
Tools:
Blender
Food processor
Sexy bowl
A candle
A bestie
Directions:
The Ice Cream:
1. Throw 3 bananas and dates into your food processor… Process quickly so nothing melts!
2. Don't eat it yet! Pour it into your sexiest bowl.
The Rum Sauce:
3. Add 6 dates, a shot (or 2) of your favorite rum (I use Malibu coconut, but Ciroc coconut vodka works too) and blend!
4. You can add a little more dates, rum or coconut water to get ur preferred consistency.
5. Pour over your ice cream.
6. Throw some shredded coconuts on top for prettiness.
7. Light a candle!
8. Share with ur bestie!
9. Holy crap that's good!
8. Gina Dvorak (bassist for Dana Falconberry)
Yummy yummy vegan tour slop
This salad has become one of our favorite "tour slop" recipes, mostly because it's delicious, but also because it fits with every different dietary need that a band member may have. It's vegan. It's gluten-free. It's packed with protein (because quinoa is one of the few complete grain proteins). And it's really healthy. So everyone is happy. We usually double this recipe for the road since there are six of us. Also a plus: this salad keeps for up to five days in a cooler, and still tastes great. Eat it with some yummy tortilla chips and you've got a van dinner that other bands will envy!
Ingredients
1 cup uncooked quinoa
1 can of black beans, rinsed
1 cup of sweet corn (use frozen or canned, or if you're super fancy, scrape kernels off a fresh cob)
2 whole citrus fruits, diced (grapefruit tastes lovely, but you can use any citrus, like oranges or clementines)
1 large avocado chopped
1 bell pepper diced (preferably red)
1 half bunch of kale destemmed and chopped
1 half bunch of cilantro chopped
1/2 red onion diced (to help with the sharpness of the onion, dice at the beginning of throwing everything together, and soak in cold water. throw it in towards the end.)
Dressing:
The juice of 3 limes
2 tsp of cumin
big pinch of sea salt
2 tbs of olive oil
1. Bring quinoa to boil with 2 cups of water and a pinch of salt.
2. Cover and let simmer for about 15 minutes or untils it fluffs easily with a fork, and all the water is absorbed.
3. Let the quinoa cool while you prepare everything else.
4. Combine beans, corn, citrus, avocado, bell pepper, kale, cilantro and onion in a large bowl. Toss all together.
5. Whisk the ingredients for the dressing.
6. Add the quinoa to the bowl and pour in the dressing, tossing everything together to combine. Enjoy!!!