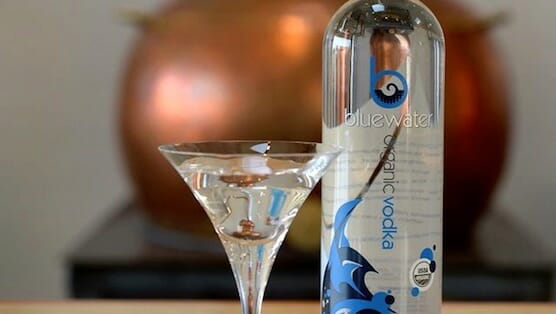 The fog-draped, storm-battered environs of Port of Everett, Washington, is the kind of place that makes you need a strong drink. And this small seafaring town provides, thanks to Bluewater Distillery. This small-batch operation has carved out a quiet niche with their 100% organic vodka and gin, all distilled in hand-hammered direct-fire copper kettles. But their bracing Bluewater 100 Proof vodka—the only full-strength all-organic vodka ever crafted—may be best suited to soldier yourself against the hoary climes of the Pacific Northwest.
As with most vodka, it pours a clear white, and the high alcohol level delivers a discernible, burning aroma. But this ain't meant to be sipped on the rocks right from the bottle. Dubbed the "bartender's friend" thanks to its aggressive toxicity, it's ideal for infusions and booze-forward cocktails.
As for what you could infuse, imagination is your only real limit. The vodka serves as a relatively quiet (if aggressive) canvas on which to experiment, from making classics like limoncello or grenadine to…pretty much anything you'd like to try, from herbs to fruits to citrus zest.
I tried a mixture of cantaloupe and mint, soaked for about a week in a mason jar, and the resulting infusion has given Moscow Mules a decidedly brisk, summery spin on a classic. I also chopped up a bunch of ginger and infused it for ten days, then tried it with a hearty dash of soda water and wedge of fresh lime, and discovered the perfect summer sundowner. The ginger vodka also made for a burst of potent flavor when taken as a half-shot without as much burn as I'd initially expected.
But this high-octane vodka is only part of the larger Bluewater story. Beyond the all-organic approach to sourcing its ingredients, the distillery has also embraced a veritable checklist of other holistic practices, including using 100 percent American-made bottles, supporting in-sourced manufacturing jobs, and joining 1% for the Planet—the only distiller that belongs to the NGO.
So you can feel even better about buying a few bottles and trying your hand at a little booze-centric science experimentation.
Distiller: Bluewater Distilling
City: Port of Everett, Washington
Style: High-Proof Vodka
Proof: 100%