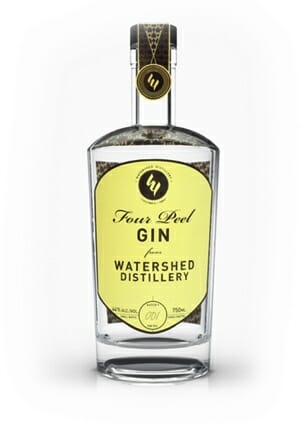 Distillery: Watershed Distillery
City: Columbus, Ohio
Proof: 88
The inspiration for the beautiful, handmade still in Columbus, Ohio, where Watershed Four Peel Gin is made, came from an unlikely location: Sweden. Co-founder Greg Lehman played professional volleyball in Scandinavia, and was impressed with the many small distilleries the country boasted, each with its unique spin on traditional styles. Coming back to his hometown, Lehman and Dave Rigo quickly learned that while Ohio might boast a pre-Prohibition history of distilling, it's not the easiest state to launch a still.
But Watershed, named after their "watershed" moment in crafting their gin, was launched in 2010 and now makes gin and vodka and is soon adding a bourbon.
The gin, made with a eight botanicals including juniper, is sharp and flavorful. The juniper jumps out but so do other more floral and pine notes. We tasted it neat and in a gin and tonic, and in both instances, its complexity held up. This was certainly not your father's gin and tonic.
The Negroni
Jazz singer Kat Edmonson shared her favorite gin recipe for you to try:
Ingredients: 1.5 oz. gin, 1.5 oz. Campari, 1.5 oz sweet vermouth and a slice of orange, halved.
How to make it: Combine gin, Campari, and vermouth in a large tumbler and pour over a glass of ice
Why it's great: It's bittersweet, totally refreshing, and comes in a brilliant shade of red. I first tried it at Le Fournil in the south of France after a tiresome week of drinking one beautiful wine after another. This cocktail made for a fun change of scenery and has since been a favorite to employ when it's time to liven things up.