15 Stars Fine Aged Bourbon Platinum Review
Photos via 15 Stars Fine Aged Bourbon
Drink
Reviews
whiskey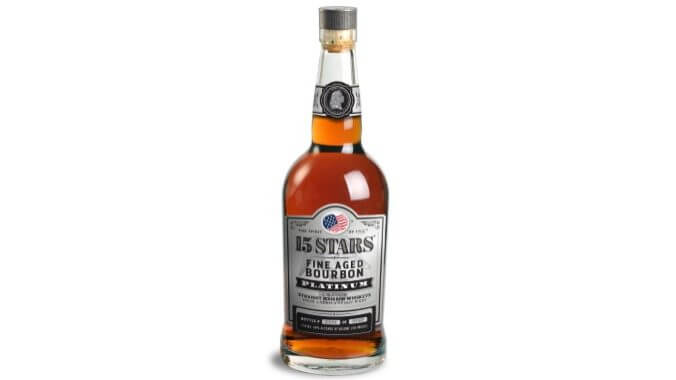 I wrote the following, the first time I tasted some whiskey from independent bottler 15 Stars Fine Aged Bourbon last year, and it remains relevant, so I'll reuse it:
When it comes to the American whiskey scene, drinkers haven't exactly been hurting for high-end sourced bourbon releases in recent years. In fact, it has seemed at times as if this has become the most desirable new bourbon venture for entrepreneurs to target—spend liberally on sourced bourbon, cook up a historical sounding name and concept for your company, and jump right into the market offering "limited release" batches at price tags of $100 or more. With bourbon mania showing few signs of abating, one wonders if the most common sources of well-aged Kentucky bourbon—Beam, Heaven Hill, Barton, etc—will even be able to keep up with these types of companies and their thirst for 15-year-old barrels, although we should keep in mind that these releases are typically so small in terms of barrel count that the market can theoretically support quite a few of them.
The last year has only brought more of these types of new ventures relying on well-aged sourced bourbons, or blends or those bourbons. And yet, some companies are notably doing it better than others when all is said and done. I was suitably impressed with that first bottle from 15 Stars, confusingly titled 7 & 15 Year Whiskey, but it turns out this new release, Platinum, is that much more impressive. Although really, it needs to be that much more impressive to support a huge $280 MSRP. Thankfully, this stuff does deliver in a substantial way.
15 Stars Fine Aged Bourbon Platinum is a blend of three straight bourbon whiskeys aged 10, 15 and 18 years, from states that the company refers to as America's "first West." In practice, that means sourced whiskey from Indiana (presumably MGP), Tennessee (Dickel is always a good bet), and Kentucky (potentially Bardstown Bourbon Co., where this is bottled). This type of blend has become popular among independent bottlers and consumers alike, marrying some of the house characters of each region together. This is certainly an impressive age statement at the very least, with the finished product being bottled at 49% ABV (98 proof). It's being sold online via the company's web store, and select retailers in Kentucky, Indiana, Tennessee, Missouri, Georgia, and Louisiana.
So with that said, let's get to tasting and see how this extra-mature blend holds up.
On the nose, 15 Stars Platinum leads off with caramel corn and delicate toasted oak, slightly dusty, combined with woody spice, caramel candies and modest vanilla frosting. Over time, the nose becomes somewhat fruitier, with brambly blackberry joining the party, along with more of a roasted nuttiness evoking peanut brittle. It's a pretty well-rounded nose, all in all, though it doesn't explode out of the glass.
On the palate, this one initially turns in big spice–tons of baking spice in particular, with a lot of cinnamon brown sugar and cardamom. This is mostly oak-derived spice, supported by caramel candies and vanilla bean. I'm getting apple fruitiness, eventually reminiscent of fried apples and cinnamon. This then transitions to more mature elements of tobacco and leather. Sweetness is mild to moderate, counteracted by just enough drying oak tannin. The whole profile works together quite harmoniously, and the ethanol is extremely mild–the one thing you might say you want is just a bit more boldness or strength to the overall package. Another 10 proof points might make this a world beater, it's hard to say.
What you do get here, though, is the full benefit of the maturity of each bourbon. It's an elegantly assembled blend, not too flashy but undeniably delicious. The price point puts it outside the realm of feasibility for many drinkers, but if you're in the market to drop this kind of cash on a bottle, this is an elegant way to do so.
Distillery: 15 Stars Fine Aged Bourbon
City: Bardstown, KY
Style: Straight bourbon whiskey
ABV: 49% (98 proof)
Availability: Limited, 750 ml bottles, $280 MSRP
---
Jim Vorel is a Paste staff writer and resident beer and liquor geek. You can follow him on Twitter for more drink writing.