Another Five Whiskeys We're Revisiting During Quarantine
Photos via Brown-Forman, Old Fourth Distilling, Oban, 13th Colony Distilleries, Crown Royal
Drink
Lists
whiskey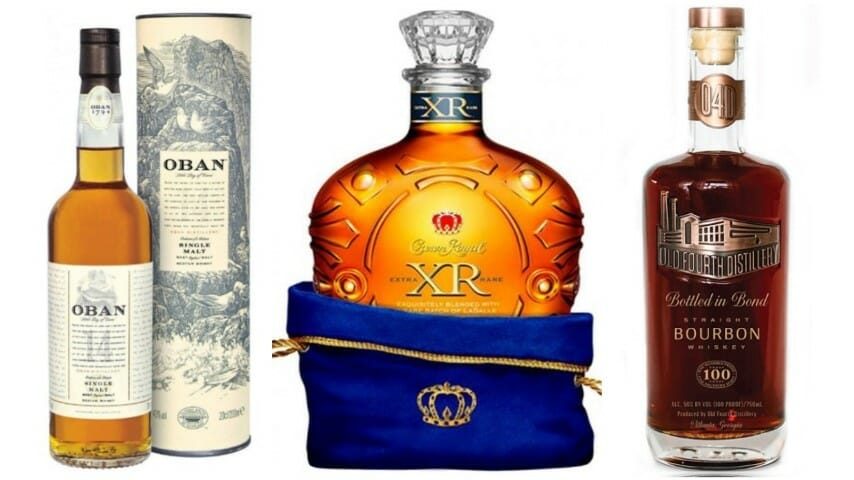 Paste readers seemed to appreciate the first and second rounds of whiskys we've been revisiting during quarantine, so it seems a third is in order. Here are some more bottles I've been digging out from the back of the liquor cabinet to sample once again.
If you're anything like me, you're probably thanking your lucky stars or deity of choice right now for the fact that you were already maintaining a very well-stocked home bar before the world descended into its current, apocalyptic state. Because if there's one thing you want to make sure you have on hand during the new societal age of social distancing, it's … toilet paper. But it doesn't hurt to have some whiskey, either.
With that thought in mind, during the ongoing coronavirus (COVID-19) pandemic, I've been returning to the back shelves of my liquor cabinet with more regularity, re-sampling some of the various bottles of whiskey I haven't necessarily been thinking about recently. It's been a good opportunity to revisit some old classics and bottles I'd half forgotten about, while possibly finishing off some of those pesky bottles that have been hanging on to their last two ounces for a year or more.
Here, then, are five more interesting bottles of whiskey I've been revisiting during quarantine. If your state's liquor stores are still in operation, consider picking up some quarantine whiskey for yourself!
---
1. Old Forester Single Barrel Barrel Strength
MSRP: $80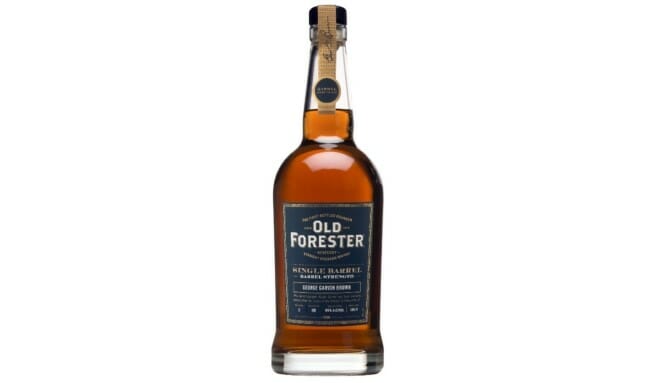 Flying a bit under the radar in the beginning of 2020 was the announcement that Old Forester was revamping their Single Barrel program, upping the proof of the core Single Barrel Bourbon from 90 to 100 and simultaneously introducing a barrel proof version of the same Single Barrel Bourbon. It made perfect sense to introduce that cask strength version, certainly—it's almost an expectation at this point that distilleries have at least one barrel proof bourbon entry, and the whiskey geeks hunt these releases down. Like other Old Forester bourbons, this one is a result of the exact same recipe that yields everything from the 86 proof flagship to the coveted Birthday Bourbon … although at more than 130 proof, this represents the strongest whiskey that Old Forester has ever widely released.
Note: These Single Barrel bottles are primarily available via private barrel selections at participating package stores and retailers that specialize in quality whiskey. You'll want to find a good bottle shop, which is more likely to carry them, or they can be purchased directly from the distillery in Kentucky.
My Single Barrel sample is labeled as "130-135 proof," and it's not afraid to throw its weight around as a result. The nose, I should note, isn't overwhelmed by ethanol by any means, which is nice—I get big notes of dark caramel and funkier molasses, oak and plummy dark stone fruit, along with plenty of late-developing cocoa, cola spice and maraschino cherry. On the palate, that cherry really pops, combining with the chocolate notes to evoke a cherry Tootsie Pop—something I've enjoyed previously with certain batches of Birthday Bourbon. And yeah, this sample definitely reminds one of Birthday Bourbon, packing some of the same cola spice, significant oaky assertiveness and heavy brown sugar notes. Fairly sweet and quite viscous, this is a mouth coater with plenty of heat, which is to be expected at more than 130 proof. It's quite forward on the red fruity notes, and I'm not getting the signature Old Forester "banana" notes much this time around—it seems like I have a tendency to either perceive red fruit or banana on most Old Forester bourbons, and this one falls toward the former rather than the latter. I'm not sure if that's more a function of batch variation or my own palate, but this works very nicely for me.
And at an $80 MSRP? Really not too bad, as far as modern valuations of cask-strength bourbon releases are concerned. It's definitely a pure and powerful example of Old Forester's house style.
---
2. Oban 14 Year Old Single Malt Whisky
MSRP: $70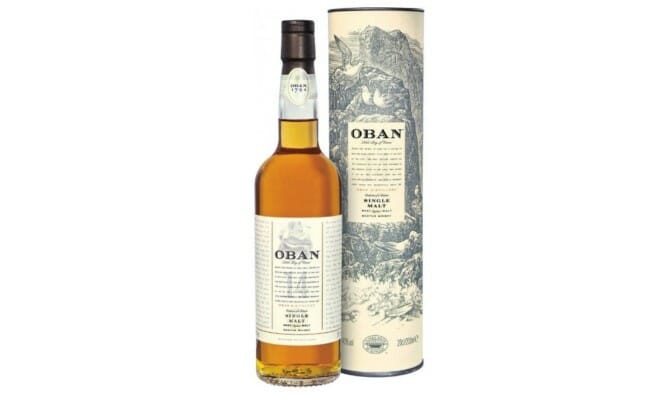 I was late in getting around to sampling this classic West Highland malt—fittingly part of Diageo's Great Malts of Scotland series—when I first tasted it for Paste back in October, but it certainly made an impression quickly. An almost perfect illustration of regional influences within the Scottish whisky world, Oban 14 is an incredible distillate of its specific location. It's the most fittingly "West Highland" malt I've come across to date, and it's rapidly become one of my favorite neat drams, period, thanks to its masterful balance of several dimensions of flavor.
Granted, "Highland" single malt whisky is already a very wide term; possibly the most diverse of the classic scotch whisky regions, owing to the size of the region and the substyles within it. Oban, however, is a case where the location imparts exactly the character you'd expect: It takes a rich, fruity, typically Highland malt and then layers on more coastal influences, with hints of the salinity and peat typical of Islay. Together, they form a magical combination: A best of both worlds scenario where you get the richness and fruit-forward tones of unpeated scotch, as well as a little kiss of smoke and earthiness that would be much more abundant on Islay. It refuses to be one-dimensional in either direction, and is better off for it.
Tasting it again, the profile of Oban 14 is full of big orchard fruit notes on the nose, with juicy peach and apricot, followed by vanilla and hints of sweet wood smoke. It's moderately sweet on the palate in terms of residual sugar, and slightly syrupy in texture, feeling bigger than its modest 86 proof, with vibrant notes of apricot jam, dark honey, biscuits, salt and subtle smoke/earthiness. The final impression is rich, fruity and incredibly inviting—this is a malt that manages to be both very easy to drink and complex enough to make you stop and think. As time goes by, my admiration for it only increases.
---
3. 13th Colony Southern Rye Whiskey (Cask Strength Single Barrel)
MSRP: $65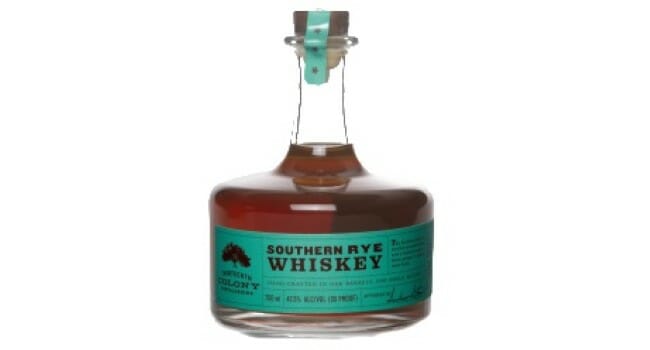 I'm guessing slightly on the price point here—this is a store pick, cask strength single barrel bottle I've had for almost two years now, and I'm no longer sure exactly what the price was when it was acquired. The base product here is 13th Colony Distillery's (in the small town of Americus, GA) Southern Rye Whiskey, which is aged for a few years (age not disclosed) and finished on French oak spirals, which has become a popular way to amp up the spice profile of a whiskey in particular. That base product retails for a quite reasonable $30-35 in most Georgia stores, at 95 proof, and is a solid cocktail rye option, but this 120 proof cask strength variant is another animal entirely.
This stuff is excellent, and relatively unheralded, as I expect most whiskey writers have never had a chance to sample 13th Colony's distillate in its cask strength form. That makes it seriously underknown in the wider whiskey world, but it's worth hunting down if you love spicy, barrel proof rye.
On the nose, this one is quite spicy, with big notes of peppery rye grain, caraway, cinnamon stick and additional baking spices, along with significant barrel char—a very "freshly charred," aromatic oak profile that is probably helped along by those French oak spirals. On the palate, it's again plenty peppery and redolent in cinnamon sugar, with slightly musty-grainy qualities and huge baking spice notes. Allspice, ginger snap cookies, grass and sweet apple pie—it's all there, and it's impressive the way 13th Colony avoids this coming off as excessively grainy or young. All in all, it drinks significantly older than its true age, whatever that may be.
Plenty flavorful, and not too hot for the 120 proof (another concern with younger, cask strength whiskeys), this is a potential hidden gem, but unfortunately one you may have to work to find. There's a reason I've carefully nurse this bottle for the last few years.
---
4. Crown Royal XR
MSRP: $130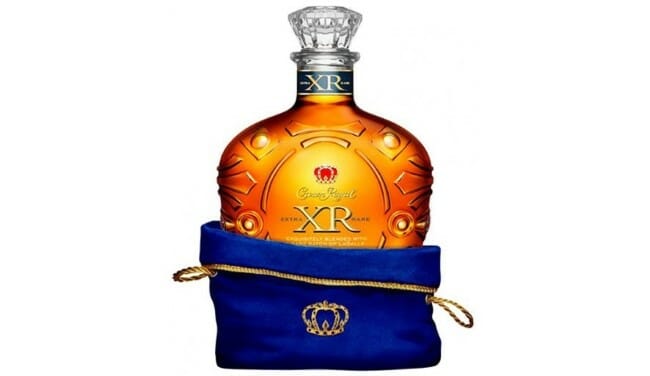 Hailed as the rarest (and therefore best, right?) of Crown Royal's Master Series collection, XR was a novelty when it was first released in 2012 for the fact that it contained some of the last whiskey from the shuttered LaSalle distillery in Canada. This would have been a very small amount of course, as Crown is a blend of dozens of whiskeys, but subsequent re-releases of XR over the years have continued to state that it's made with "one of the final batches of whiskeys from the renowned LaSalle distillery." That includes this most recent 2020 batch, which aims to put a very premium price sticker on a demographic (blended Canadian whiskey) that is often scoffed at by American brown liquor consumers. However, as I learned during my trip to the Hiram Walker distillery last year, Canadian whiskey is capable of being every bit as interesting as stuff from the U.S.A., Scotland or Japan. So let's give this one a fair shake.
Like other Crown entries, this is a blend of many whiskeys, coming together at a low 80 proof (40% ABV), no doubt intended for maximum approachability and "smoothness," that particularly vague word being by far the most coveted descriptor a whiskey like this can attain. "Smooth" just happens to be one of those nebulously defined terms that doesn't mean anything in particular, but that everyone can agree is a good thing.
On the nose, I get faint green apple and light toffee, but both are overwhelmed by a sense of raw ethanol—a permanent marker-like note that unfortunately I've experienced in this line of whiskeys before. Overall it's a very muted nose, though, which isn't too surprising at the low proof. On the palate, the assertiveness of flavors is actually more pronounced, which is a good thing—I get some spicy rye grain, and it's significantly sweeter than I was expecting, with notes of raw honey, light caramel and vanilla cream. There is, however, still a prominent, solventy ethanol note that isn't particularly pleasant, before a drier than expected finish. Overall, this is a decent expression of Crown Royal's blended style, but spending $130 on a bottle is asking something unreasonable of the consumer. Premiumizing this particular part of the Canadian whiskey segment in general is a tall order.
---
5. Old Fourth Distillery Bottled-in-Bond Bourbon
MSRP: $55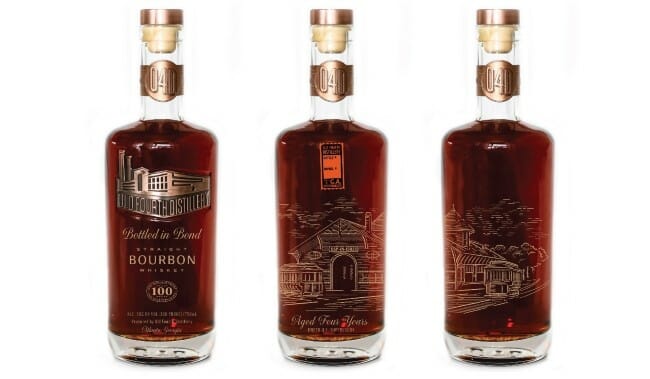 Atlanta's Old Fourth Distillery took a distinctly unusual route to the release of their first whiskey in 2019. The fact that they contracted its distillation from MGP of Indiana is quite common—many small craft distilleries do exactly that. What's odd is the fact that they only contracted the white whiskey from MGP in 2015 because their own stills were busy, and then barreled and aged the resulting bourbon themselves in Atlanta for four years, until it was ready to qualify for the federal status of Bottled-in-Bond. It was then released in its first run in the spring of 2019, immediately taking us by surprise, because this was a really solid bourbon.
In the months since, I've revisited that bourbon every once in a while, and my opinion of it hasn't changed. What I admire in the Old Fourth Bottled-in-Bond is its archetypal quality: It's like a blueprint for classic bourbon, and I mean that in a way that is exciting rather than mundane. It's like the bourbon you wish your local distillery was making, rather than the not-particularly-successful experimentation they're likely attempting instead. Old Fourth took aim at a segment of the whiskey market that was thoroughly covered by releases from the bigger distilleries in the game, and managed to make something that compares favorably to companies with centuries more history behind them. And all in a lovely bottle, too.
On the nose, I get a lovely bouquet on this bourbon: Candied ginger, cinnamon brown sugar, caramel and slight nuttiness—roasted pecans, possibly? On the palate, it's classic American bourbon all the way: Spicy rye, moderate residual sweetness, spice heavy and plenty characterful, with respectable, well-integrated heat. Sweet brown sugar gives way to peanut brittle, corny sweetness, cinnamon and clove, with an impeccable balance between sweetness, heat and drying oak. It's something I would reach for if a friend asked me "What is a bourbon supposed to taste like?"
All in all, Old Fourth's offering isn't excessively fancy, but it's immediately satisfying. It's a bottle I always enjoy revisiting.
---
Jim Vorel is a Paste staff writer and resident brown liquor geek. You can follow him on Twitter for more drink writing.