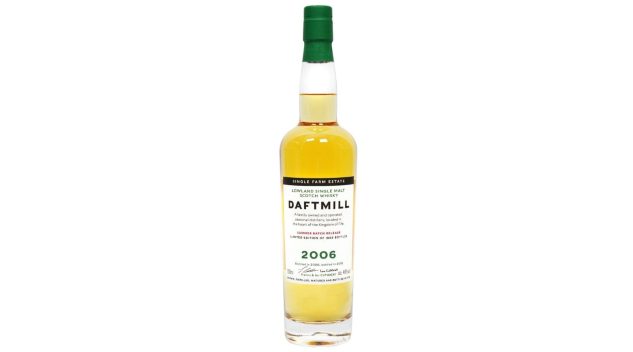 With the exception of the almost extinct Campbeltown region, which can boast only three malt whisky distilleries, Scotland's Lowland region tends to be the next most easily bypassed or forgotten of the traditional scotch malt whisky regions. Despite being the second largest region overall, after the Highlands, the Lowlands can't boast a great density of distilleries like Speyside, the Highlands or Islay. Rather, there are only nine active distilleries in all of the Lowlands, and many are producing grain whisky for industrial blends, rather than true single malts. Only a handful of names, such as Auchentoshan, Glenkinchie, and Bladnoch keep that flag flying, and preserve the idea of "Lowland single malt" as a distinctive concept. Now, however, there's a new player in town: Daftmill.
Daftmill is a young distillery by any kind of Scottish metric, and released its first two malt whiskies (each 12 years old) in 2019 to much interest and high prices. Initial releases from any new Scottish malt distillery tend to fetch very high prices, especially on the secondary market, thanks to the assumption that they'll be valuable collector's items down the line, which explains how the MSRP of Daftmill's first batches manages to sit at $250. Each of the first two batches of Daftmill 2006—the distillery uses vintage years, rather than regular age statements—was in a small run of around 1,680 bottles, presented at 46% ABV (92 proof). The brand says it "takes farm-to-bottle to a new level as one of Scotland's true farm-distilleries," noting its "estate-grown barley farmed by Francis Cuthbert in Fife, Scotland." Daftmill 2006 was aged entirely in American first-fill bourbon casks.
What does all of this tell us? Well, This is a new brand that is attempting to immediately position itself as a highly artisanal, premium product, reflecting the terroir or the Lowlands, carrying itself with a certain sense of gravitas. These first batches, certainly, reflect the culmination of more than a decade of labor, so any time a new distillery "comes of age," as it were, it's a noteworthy event. So let's get to tasting and see how they did.
On the nose, this is a light and quite fruity dram, which is tempered by some earthy notes as well. I'm getting significant stone fruit, in the form of peach and apricot, with maybe the suggestion of a bit of passionfruit as well. Honey sweetness and a bit of biscuity/shortbread malt are also present, along with hints of almond sponge cake. Seems appealing and fruity to me, although I will confess I have less experience with other Lowland malts to compare it against—the style is typically defined by "lighter" drams, like the triple-distilled Auchentoshan, but access to them is less common in the U.S. market than the three larger and more famous regions (Speyside, Highlands, Islay).
On the palate, this is way fruity, in a good way. There's a fair amount going on here, with complex notes of apples, pear and apricot, and lots of vanilla bean that contributes a slightly desserty vibe despite the fact that actual residual sweetness is mild to moderate. The persistent notes of almond paste/marzipan, on the other hand, are a bit more unexpected, similar as they are to the profile that is usually achieved by sherry cask aging, rather than bourbon barrel maturation. There's also a ribbon of earthiness running through this, keeping Daftmill 2006 from being solely a fruity malt, and the higher than average proof makes it flare up a bit with heat on the palate.
All in all, this is a curious single malt, but one worth trying, especially for those who like fruitier, nutty sherried malts—despite the fact that there's no sherry involved here. Granted, it may be difficult to lay hold of some, or sample it in a cheap way, thanks to that $250 MSRP, but perhaps future batches of Daftmill will come a bit more down to Earth.
Distillery: Daftmill
City: Cupar, Scotland
Style: Single-malt scotch
ABV: 46% (92 proof)
Availability: Limited, 750 ml bottles, $250 MSRP
---
Jim Vorel is a Paste staff writer and resident brown liquor geek. You can follow him on Twitter for more drink writing.