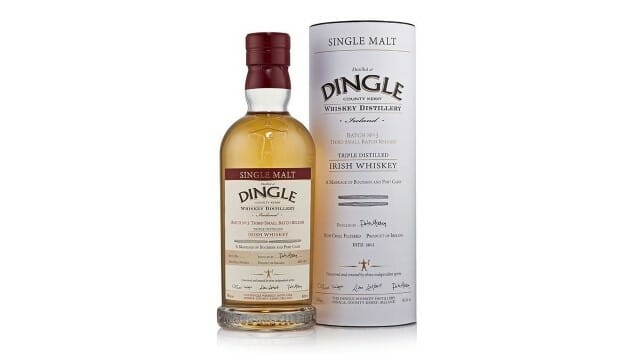 For all the talk of whiskey's boom times, there really aren't that many aged single malts on the market—Irish and Scottish whiskeys, that is—that come from small, independent distilleries. Not that there aren't plenty of small, independent distilleries in Ireland and Scotland today, but given the time that it takes to produce slow-maturing single malts, the vast majority of these small distillers are simply marketing sourced product while they wait for their own stocks to finally mature. Whether they're upfront about their sourcing can lead to much consternation from Irish and scotch whiskey writers, but you can't really fault them—there's a lot of whiskey out there that comes from the same few large distilleries, being marketed as small-batch and independent.
One Irish distillery that doesn't have to pretend is Dingle, which has been aging its own distillate since it first opened in 2012, and now has a genuine single malt (albeit a pretty young one) to show for it. Their Batch No. 3 is "the marriage of meticulously selected casks, both bourbon and port," and has recently come to the U.S. in limited quantities. Dingle was nice enough to send over a small sample, so let's give it a taste.
Dingle Single Malt Irish Whiskey (Batch No. 3) is a blend of bourbon and port barrels, bottled at 46.5 percent ABV (93 proof). It carries no age statement, but the liquid inside theoretically couldn't be any older than six years. It does make the $99.99 MSRP a little eye-raising, but this is an independent product from a micro-distillery, so that's probably to be expected.
On the nose, I'm getting an initial bready-doughy note from this all-malt whiskey, with a touch of the yeasty character you find in American wheated bourbons. This segues gently into honeyed sweetness with a slightly toasty quality, before going into significant dark fruit notes of figs/dates. You certainly get the impression from the nose that this whiskey had a wine or port finish.
On the palate, the fruit flavors assert themselves again, with a plummy roundness and moderate sweetness that is well integrated into the spirit as a whole. Amber honey and light oakiness (with a touch of tannic astringency) are buoyed by a kiss of alcohol burn (93 proof is a bit higher than usual for the style)—mild, but persistent, with a stone fruity finish and a touch of pine. Overall, the thing that stands out is the lovely sweetness—very well dialed in for neat drinking; rich without being anywhere near cloying. The port casks have done their job very well here, elevating a single malt that was probably "good" to something considerably more fun and unique.
In the end, that $100 price tag is a big ask for a non-age-statement single malt from a small distillery that is mostly unknown in the U.S., but Batch No. 3 of Dingle Single Malt surprised me nonetheless. It may not necessarily have the oomph and the complexity to trade blow-for-blow with older whiskeys from bigger producers that you'll find in the same price bracket, but its fun, jammy, berry-type flavors should give you ample reason to sample some if you get the chance. If the test of a new whiskey is whether it's novel enough to make me want to keep drinking it, the answer here is yes.
Distillery: Dingle Distillery
City: Farranredmond, DIngle, Co. Kerry, Ireland
Style: Irish single malt whiskey
ABV: 46.5 percent, (93 proof)
Availability: Limited, 750 ml bottles, $99.99 MSRP
---
Jim Vorel is a Paste staff writer and resident brown liquor geek. You can follow him on Twitter for more drink writing.