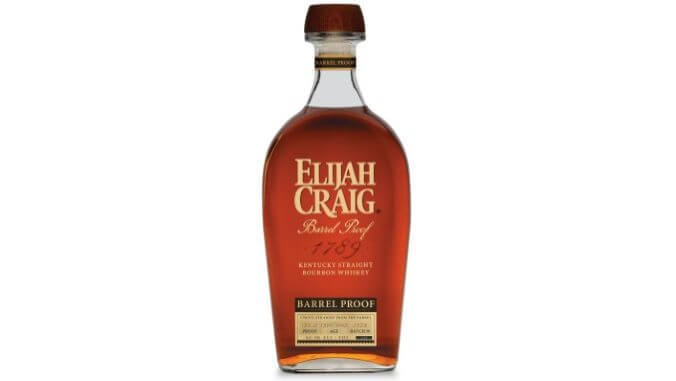 For a number of years, the release of batches in Heaven Hill's Elijah Craig Barrel Proof series had become so dependable and nearly rote for me as a writer that I had a pre-written introduction I would copy-paste into the beginning of reviews, simply explaining the brand and its place in the whiskey market, so as to not have to write variations on the same spiel over and over again. I would explain that "ECBP" was considered a bastion of quality and value in the industry, a dependably extra-aged bourbon at a very sturdy proof point, and that even as the MSRP creeped up a little bit it still pretty much always represented one of the best overall buys an aspiring whiskey geek could make.
And then Heaven Hill threw a wrench into the status quo. This spring, they announced that Elijah Craig Barrel Proof would drop its permanent 12-year age statement in favor of a fluctuating age statement that would rise and fall just like the proof point of these cask strength bourbons, with entries both younger and older than the previous 12 year mark. Unsurprisingly to anyone who knows the whiskey world, this led to great hand-wringing and consternation among bourbon geeks, who understandably feared that the announcement was a pretext to a gradual lowering of ECBP's age statement. In truth, we still don't know if this is the case, and won't be able to see the real trajectory of the brand until a few years have passed.
What we do know is that the first ECBP release of this era, B523 (so named because it's the second release of 2023, hitting shelves in May), carried an age statement of 11 years, 5 months–arguably a change small enough to not have much of an impact. I reviewed it, and found it to be a pretty good, fairly standard batch of Elijah Craig Barrel Proof Bourbon in the context of the brand. In other words, it was quite good. Was it among the best ECBP batches ever? No, but it also wasn't anywhere near the bottom of the pile.
Now, however, is the moment that the bourbon geeks have been waiting for: The reveal of ECBP C923. This is the bottle clearly intended to show that Heaven Hill is still willing to put some of their extra, extra-aged juice in an Elijah Craig Barrel Proof bottle, and as a bonus, it's also the strongest batch of ECBP we've seen hit shelves since before the COVID-19 pandemic began in earnest in the U.S. Seemingly everything about this bottle looks designed to pique the interest of the most intense whiskey collectors out there, and you can expect this one to absolutely disappear the moment it touches a shelf. Don't say I didn't warn you.
ECBP C923 weighs in at 13 years, 7 months old–a full 19 months longer than the previous 12 year age statement. It has a strength of 66.5% ABV (133 proof), which is the strongest ECBP batch since the 136.6 proof of A120 more than 3.5 years ago. In fact, this is the first Elijah Craig Barrel Proof batch to crack the 130 proof mark since the end of 2020, as the series has notably moved in a direction where it sits in the 120s, even occasionally dipping below that mark. The 133 proof here feels like a calculated choice on Heaven Hill's part to entice the most selective of collectors and proof hounds by giving them a reminder of a strength that was once common to the series–in the old days, ECBP often sat in the 130s and peaked at 140 or above, although I've always personally been partial to batches in the 120s.
There's one glaringly obvious question to be asked here: Just how much of an outlier does Heaven Hill intend C923 to be? With three ECBP batches per year, will there always be at least one like C923 that is really pushing the envelope in terms of strength or age statement? Or will this type of ECBP batch be even rarer than "one per year"? The most cynical whiskey geeks will no doubt conclude that this is the company buttering them up before dropping a 10-year-old batch for A124. And who knows? They might be right. We won't know until the distillery makes their move. But what we do get to do now is taste C923, and let me tell you folks: This batch is as special as you would no doubt hope it would be.
On the nose, it's immediately clear that ECBP C923 is going to be a stand-out batch at the very least. This is aromatically one of the richest batches of Heaven Hill bourbon I've come across in quite a while–sweet old oak and burnt caramel/creme brulee is jumping out of the glass, with copious amounts of chocolate, pecan praline and flashes of brighter citrus. There is a whole lot going on here. Red fruit is represented, with a character that waffles between brighter berry and more vinous, cooked fruit, supported by slightly musty but never overpowering oak, traces of baking spice and savory rye. The ethanol, meanwhile, is very muted on the nose for the 133 proof–this reads as less boozy on the nose than some of the ECBP batches in recent years that were in the low 120s.
On the palate, this is an absolute masterpiece of everything one is typically hoping to find in a Heaven Hill bourbon. There is huge, very dark caramel–perhaps closer to molasses–with explosions of baking spice and bright raspberry. Brown sugar, pepper, glazed pecans, stem ginger and cinnamon sugar linger on the palate forever, with delicately drying tannic oak keeping it from ever reading one-dimensional in its sweetness … though this is definitely sweet and decadent. The warmth, meanwhile, creeps from the palate to the chest in a never-ending Kentucky hug, but this is simultaneously among the easiest-drinking 133 proof bourbon batches you will ever encounter. Everything is harmonious. It's shocking how easy this is to drink, but how much there is to mull over in drinking it. With that said, I think there may actually be some drinkers out there who want the 133 proof to speak a little bit more boldly, but for me it's in a perfect place.
Frankly, this is among the best ECBP batches I've ever experienced, and this is the highest rating I've ever given to one in years of reviewing these batches. I don't think it's exaggeration to say that C923 will probably end up being the standard against which future batches are judged, and it will likely be a very tough standard for those batches to live up to. I certainly hope they're up to the task, and I certainly hope as well that C923 isn't a true one-off, the type of which we won't see again for years. If the ECBP series could have even at least one batch like this per year, it would be a red letter day in the bourbon world. We'll be keeping a curious eye on these releases in the future, as always, but in the present, try your best to sample this one while it's around.
Distillery: Heaven Hill
City: Bardstown, KY
Style: Kentucky straight bourbon whiskey
ABV: 66.5% (133 proof)
Availability: Limited, 750 ml bottles, $70 MSRP
---
Jim Vorel is a Paste staff writer and resident liquor geek. You can follow him on Twitter for more drink writing.