Four Roses 135th Anniversary Limited Edition Small Batch Bourbon Review
Photos via Four Roses
Drink
Reviews
whiskey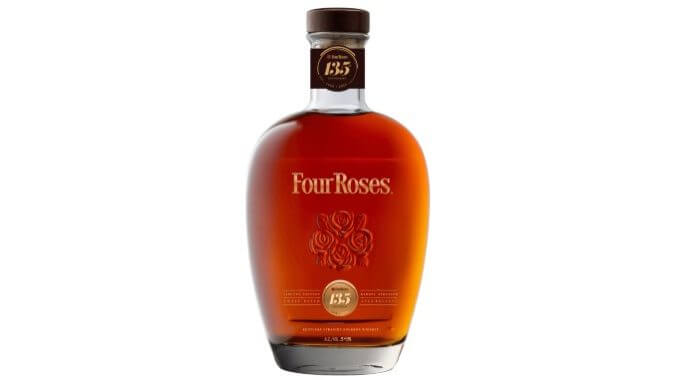 I haven't been shy, in the last few years, about diving into the way that the "limited edition" bourbon scene has increasingly become a farce. There's just way too much whiskey out there masquerading as special–too many random non-distiller producers buying a few barrels of mature bourbon, blending it and then releasing it for $100, $200 or more. Too many of the distilleries have likewise latched onto the limited edition release game, realizing that there's an entire species of not particularly discerning whiskey collector out there who will buy anything with a hint of rarity to it. In doing so, they've watered down the very idea of limited edition whiskeys. But then something like Four Roses 135th Anniversary Limited Edition Small Batch Bourbon comes along, and reminds you of what "special" really tastes like.
We need a release like this every now and then, to reaffirm what a top-tier special release should really deliver for the $200 MSRP you're paying. At that kind of price range, this is supposed to be an incredible experience, and far too many of the similar bottles on the market fail to deliver the transcendent flavor drinkers should expect for doling out that kind of cash. This annual release from Four Roses is frequently among the best of the year, so it's not as if the quality of this 2023 batch is a "surprise" by any means–but it's also a stand-out even among the other Small Batch LEs from previous years. There just seems to be something special about the bottles where Four Roses reaches an "anniversary year," as if they're saving some of their best barrels for the occasion.
This year's 135th Anniversary Small Batch LE–hitting store shelves in mid-Sept., good luck finding it–is a blend of three Four Roses recipes, OBSV, OESV and OESK. That actually gives it the same three recipes as the 2019 batch, which was one of my favorite Four Roses expressions ever. I suppose it makes sense that this one is hitting me just right as well. The batch breaks down with the following percentages:
— 40% OESK: 14 Years, 75% Corn, 20% Rye, 5% Malted Barley
— 35% OESV: 12 Years, 75% Corn, 20% Rye, 5% Malted Barley
— 20% OESV: 16 Years, 75% Corn, 20% Rye, 5% Malted Barley
— 5% OBSV: 25 Years, 60% Corn, 35% Rye, 5% Malted Barley
That's a whole lot of the "E" mashbill, which I also am partial to. This batch weighs in at 54% ABV (108 proof), which is on the lower side of recent Small Batch LE releases. There's probably a whiskey geek out there who is disappointed it's a bit lower, but I can't imagine they'll care much once they taste it. So let's do just that.
On the nose, this one has a whole lot to offer, although notably it seems to leap out of the glass more and more the longer it's sitting with some exposure to the air. There's tons of sweet caramel and commanding old oak/sweet oak presence up front, along with nutty chocolate and savory, herbal rye. I'm also getting clove and some vinous fruit notes that are a bit hard to place, before it doubles down on sweeter impressions of toasted malt and snickerdoodle or cinnamon sugar donut. Mouth watering.
On the palate, caramelized sugars and oak again lead the way–this is getting some mileage out of that small portion of 25-year-old OBSV. I'm getting honey and dulce de leche, along with musty oak, grassy and peppery rye notes and some jammier fruit with hints of raspberry. Baking spice notes favor cinnamon and cardamom, slightly pastry-like, with oak split between roasty, sweet oak and a spicier wood dimension. Alcohol heat is perfectly integrated for the proof point, making for a very easy drinking experience that is by no means lacking in complexity. Oak is a real star attraction here, with depth of flavors that showcase multiple dimensions of the barrel, without ever having any unpleasantly dry, overpowering quality.
Of the Small Batch LE expressions from Four Roses that I've tasted, this one favors less of the rye spice and punchiness of a few of the recent years, and instead leans in to oak, caramelized sugars and traces of fruit. It is absolutely delicious; one of the most satisfying bourbons of any kind I've sampled in recent memory. In a landscape when there are so many bottles trying to justify an egregious $200 price tag, this one does so in an effortless way.
Distillery: Four Roses (Kirin)
City: Lawrenceburg, KY
Style: Kentucky straight bourbon whiskey
ABV: 54% (108 proof)
Availability: Limited, 750 ml bottles, $200 MSRP
---
Jim Vorel is a Paste staff writer and resident beer and liquor geek. You can follow him on Twitter for more drink writing.