GlenDronach Cask Strength Batch 8 and GlenDronach Master Vintage 1993s
Photos via GlenDronach
Drink
Reviews
whiskey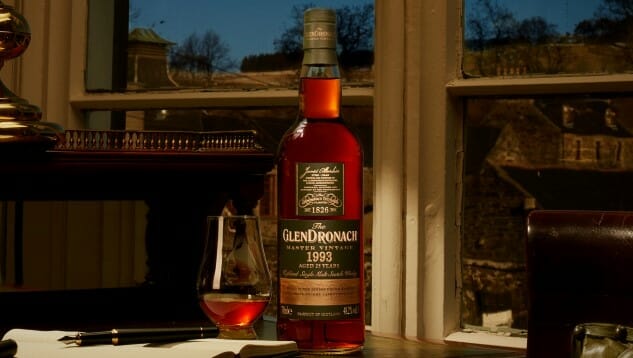 It's sort of funny to think that as recently as the beginning of 2019, I'd barely dipped my toes into sherried Scottish single malts, considering how many of them I've consumed a year later. Truly, being an alcohol writer isn't without its merits, not the least of which is the opportunity to constantly expand your horizons and cultivate new tastes. And among all the tastes I've cultivated in recent years, sherry-influenced scotch has become one of my absolute favorites.
GlenDronach, then, is a distillery of particular note for me, and their reentry into the U.S. scene in the last couple of years has come along at a good time. I'm already a fan of many GlenDronach releases, particularly the 15-Year Revival and the 18-Year Allardice malts, but the latest wave of new releases to hit the U.S. contains two things I've never sampled before: Cask-strength GlenDronach, and a 25-year-old single malt. Interesting indeed, although both releases will set you back a bit: $95 for The GlenDronach Cask Strength Batch 8, and a severe $350 for The GlenDronach Master Vintage 1993.
As is true of the whole GlenDronach line, both of these releases are non-chill filtered and bottled at natural color.
Enough chit-chat, let's get into the tasting.
---
The GlenDronach Cask Strength Batch 8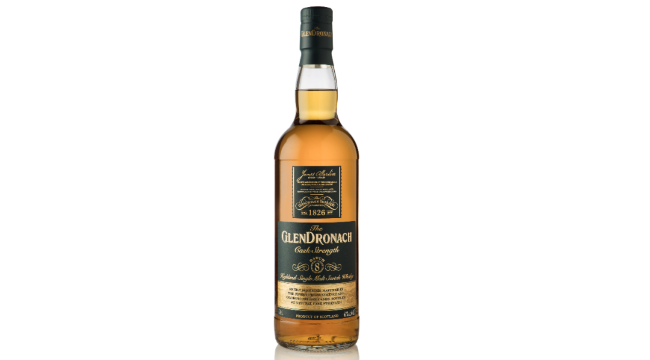 As noted before, this carries a $95 MSRP for a 750 ml bottle, and is mostly marketing itself with the cask strength of 61% ABV (122 proof). The distillery notes that it is 10 years old in their marketing copy, but the bottle itself doesn't seem to carry an age statement.
On the nose, this doesn't immediately strike me as the nutty, indulgent sherry bomb I was rather expecting. I get pear fruit, shortbread biscuits and vinous notes, but the booze here is presenting a tad harsh for my taste, with a solventy edge that makes this spirit seem both strong and young.
It's likewise both sweet and hot on the palate, with buttery shortbread and butterscotch candy flavors, Werthers Originals-esque, segueing into port wine viniferous qualities. It's quite toasty, with a "brown butter" quality that stands out more over time, and a panoply of biscuity-type flavors, but strikes me as lacking in the fruity impressions I was hoping for. Likewise here the alcohol seems a bit dominant, giving the profile a slightly medicinal twinge, before a finish reminiscent of dried herbs de provence and tobacco.
All in all, this is a release I was expecting to quite like, but it doesn't seem to be at its best. It's by no means "bad," but Cask Strength Batch 8 has difficulty standing up to the complexity found in the GlenDronach core range, perhaps owing to its lack of age. Simply increasingly the heat level doesn't serve to bring forth a satisfying range of flavors in this case, leading to a malt that is too defined by ethanol, without the depth to show for it. Perhaps this one will improve once the bottle has been open for a while, but it unfortunately pales in comparison to the Master Vintage 1993, which is much more exciting.
Rating: 7.2
---
The GlenDronach Master Vintage 1993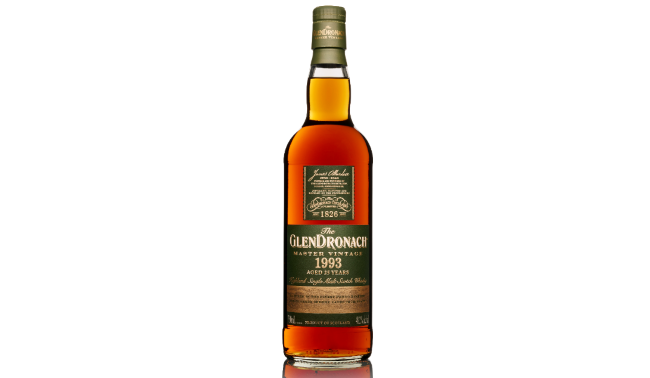 At $350 for a 750 ml bottle, this "master vintage" boasts an MSRP that essentially demands it be great, or at least very good, and thankfully it doesn't let the consumer down there. Fans of The GlenDronach do seem to be a bit harder to please than some others, setting very high expectations on vintage releases (and past releases from 1993 in particular), so I wouldn't be surprised to see some "not as good as the last few" comments from the die-hards. To someone who hasn't sampled every release, however, this compares quite favorably to other GlenDronach bottlings like the 18-Year Allardice, except that much more decadent.
On the nose, this one is delightfully fruity, with a bouquet that kept changing and evolving each time I stuck my nose back in the glass. Cherry, apricot and vanilla buttercream were the first things I picked up on, followed by caramel and marzipan. There's an enticing melange of stone fruit and red fruit impressions here, along with the suggestion of deep caramelization.
On the palate, those flavors follow through in fine style. This is a big, red fruity dram, likewise on the sweeter side, but without the limiting ethanol dominance of the Cask Strength Batch 8. Very creamy on the palate, it is explosively fruity, with a panoply of berries and mixed nuts, combined with peaches and vanilla. Returning to it, impressions of richness and caramelized sugar continued to build, culminating in a very nice hint of maple syrup. On the back end, a little wisp of peat or earthiness that isn't present in the Cask Strength release is a welcome change of pace, reminiscent of a similar finish on the 18-Year-Old Allardice. This is still very much a sherry bomb, and a fairly desserty whisky, but it is neither dominated by sherry or residual sugar, with plenty of complexity and a bevy of tasty fruit flavors. That $350 MSRP will still put it outside the range of most consumers, but if you're a fan of sherried single malts and The GlenDronach's house style, this is another winner.
Rating: 8.9
---
Jim Vorel is a Paste staff writer and resident brown liquor geek. You can follow him on Twitter for more drink writing.