Heaven Hill Is Tinkering With a New Rye Bourbon Mash Bill
Photos via Heaven Hill, Jim Vorel
Drink
News
whiskey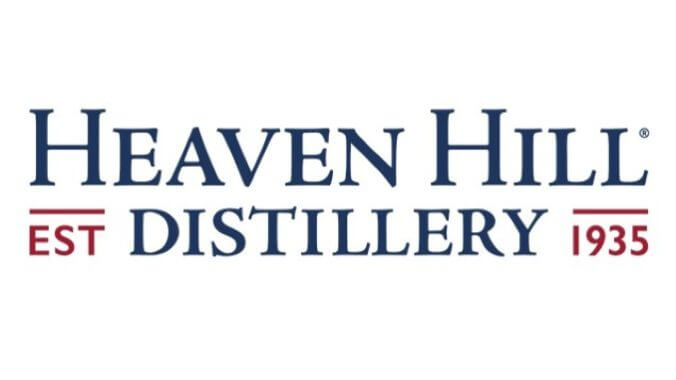 Mash bills are one of the things that tend to define the older, historical American distilleries that are world famous for the production of bourbon. There are of course myriad factors that determine the ultimate flavor of the spirit in a bottle of whiskey, from the exacting science of distillation, to the nigh-mystical processes that occur during a decade or more of aging in newly charred oak–processes that not even the distillery can fully control, so individualistic is it from barrel to barrel. But before all that, it starts with the blueprint of a mash bill, which represents the distillery's first effort to decide what kind of flavor profile they're looking for. And for a lot of classic, heritage bourbon distilleries such as Bardstown's Heaven Hill, a single mash bill is the key to the whole thing.
This bears repeating: For decades upon decades, Heaven Hill has had one classic bourbon mash bill (containing rye), contributing to all of its many brands. That includes the likes of Evan Williams, Elijah Craig, Henry McKenna, JW Dant and various entries in the Parker's Heritage series, among others. Sure, they also have other mash bills at the distillery, for cousins such as wheated bourbon, rye whiskey, wheat whiskey and even malt whiskey–but the single rye bourbon mash bill was something with status bordering on sacred, because it was the backbone of so many different brands for so long.
Imagine my surprise, then, when I opened the most recent Heaven Hill Heritage Insiders box–a program of the distillery to offer media and supporters a chance to try R&D spirits that don't yet have commercial applications–and found a moderately aged "rye bourbon" included, from a different mash bill. I can't tell you what that exact mash bill is just yet, because the company is playing that information close to the chest. But I can say that this liquid hasn't yet appeared in any commercial release, but has a potential to be a big part of Heaven Hill's future when it does appear. I don't think we can overstate how big it is for a company with this kind of history to debut a new classic bourbon mash bill after only having one for all these decades.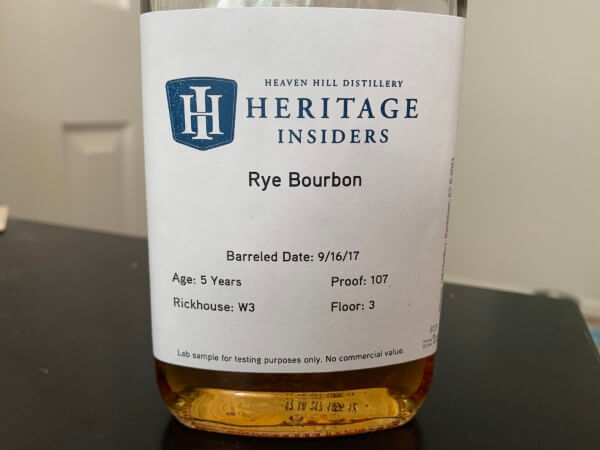 Granted, the company has been experimenting in recent years with some different mash bills via the Evan Williams Bourbon Experience in Louisville, which includes a different rye bourbon recipe. The difference, as you can taste in the Evan Williams Square 6 whiskey line, is that bourbon and rye being distilled in this location are coming from a pot still, rather than the traditional bourbon column still. This makes them a very different product from classical Heaven Hill bourbons.
Still, I can't help but wonder if this sample I received might be that same rye bourbon mash bill from the Square 6 line, modified in this case to be used on the traditional column stills instead of the pot still of the Evan Williams Bourbon Experience. That mash bill is reportedly 52% corn, 35% rye and 13% malted barley, which is a very high-rye recipe indeed, radically different from the classic Heaven Hill bourbon mash bill of 78% corn, 10% rye, 12% malted barley. It does seem like it would make perfect sense for the company to test out that new rye bourbon mash bill in both ways, but I don't know–this is just pure speculation on my part.
As for the spirit that I was sent in the Heaven Hill Heritage Insiders box, it's a 5 year old rye bourbon that was barreled on 9/16/2017, in Rickhouse W3, Floor 3, and bottled at a strength of 53.5% ABV (107 proof). Tasting notes follow:
On the nose, there's definitely a bigger herbal, floral rye presence that announces itself right off the bat, with pepper and faint mint, but still the caramel corn, vanilla and hints of nuttiness of classic Beam bourbons. The nose has a nice balance between elements, not leaning too far in any one direction. The palate is moderately sweet, with caramel, honey and sweet stem ginger, transitioning into significant, minty rye, baked apples, cardamom and more earthy tones. Its long, spicy finish and fruity flourishes give it quite an autumnal feel, I think, and the 107 proof is a nice level for it, full of sweetness and spice, but not particularly hot.
All in all it's a very pleasant dram, and I believe that if they put this on the shelf right now, exactly as it is, it would definitely sell, particularly as a bourbon for classic cocktails. It feels very all-purpose and adaptable to cocktail recipes in particular, given the more prominent rye presence that splits the difference between the classic Heaven Hill bourbon recipe and their Kentucky rye recipe.
With that said, there's no saying when we will actually see this new rye bourbon mash bill make its public debut. It could be this year, or this could end up being a Heaven Hill secret that is known only to the most passionate fans and whiskey geeks, who await its arrival in whatever form it eventually ends up taking. I'll certainly be excited to taste it again in the future, though.
---
Jim Vorel is a Paste staff writer and resident beer and liquor geek. You can follow him on Twitter for more drink writing.