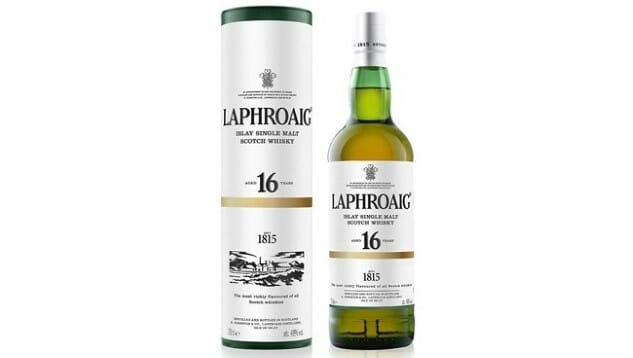 Few single malt brands are so defined by the expectation of smoke and peat as Laphroaig, one of the quintessential Islay malts. Along with the likes of Lagavulin, Ardbeg or Bruichladdich's Octomore, Laphroaig purists enjoy the malt for being one of the most heavily peated in the world; a true peat bomb in a glass—out our guide to scotch regions here for more information.
It's also the reason I rarely consume the likes of Laphroaig. It's no surprise that these are the very definition of "acquired" tastes—the smoke, brine and tarry profile of the classic Islay malts are challenging to many palates, my own included. In fact, given that I appear to be somewhat more sensitive to smoke flavors than most drinkers, it only increases the rarity of me pursuing Islay malts that much more.
And yet, over time, I can feel my taste buds beginning to adjust, as so many others have before. The initial shock of sampling heavily peated whiskies isn't so daunting to my palate as it once was, and I begin to appreciate the underlying currents of flavors that run under all that smoke and peat. I'm still not likely to seek out brands like Laphroaig 10 Year, Quarter Cask or Octomore, but I'm beginning to develop an appreciation for the more subtle sides of these ranges, especially when they have a bit more age on them.
Enter, the new Laphroaig 16 Year Old. This is the reintroduction of previously existing "mid-range" age expressions for Laphroaig, replacing the discontinued 18 Year Old, which was last seen in 2015. It represents a stepping stone, both in terms of age and price (this MSRP is $90), from the famed 10 Year and non-age-stated releases, intended to be a somewhat more elegant, dignified expression, weighing in at 96 proof (48% ABV). And honestly, that's pretty much exactly how my sample presents.
On the nose, Laphroaig 16 is smoky-sweet, with a nutty, sherry-esque note, hints of dark fruit (stewed plums) and even a bit of maple sweetness. Of course it's also plenty earthy and briny as well, as one would no doubt expect, but it's nice to see the fruit and caramelized sugar profile peaking out from underneath.
On the palate, there's the immediate, expected rush of cigarette smoke and tar, but substantial sweetness as well. Vanilla bean and nutty toffee richness serve to smooth things out, while a funky seaweed earthiness pervades on a long, long finish. Biscuity tones are present as well, in addition to a fleeting fruity nose like raspberry jam. The smoke is heavy, certainly, but the fact that I don't find it overwhelming (again, given that I am more sensitive to smoke than many) speaks to a level of restraint. There's a warm impression, between the biscuit, fruit and earth that suggests an autumnal leaf fire, and I think that works nicely. And like other Islay drams of this sort, Laphroaig 16 packs one of those briny finishes that stretches out for minutes at a time. Suffice to say, not a whisky for consuming in shot form, although you're rarely going to find me advocating you do that with anything.
By and large, I think this fits the mold they were going for at Laphroaig—a somewhat gentler, more dignified version of the classic malt, which still has the smoke the purists will crave, but will perhaps be a bit more welcoming to those who don't want to go all-in on peat. A welcome addition to the overall lineup, certainly.
Distillery: Laphroaig
City: Port Ellen, Islay, Scotland
Style: Single malt scotch whisky
ABV: 48% (96 proof)
Availability: 750 ml bottles, $90 MSRP
---
Jim Vorel is a Paste staff writer and resident brown liquor geek. You can follow him on Twitter for more drink writing.