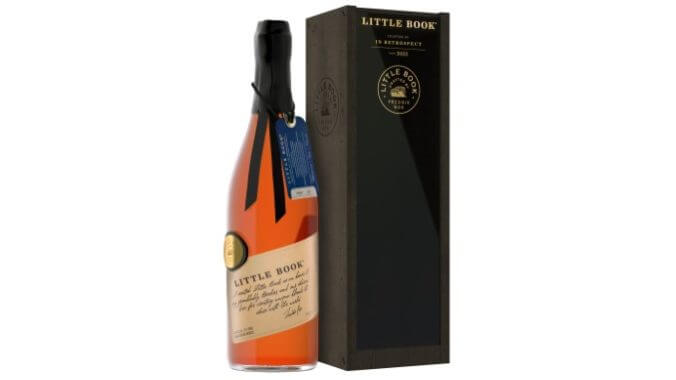 In recent years, Jim Beam's whiskey hierarchy has branched out in a way that has served their releases quite well. Among the core brands, Master Distiller Fred Noe still holds the reins, overseeing the evolution of the likes of Knob Creek or Basil Hayden's. But at the same time his son, eighth generation Master Distiller Freddie Noe, has focused largely on innovation in his smaller pilot distilling space, spearheading series such as Little Book. That has yielded some pretty unusual whiskeys for Beam, helping to broaden their appeal and cache among U.S. whiskey geeks. And now, with the release of the latest entry Little Book Chapter 7, "In Retrospect," it seems like Freddie Noe has effectively brought an entire "book" to a close. Composed of spirits from all the previous Little Book releases, plus a little bit of new spirit, one would think that this release brings closure to a specific era for the younger Noe, and presages the arrival of the next new era.
"In Retrospect" is made with seven distillates, blended at the Fred B. Noe Distillery. Six of them were selected from the lots of the previous chapters, while a seventh new spirit was also added. They weigh in at a strength of 59.05% ABV (118.1 proof), at an MSRP of $150. Together, they are the following:
— 18-Year-Old Kentucky Straight Bourbon Whiskey
— 17-Year-Old Kentucky Straight Bourbon Whiskey
— 10-Year-Old Kentucky Straight Rye Whiskey
— 9-Year-Old Kentucky Straight Bourbon Whiskey
— 5-Year-Old Straight Malt Whiskey finished in Applewood Smoked Barrels
— 4-Year-Old Kentucky Straight Bourbon Whiskey
— 4-Year-Old Kentucky Straight Rye Whiskey
Obviously, the element that stands out here as most exotic is Jim Beam's own malt whiskey distillate, presumably what we saw in this year's release of their first dedicated malt whiskey, Clermont Steep. That whiskey has apparently been finished in applewood-smoked barrels, so I'm certainly curious how much this aspect is present in the finished product. Especially given that my palate has often been quite sensitive to smoke.
So with that said, let's get to tasting Little Book Chapter 7.
On the nose, what leads off here is sweet toffee impressions, along with roasted almond butter, vanilla and a faint smokiness that is fairly delicate in character. I'm also getting significant citrus up front, and perhaps a hint of darker dried fruit. This nose transformed over time–after I first tasted the whiskey and went back to the nose, the citrus suddenly had amped up and melded with the floral impressions to strongly suggest bergamot, evoking Earl Grey tea. It was very interesting to see such a dramatic change occur as I sampled this.
On the palate, though, caramel and toffee sweetness really do reign supreme here. This features lots of vanilla frosting and some rye spice, but the earthy tones–a little tobacco, some florals, some leather–are minor players that reside in the shadow of very big impressions of toffee and caramelized sugars and fairly intense sweetness. Fruit-wise, it's evoking apricot and candied orange, while the smoke that was mildly present on the nose really seems to have receded to the point that I'm not sure I'm finding it at all. Suffice to say, it's not quite what I was expecting, but fans of sweet, well-aged, overproof Beam bourbons should still probably find much here that is up their alley. This reads much more "bourbon" overall than rye whiskey, especially when it comes to the sweetness, which some tasters may find to be a little overmuch.
Regardless, with a concept like "In Retrospect," I find myself wondering where Freddie Noe intends to take the series from here. It seems like an ideal moment to break some new ground, so perhaps the next Little Book batch will be one of the most daring to date.
Distillery: Jim Beam
City: Clermont, KY
Style: American blended whiskey
ABV: 59.05% (118.1 proof)
Availability: 750 ml bottles, $150 MSRP
---
Jim Vorel is a Paste staff writer and resident beer and liquor geek. You can follow him on Twitter for more drink writing.