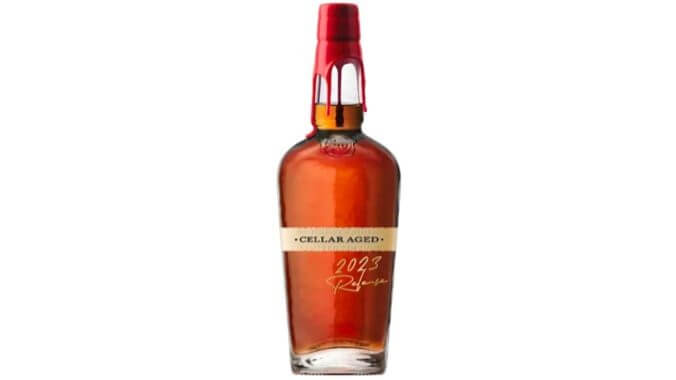 Like so many hobbyists, bourbon geeks have a particular tendency to fall victim to a scarcity mindset when trying to compare the relative quality of one bottle to another. Anything frequently available? Well, that's clearly not as tasty as something that is harder to get. Anything a distillery rarely produces? Definitely better than the stuff they do on a daily basis. Suffice to say, there are many times when this kind of thinking leads whiskey drinkers astray, causing them to overlook bottles that are relatively easy to obtain, in search of stuff that isn't truly worth their time. But then there are instances like the new Maker's Mark Cellar Aged Bourbon, in which all the hype genuinely pays off and you're left wondering why we haven't been tasting a whiskey like this out of the distillery for decades at this point.
For Maker's, the primary reason why we've never seen anything like Cellar Aged out of them before is a longstanding aversion to traditional age statements, which the company presumably has never felt is a good barometer of what to expect from a bottle of whiskey. None of their flagship brands or special releases has borne a traditional age statement, though they mostly fall in what we would define as "moderately aged" releases. The brand also hasn't ever really dabbled in commercial releases of extra-aged bourbon in the realm of 10 years or more, feeling that the wheated bourbon profile of Maker's begins to be overtaken by oak at this point, and is not technically at its best.
And yet, there has always been an undercurrent of bourbon geeks and whiskey writers cajoling Maker's Mark for some kind of extra-mature selection–notably among them, whiskey personality Fred Minnick, who has been pushing for this release for a decade or more. The release of Cellar Aged was thus a very big, genuinely emotional moment for one of the bourbon world's best-known critics, and the critical acclaim it has already received has obviously been a major vindication for him.
But what makes this stuff unique, exactly? Well, this is the classic Maker's Mark wheated bourbon mash bill, which starts out being aged for the first half of its lifetime in the company's regular rickhouses, which see constant fluctuations in temperature and humidity. For the second half of its maturation, though, these barrels were then transferred to the company's underground limestone cellars, which provide an extremely stable and cool environment around 50 degrees Fahrenheit. This second period of aging is intended to slow the interaction between the spirit and charred oak barrel, lessening the acquisition of elements such as wood tannin that might otherwise become too pronounced. The final blend comes down to 13% 11-year-old bourbon and 87% 12-year-old Maker's Mark bourbon, bottled at a cask strength of 57.85% ABV (115.7 proof). This is intended to be the launch of an annual limited edition release, with an MSRP of $150 in the U.S., although good luck finding this at list price. I shudder to think at what the secondary market valuations of this one will end up being.
This being a momentous release for Maker's Mark as a brand, one really needs to take reviews of such a product with a grain of salt. For many drinkers, there will be a significant desire to see this release live up to the reality and expectation that has always been placed on the idea of an extra-aged Maker's Mark expression. So we'll be doing our best here to keep this tasting as objective as possible.
On the nose, the Cellar Aged leads off with very rich impressions of molasses, cherry compote and dark chocolate, evoking cherry cordials in particular. There's some brighter raspberry mixed in, along with plum and cassia bark. The cocoa is quite pronounced, and very beguiling. As it sits in the glass and I return to it, I'm increasingly getting a lovely and subtle toasted graininess here as well, with whiffs of leather and dried fruit, along with musty old oak. There actually is a fairly substantial ethanol presence on the nose as well, which makes it read slightly hot compared to what I was expecting.
On the palate, we are buffeted here by wonderful old oak and molasses flavors, along with stewed dark red fruit. There's a ribbon of vanilla buttercream sweetness/richness, paired with more chocolate. I'm getting snickerdoodles or churro, drizzled in chocolate, into antique oak that is fairly assertive but wonderfully composed. What really stands out about it, though, is the character of that oak and the way its tannic contribution gently guides the sip from start to finish. I have seen other reviews of Cellar Aged essentially implying that the secondary aging period has served to render this bourbon as simply sweet and decadent, free from any oak tannin or drying effect. I find that to be quite incorrect–there is significant tannin here, but it has a delicacy rarely seen in the bourbon world, which is what makes it special. Each sip is carried from a very sweet front end to a delicately dry conclusion, with a sensation I would compare to the delicate floral bitterness of a great German pilsner in the beer world. This is absolutely key to the character of Maker's Mark Cellar Aged, taking it from being simply decadent to a very elegant bourbon dram. It's the cohesion and balance that makes this one special.
The distillery really nails that particular point home by also providing a small "Warehouse sample" to writers, which is a 12-year-old sample of cask strength Maker's Mark that spent the entirety of its aging process inside the standard rickhouses. Compared to the Cellar Aged, this one has many of the same flavors, but its back end becomes significantly more overtaken with a tart, woody tang that isn't nearly as pleasant. Tasting that warehouse sample, it's clear why the brand has explored this particular avenue, to give them the more gentle oaky flourish they needed in an extra-aged expression.
Maker's Mark Cellar Aged absolutely stands among the year's highlights, in what has already been a great year for recent LE bourbon releases. Here's hoping that each subsequent year of Cellar Aged establishes this kind of standard of excellence.
Distillery: Maker's Mark (Beam Suntory)
City: Loretto, KY
Style: Wheated straight bourbon
ABV: 57.85% (115.7 proof)
Availability: Limited, 750 ml bottles, $150 MSRP
---
Jim Vorel is a Paste staff writer and resident brown liquor geek. You can follow him on Twitter for more drink writing.