Old Forester Birthday Bourbon (2023) Review
Photos via Old Forester, Brown-Forman
Drink
Reviews
whiskey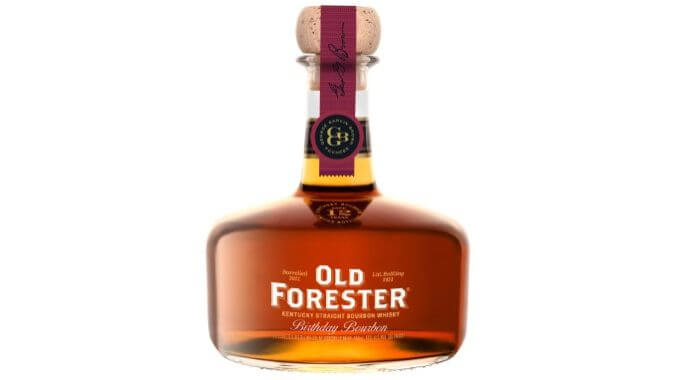 As I observed in beginning a review of last year's batch of Old Forester Birthday Bourbon:
The older I get and the more whiskey I sample, the quicker these limited releases truly seem to go by—yet another year has come and gone, and that can only mean it's time for another Old Forester Birthday Bourbon release. And yet, this release was notably different from others in the lineage of this storied brand, as Brown-Forman rejiggered their method of distributing the sought-after Birthday Bourbon in 2022. Where previous years of Birthday Bourbon had always been sold at the Louisville distillery, inspiring long lines and a feverish atmosphere, this year the brand was taken entirely out of the physical retail space. Instead, an online national sweepstakes was held for the limited allotment of bottles, allowing for a fair (if random) chance for consumers all over the U.S. to potentially purchase a bottle. As with any other decision regarding allocated bourbon in the U.S. market, this was no doubt delightful to some, and infuriating to others.
And so it shall be again in 2023, as the online sweepstakes remains the preferred method of distribution for Old Forester's most sought-after annual limited release bourbon, with no bottles sold at the distillery. Said sweepstakes will be running between Aug. 24-30–for official rules, and to enter, you can click right here. All in all, this will be the 23rd consecutive year for the Birthday Bourbon brand in general, as always dedicated to the memory of Old Forester's original creator George Garvin Brown, and selected by Master Distiller Chris Morris.
As for what is in this year's bottle, this batch of Birthday Bourbon weighs in at an extra-mature 12 years of age, which is on the older side of the spectrum in comparison with recent batches, though the series has gone as old as 14 (and as young as 9 years) over the course of its lifespan. It's bottled at 48% ABV (96 proof), which is a bit on the lower side, though the same as last year's 2022 expression. Price holds steady at an MSRP of $150, although that number is only relevant if you happen to win the sweepstakes to buy a bottle, as Birthday Bourbon sadly inspires some of the most over-the-top retailer price gouging on the market today. If you see this on store shelves, prepare to be horrified at the price tag.
So with that said, let's get on to tasting the 2023 Birthday Bourbon expression.
On the nose, the first thing that really stands out here is roastiness–this has a very richly sweet brand of char to it, to the point that my brain almost immediately goes to something like barrel-aged stout beer. Think French roast ice cream and dark chocolate, or French silk pie with graham cracker crust, accented by cherry compote. As someone who enjoys that sort of desserty char note in both beer and bourbon, I really find myself loving this nose, though I hope it doesn't mean that the bourbon has been entirely overtaken by the barrel. But this coffee-like roastiness is a lovely thing.
On the palate, there is indeed big oak presence here, but it's not all of the heavily charred and roasty variety, as there's also a more gently spiced toasted oak character as well. With that said, I am definitely getting the coffee and dark chocolate again here, supplemented by brighter cherry and caramel banana, with flashes of gingerbread. Despite that desserty-sounding description, this actually isn't as sweet on the palate as one might expect, with some roasty astringency bringing everything to relative balance. The ethanol is nicely integrated, meanwhile, offering very modest and approachable heat.
All in all, the palate of this Birthday Bourbon expression can't quite live up to the vivaciousness of the nose in my opinion, despite the fact that pretty much all the same individual notes are present. Still, this is an excellent expression, and perhaps my favorite Birthday Bourbon of the last few years. I'm not sure I've had an Old Forester whiskey that felt this specifically roasty in the past, especially without that whiskey having an unpleasant level of astringency. This one avoids that pitfall and highlights some of the better aspects of highly charred barrels. At the very least, I appreciate that this Birthday Bourbon expression seems quite individualistic in comparison with the last few years.
Distillery: Old Forester (Brown-Forman)
City: Louisville, KY
Style: Kentucky straight bourbon whiskey
ABV: 48% (96 proof)
Availability: Limited, 750 ml bottles, $150 MSRP
---
Jim Vorel is a Paste staff writer and resident beer and liquor geek. You can follow him on Twitter for more drink writing.