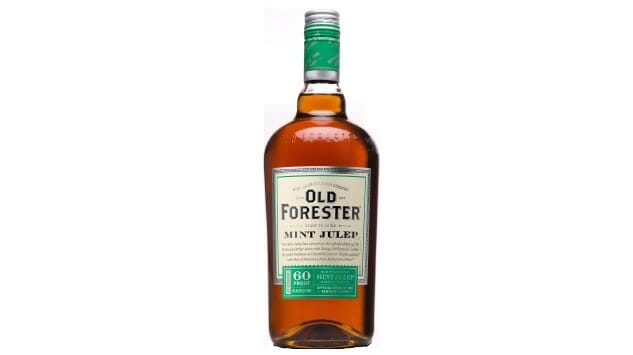 In all seriousness, who among us isn't at least a little bit leery when we see any kind of pre-mixed cocktail on store shelves? Few experiments in this particular field of research have led us to be optimistic about what we're drinking. Sure, batching cocktails may save time and work well for certain high-end cocktail bars, but pre-mixed old fashioneds and bottled Manhattans? There's always a little something uncanny valley going on there.
It's safe to say, then, that I didn't exactly go into tasting this bottled mint julep from Old Forester with a completely blank set of expectations. I'll not hide it: I wasn't expecting much. And what I got was a serviceable drink, so I call that a win.
First, to explain what exactly is in this bottle. Old Forester Mint Julep—that is indeed the whole name—is a bottle that contains Old Forester's classic, 86 proof bourbon, along with some kind of sweetener (the equivalent of simple syrup), mint oil and enough water to eventually knock the final proof down to 60 (30% ABV). It's meant for supreme ease of consumption—just crush some ice, pour the liquid over and you're good to go. Add a little fresh mint, if you want. I think a lime might be nice in it as well. But the idea is to make this as easy to drink as possible.
So, let's assess how they actually did.
Tasted neat, right out of the bottle, it's not exactly promising. The nose has an artificiality to the mint that is particularly "menthol"-like, which makes for an odd combo with corny sweetness and touches of vanilla. What I kept returning to was the word "toothpaste." However, this is hardly a liquid that is really intended to be consumed neat. Crushed ice is integral to the julep, and so we obviously had to crush ourselves some ice and sample this as Old Forester and Brown-Forman intended.
On top of a small glass of crushed ice, with a sprig of fresh mint, Old Forester Mint Julep is certainly a more palatable experience. The syrupy sweetness is cut down considerably, leaving a gentle amount of residual sugar and revealing some peachy, stone fruity notes from the bourbon. At the same time, the mint somehow seems more genuine—whether that's the dilution or my addition of actual, fresh mint, I'm not sure. It's still a drink that teeters sweet overall, and it could perhaps use a little bit of acid (again, I'm thinking lime juice) for balance, but it's not bad. In other words, if you're having people over for the Kentucky Debry, I imagine they would appreciate the novelty of having instant mint juleps in their hand. And as far as pre-mixed cocktails go, that is indeed a win.
Distillery: Old Forester
City: Louisville, KY
Style: Pre-mixed cocktail
ABV: 30% (60 proof)
Availability: 750 ml bottles, $25 MSRP
---
Jim Vorel is a Paste staff writer and resident brown liquor geek. You can follow him on Twitter for more drink writing.