Parker's Heritage 10-Year-Old Cask Strength Rye Whiskey (2023) Review
Photos via Heaven Hill
Drink
Reviews
whiskey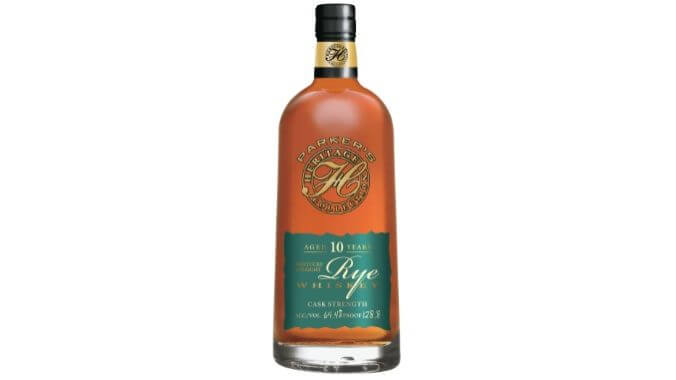 In recent years, Heaven Hill's line of annual Parker's Heritage limited release whiskeys has favored an experimental outlook on the American whiskey world, often reflecting unique secondary maturations or barrel finishes, or novel aging techniques. This has yielded such efforts as three straight years of "heavy char" experimental releases in the three most important Heaven Hill mashbills–bourbon, wheated bourbon and rye whiskey–along with everything from malt whiskey to whiskey finished in orange curacao barrels. Now a full 17 years into the series, one wonders how they see it continuing to evolve, especially given the introduction a few years ago of the more traditionally rooted complement in the Heaven Hill Heritage Collection. Perhaps we haven't seen the wildest experiments yet from Parker's Heritage, but 2023 is not going to be the year they venture out or get truly wild. Instead, this year's newly announced batch is actually quite conventional: A well-aged, cask strength rye whiskey.
Conceptually, this is pretty much as safe as these picks get, but the reality is that many American whiskey geeks probably get most excited about conventional releases anyway. And it's not as if cask strength rye whiskey from Heaven Hill–or more Kentucky distilleries, in fact–is that easy to come by. In fact, unlike its ever-popular Elijah Craig Barrel Proof Bourbon lineup, or the now well-established Larceny Barrel Proof (wheated bourbon), the company has no regularly releasing cask-strength rye whiskey. The closest thing is the admittedly sturdy Pikesville Rye, which weighs in at 110 proof and carries a 6-year age statement. But fans of Heaven Hill know that the company's age statements and proof points are capable of climbing far higher than that.
Enter, Parker's Heritage 10-Year-Old Cask Strength Rye Whiskey, made from the company's classic Kentucky 51% rye mash bill. This release is composed of 10-year ryes that were barreled in Aug., Oct. or Dec. of 2012, and then aged on the first floors of Rickhouses H1 and H2, the fifth floor of Rickhouse FF, the third and seventh floors of Rickhouse BB, and the second floor of Rickhouse DD. The non-chill filtered whiskey was bottled at a commanding cask strength of 64.4% ABV (128.8 proof). Suffice to say, there hasn't been a chance to drink a Heaven Hill rye of these dimensions in a while. Like every Parker's Heritage release, this one is dedicated to the memory of the late Parker Beam, Master Distiller Emeritus of Heaven Hill, and a portion of proceeds will continue to support ALS research and patient care. To date, sales of Parker's Heritage have raised more than $1.2 million toward ALS research and care.
So with that said, let's dive into this classic extra-aged, extra-strong Heaven Hill rye.
On the nose, this rye reveals layers of spice–lots of herbal, slightly grassy and more than a little peppery rye, along with heavily caramelized sugars, traces of orchard fruit, and oak. There are savory herbal tones and faint caraway and mintiness, into plentiful dark chocolate/cocoa powder. Hints of graham cracker and even a little coconut add complexity, while oak is moderate and increasingly trending toward the heavily charred, burnt dimension. Baked apple fruitiness makes for a nice additional dimension, sprinkled with fall spices.
On the palate, two of the first things to immediately appear are mint and caramel, along with a reprise of dark chocolate. I'm getting some deeply caramelized sugars and vanilla cream, along with charred oak, herbaceousness and notably minty rye. There's significant sweetness to the roasty dimension, nicely balanced by grassy and savory herbal rye, with lots of tobacco. The caramelized sugars go very dark, trending toward molasses, with a profile that is quite sweet but also a touch drying on the back end, with French roast coffee astringency. The aftertaste, which remains for ages and ages afterward, puts me in the mind of mint chocolate chip–always a favorite. Certainly, there's no shortage of boldness here, and the proof awakens a smoldering heat in the chest without ever becoming distractingly bombastic on the palate.
All in all, this definitely feels orders of magnitude bigger, bolder and deeper than even the likes of Pikesville Rye. If you're a fan of Heaven Hill's ryes, or Kentucky-style rye in general, it's among the most flavorful examples you're going to find out there today. As a Parker's Heritage release, it's not among the most creative or trendsetting, but this seems bound to satisfy whiskey geeks who just want to enjoy a well-matured, cask strength rye.
Distillery: Heaven Hill
City: Bardstown, KY
Style: Straight rye whiskey
ABV: 64.4% (128.8 proof)
Availability: Limited, 750 ml bottles, $185 MSRP
---
Jim Vorel is a Paste staff writer and resident brown liquor geek. You can follow him on Twitter for more drink writing.