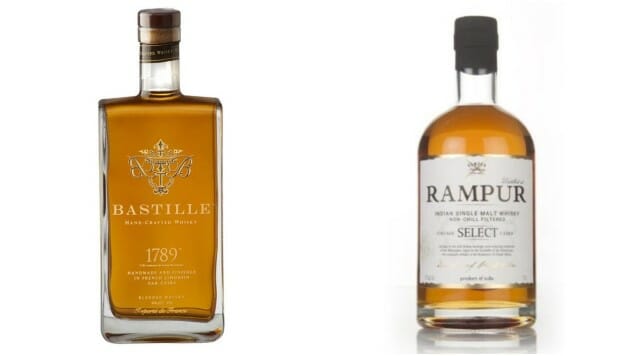 When brown liquor fans think "whiskey" (or "whisky," in the case of this post), our minds collectively tend to wander to the same handful of countries. The United States, naturally. Scotland and Ireland, of course. Canada, maybe. Japan, if you're feeling adventurous (and have money to burn). But mainland Europe tends to get left out of the conversation. And south Asia? Well, I'm not sure I've ever even had a conversation about whiskey in south Asia before.
That's why my ears perked up when I found an email in my inbox offering samples of whiskies I've never sampled from France, and especially from India. It's not often these days that I get to taste something distinctly outside my experience, but Indian single malt whisky certainly qualifies. The two brands in question: France's Bastille 1789, and India's Rampur Indian Single Malt Whisky. I knew this would be a perfect opportunity to taste both, and examine how each country's treatment of malt whisky might differ.
So let's get to it.
---
Bastille 1789
MSRP: $39.99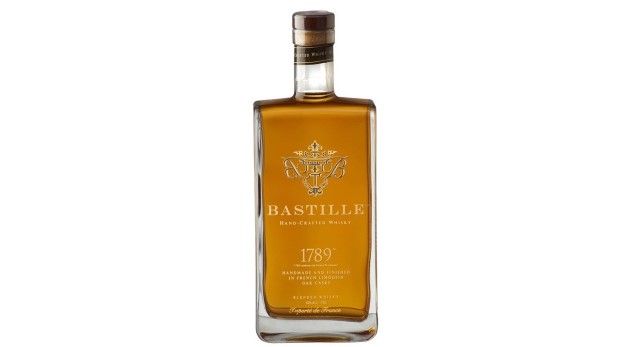 Whisky certainly isn't new to France—they're just across the English Channel from two of the biggest whisky-producing countries in the world, and a whisky-distilling industry has always existed here, but it tends to be overshadowed by the wine and brandy industries in the cultural consciousness. Perhaps unsurprisingly, it also tends to result in French whiskies with barrel finishes that are different from American or Scottish offerings, often taking advantage of the access to wine or brandy (i.e. cognac) barrels.
Bastille 1789 is a blended whisky, containing both malt whisky and juice distilled from French wheat, aged five to seven years in several different types of wood, which reportedly include cherry, acacia and "Limousin oak," a pricey style popular in cognac aging. We wouldn't be surprised to see it display some brandy-like qualities as a result.
On the nose, Bastille 1789 is quite sweet and fruity, giving off an intense bouquet of lemon meringue, peaches, vanilla and sweet cream. It has a viniferous quality to the fruit that does indeed remind one of a flavored brandy. Sweet and rich on the palate, with strong stone fruit and vanilla notes that fade into elements of grass and ginger-like spice, it's also backed up by surprisingly strong flavors of earthy peat. It seems to have captured the herbaceousness of "peat" flavors without much of the attending smoke, which is an interesting touch, with a finish that develops into sweet banana pudding.
All in all, this is a very rich whisky, and also a bit hotter than it seems like it should be for the mere 80 proof. It's a bit sticky-sweet and cordial-like for my taste, but lovers of sweet, fruity scotch would probably find it up their alley.
---
Rampur Indian Single Malt Whisky
MSRP: $69.99
If a blended, scotch-style whiskey from France is mildly novel, then a single malt from India is considerably more so—especially when you look up the distillery and realize its primary output is actually industrial alcohol not intended for human consumption. Despite that, Radico Khaitan Ltd. also produces a wide variety of commercial spirits, so why not a Scottish-style single malt?
There's no age statement on Rampur Indian Single Malt Whisky, but we do know that this "Himalayan" whisky hails from the Uttar Pradesh region, whose warm climate and high elevation significantly speeds up the aging process, thanks to the liquid's interaction of being pulled in and out of the wood via temperature changes. There's not exactly a scientific consensus on just how much this changes the speed of maturation, nor whether the results can really be compared at a 1/1 ratio to slower maturation in a climate like Scotland, but it's claimed that the hot climate can result in a race that is up to four times faster—which is pretty nuts. Let's see how it affects what we smell and taste.
On the nose, Rampur Single Malt certainly smells like it could hail from the Scottish Highlands or Lowlands, redolent in rich orchard fruit, dark honey and earth/peat. There's a hint of salinity here that is appealing, and a suggestion of considerable fruitiness and richness. On the palate, this single malt is pretty nicely balanced if a tad unusual, with pronounced tropical (bananas?) fruitiness that is met by stone fruit (peach), plenty of honey and a slowly building peat/smokiness. The oak character is a bit on the wet/green side, suggesting youth, but it's certainly a more balanced and scotch-like dram than the Bastille 1789. All in all, it's a nice interplay between tropical fruit and honey sweetness with mild-to-moderate earth/peat/smoke.
Ultimately, I have to say this works for me, and will likely be appreciated by lovers of fruit-forward scotches, without having the intensity of sweetness found in the Bastille 1789.
---
Jim Vorel is a Paste staff writer and resident brown liquor geek. You can follow him on Twitter for more drink writing.