Tasting: 3 "Whiskey War" Bottles from High Bank Distillery (Barrel Proof, Midnight Cask)
Photos via High Bank Distillery
Drink
Features
whiskey
When it comes to choosing a niche in the world of American whiskey, terminology can be everything. The owners of a distillery sometimes have options, within the overall shape of the law, to choose what they can legally label a product. In the case of a company such as Columbus, Ohio's High Bank Distillery, they've built a well-regarded, award-winning company around the blending of sourced whiskeys, most notably bourbon and rye from MGP of Indiana. And yet, you don't see them trying to capitalize on the popularity of "bourye" in any of their labeling. Rather, they've embraced the more nebulous term of "blended whiskey" to describe what they do, which in turn opens up some other opportunities. It's a subtle but important distinction, and a brand like their port-infused Midnight Cask blended whiskey wouldn't really be possible without it.
As for the Whiskey War lineup of flagship products, the name is based on a rather colorful local tale of an entrepreneur named Henry Corbin, who took a risk by opening a saloon in the area in 1875, in the heart of a staunchly anti-liquor community that would eventually house the headquarters of the Anti-Saloon League. With locals not taking particularly kindly to the idea of a bar in the neighborhood, the saloon was reportedly blown up, not once but twice, kicking off a local "whiskey war" that at one point saw owner Corbin confronting a crowd with two pistols drawn. Those crossed revolvers give the Whiskey War series its logo today.
So with that said, let's get into tasting three different High Bank whiskey expressions.
---
High Bank Whiskey WarABV: 44% (88 proof)
MSRP: $36.99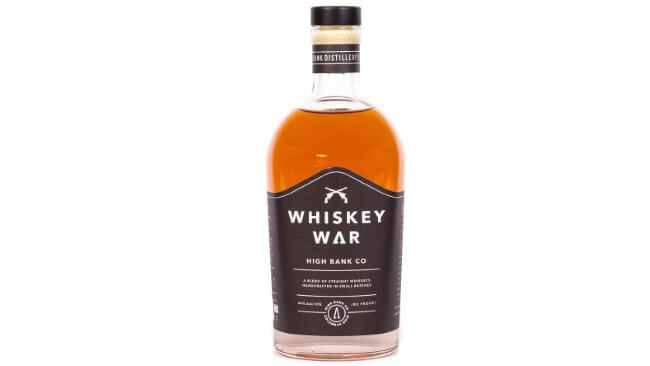 The flagship Whiskey War bottle is a blended whiskey made from two bourbon and one rye whiskey mash bills, sourced from MGP of Indiana and an unnamed distillery in Tennessee–Dickel is always a possibility when one hears that. High Bank is also patiently aging its own distillate, which perhaps could find its way into this series at some point, or perhaps the company is holding that for a marquee release of its own. Regardless, this is effectively a bourye, bottled at a slightly elevated 44% ABV (88 proof). The age statement of it has crept up slowly since its earliest releases, going from 2-3 years to "aged at least 4 years." Regardless, this distillate is still on the younger side.
On the nose, there's no missing that this is quite a high rye expression–it's quite herbal and spicy, suggesting pepper, rye spice, mint or eucalyptus, and an underlying malty sweetness that is almost reminiscent of malted rye. On the palate, the youth becomes a bit more obvious–I'm getting cornbread and sawdust-like woodiness, along with digestive biscuits and hints of dried fruit and apple flesh. There's a bit of honeyed sweetness, and vanilla extract, along with a whole lot of herbal rye. It's not really as sweet on the palate as the nose initially suggests, but it is redolent in spice, with savory herbal tones, greener impressions and fresh-cut pine. It's full flavored, but perhaps a bit hot for the relatively low proof. All in all, I get the sense that more time for maturation will continue to benefit this expression.
---
High Bank Midnight CaskABV: 41% (82 proof)
MSRP: $45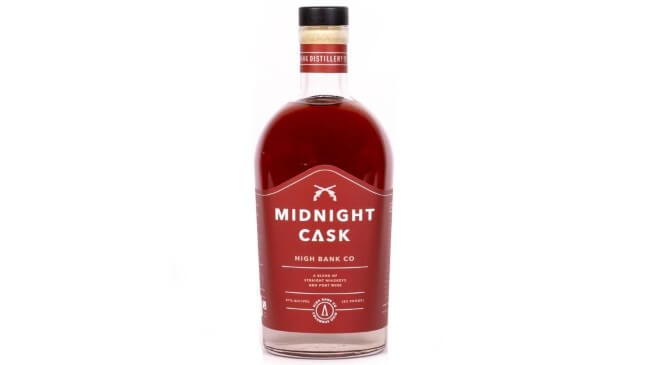 Midnight Cask is a genuinely unique bottle, and one I really struggled to wrap my head around the first time I poured a sample and put my nose to the glass. My consternation came from a mistaken assumption–I saw the word "port" and assumed "Okay, this is a blended whiskey finished in port casks." But no, that's not it at all. Rather, this is a blend of bourbon and rye, that is then blended with Australian tawny port wine, rather than finished with a secondary maturation in those casks. And once you realize that, the product you're seeing, smelling and tasting makes far more sense. What you ultimately have here is less "finished" whiskey, and more quasi whiskey cocktail. Note that the "blended whiskey" label makes this possible, as the company legally wouldn't be able to blend in literal port wine if they were selling bourbon under the federal definition.
Immediately on pouring Midnight Cask, it would be apparent to any whiskey drinker that some kind of fortified wine must be involved, because it pours one of the deepest shades of red I've ever seen, straight up mahogany in hue. The nose throws off a huge amount of butterscotch candies, along with buttered popcorn, dried fruit and nougat. It smells like someone fused a fruit-forward trail mix with a candy bar. On the palate, Midnight Cask is full of syrupy malt sweetness and extremely vinous tones of syrupy dark fruit, while also suggesting the oxidized nuttiness of the fortified wine. To say that the profile here has been largely dominated by the port wine would be an understatement–whether or not you enjoy those fruity and nutty flavors will effectively determine your opinion of this dram. It's significantly softer and more velvety smooth in texture than the regular Whiskey War, with those spicy corners completely sanded away. I expect this brand would have more of a niche market, but I can imagine a certain breed of consumer who would be obsessed with it. There's certainly little else one can compare this with on the market today.
---
High Bank Whiskey War Barrel ProofABV: 58-59% (116-118 proof)
MSRP: $50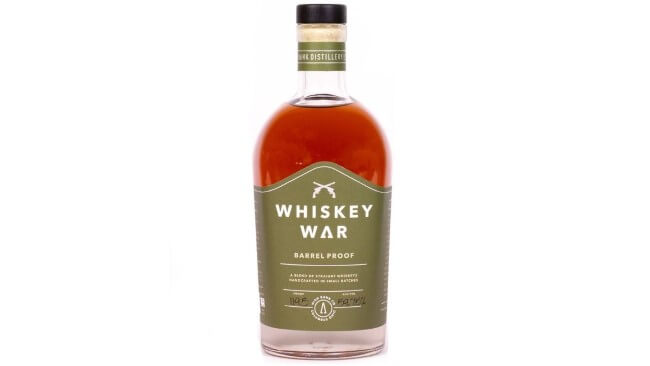 The cask strength expression of Whiskey War cranks up the proof point substantially, while keeping the same "at least 4 years" age statement. Likewise, it keeps the same rye-heavy blend of mash bills from Indiana and Tennessee. All in all? I think this represents a pretty solid upgrade, and arguably the best value of the High Bank expressions, with bolder and more explosive flavors that are less affected by the relatively young age of the blend. All in exchange for a fairly modest bump in MSRP.
On the nose, this one has many of the same impressions as the regular Whiskey War, now layered with more assertive notes of caramelized sugars and a dusting of cocoa. The punchy and spicy rye-driven flavors are in full effect on the palate, as slightly resinous oak combines with explosive pepper and rye spice, clove, tobacco and dark/dried fruit. Both the sweetness and the heat have been amped up, and I find myself observing that this bottle is also a little on the vinous side, although obviously in a very different way than the Midnight Cask. Like the regular Whiskey War, this one still finishes slightly on the dry side, although now there's a more assertive chile-like spice. Not lacking in assertiveness in general, I feel like this brand would almost certainly be the whiskey geek pick of the lineup, as its boldness makes it the most memorable experience. The elements of youthfulness are also significantly less present in this bottle, as the general increase in strength of flavors seem to have smoothed them over. With that said, I'd love to see how this one continues to develop a few years from now.
---
Jim Vorel is a Paste staff writer and resident beer and liquor geek. You can follow him on Twitter for more drink writing.