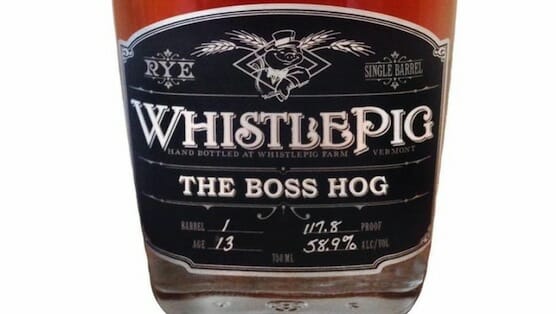 Vermont's WhistlePig Distillery has received plenty of accolades for its delicious 100% rye whiskey over the years, and deservedly so. It's not cheap, but WhistlePig 100/100 Straight Rye is rich and velvety, with a subtle but brilliant spice hit that cuts through its slightly sweet, burnt caramel flavor. Master distiller Dave Pickerell sources the whiskey from a Canadian distillery, and ages and bottles it in Vermont. All that is set to change over the next few years, however, as WhistlePig received permission from the state of Vermont this past April to construct its own distillery on the farm where it is based. They will lay claim to being the first "farm-to-bottle distiller" in Vermont, and cite their goal as being "the premier single-estate luxury whiskey brand worldwide." All that sounds pretty lofty, but their rye certainly has the reputation and is of the caliber to make it happen.
In the meantime, WhistlePig has released a brand-new rye that just hit shelves last month called Boss Hog: The Spirit of Mortimer. A bottle will set you back close to $200, but it's a fantastic whiskey. This may ruffle some feathers, but I think it's almost as good as a bottle of Old Rip Van Winkle, and not nearly as expensive. Obviously we're talking about two different kinds of whiskies here, wheated versus rye, but as far as quality, drinkability, and flavor profile, the two are equal.
Boss Hogg is aged for 14 years and bottled at full barrel strength (117-124 proof). That packs a punch, although not as much as the 2013 release, but it's smooth enough that you don't get a blast of alcohol in the nose. The flavor is surprisingly fruity, hints of banana and apple upfront, along with a dash of ginger and a little bit of butterscotch, all of which compliments the refreshingly spicy rye. Only 50 barrels are being tapped for this release, which explains the price point. The bottle is attractive, topped off with a hand-chiseled flying pig – a tribute to Mortimer, the dearly departed pig that the whiskey is named after.
The planned opening date for the new WhistlePig distillery is July of 2015, but that is subject to change. They aren't saying exactly what age their home-distilled whiskies will be at this point, but their PR firm says that there will be "product lines of various attributes." It will be interesting to see how their own whiskey will hold up to the sourced whiskey they currently sell.
Distillery:WhistlePig (sourced from Canada, aged in Vermont)
Location:Shoreham, Vermont
Style: Rye
Proof: 117-124