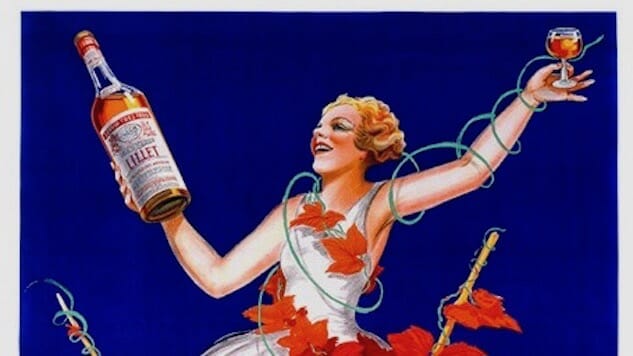 The vermouth-like fortified wine Lillet has never made a secret of its affection for oranges, so if you're looking for some liquid sunshine to replace the actual sunshine you aren't getting right now, you can start by giving this tasty spirit the classic treatment and squeezing, zesting, muddling, or just slicing a big juicy orange in its presence (December is when Oranges hit with a vengeance where I live, and probably where you live too). Other complements for Lillet include flowery notes like orange blossom or rosewater, resinous herbs, berries, other citrus fruits (notably grapefruit) and bubbles.
Maybe someone has gifted you a bottle of Lillet and you're not sure what to do with it. Maybe you gave yourself this gift and are in search of a reasonable excuse to crack it open, such as "Amy said I should."
You should.
Lillet Spritz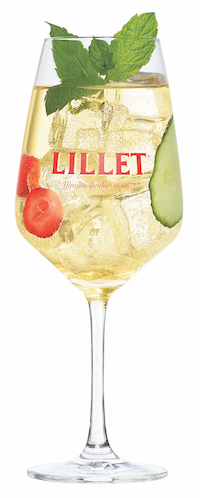 Ingredients
3 parts Lillet Blanc/Rose
3 parts tonic Water
Directions: Build over 3 large ice cubes in a tall wine glass and garnish with
cucumber, mint and strawberry.
---
A Sudden Blush

Ingredients
2 parts Lillet Rose
1 part London Dry Gin
1 part fino sherry
1 part raspberry puree
1 part grapefruit juice
Directions: Combine all ingredients over large blocks of ice in a pitcher. Garnish the pitcher with mint, raspberries and blackberries. To serve, pour into rocks glasses filled with ice. Top with sparkling wine and garnish with a mint sprig and blackberry.
---
Lillet Elite

Ingredients
2 parts of Lillet Blanc
2 parts white grape juice
4 parts Champagne (The Lillet powers that be suggest Perrier-Jouet. We suggest whatever you have on hand)
Directions : Pour over ice in large wine glass and top with Perrier-Jouët Champagne. Decorate with the grapes and lemon peel.
---