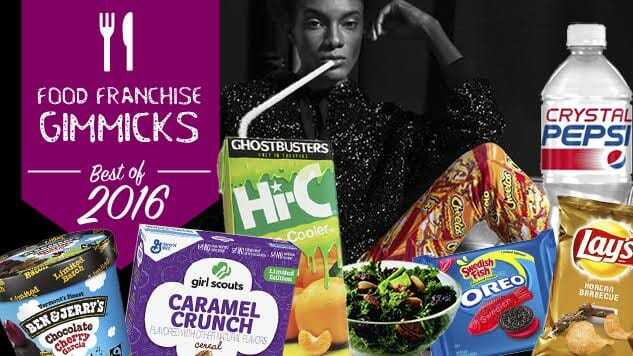 2016 was horrible, but it's been an intrepid year for fast food and snacks. Fast food restaurants figured out new ways to wrap up meat in bread (or new meats to wrap up), Oreo released a bunch of flavors nobody asked for and Ecto Cooler briefly came back into our lives. KFC decided to make the Colonel sexy and it did not work, and Chipotle experimented with both chorizo and the burger industry in an attempt to make customers forget about their recent E. coli outbreak. Also, Cheetos made some pretty great pants.
Food franchises delighted us with gourmet-style enhancements and gave us some hope for the future, when Girl Scout Cookies will finally be cereal and Oreo-filled Milka bars will be available in the United States. Other attempts, like the resurgence of Crystal Pepsi, may have all been a saccharine and sodium-packed shit show, but we appreciate that our beloved franchises tried. Which gimmicks reign supreme, and which were a waste of time? Read on, adventurously trashy eater:
Best: Oreo adds new flavors such as Pumpkin Spice, Fruity Crisps and Apple Pie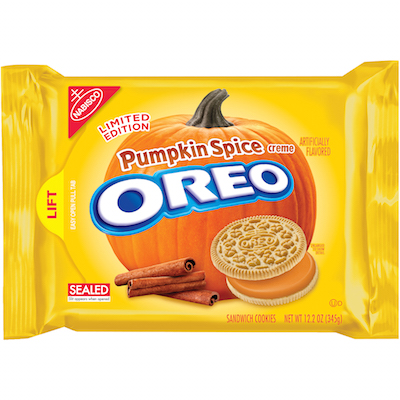 "Finally, a kind of pumpkin I don't instinctively want to use violence on. Yes, that includes Pumpkin Spice Latte."
— Jason Rhode
If the 2000's had a cereal, it would definitely be Fruity Pebbles. The colorful, sugary cereal has been transformed into Oreo form, integrated into the white icing between two vanilla wafers in a way that brings back memories of eating Dunkaroos as after school snacks — transporting you away from all the bad memories of 2016. But, you don't have to be old to enjoy them. The confetti rice cereal bits are the best way to celebrate birthday parties without having to use a box mix of Funfetti cupcakes. It's the embodiment of celebration and good times. It's my new go-to Oreo flavor in the same way that cake batter is my automatic go-to flavor for frozen yogurt. But, like all good things that do not last, it's limited edition.
— Lily Lou
Oreos has a long history of experimenting with new flavors, so after trying one hundred times, you're bound to get at least one good flavor. Enter: Apple Pie Oreos, the Oreo flavor perfect for your picnics and best served with a scoop of vanilla bean ice cream. The apple pie flavored filling sandwiched between two vanilla wafers is the food version of the American dream. The apple pie Oreo brings in subtle flavor that perfectly captures the spirit of fall without having to be a vibrant orange or attacking your taste buds with pumpkin puree. It's the flavor that will reunite the country, if a food group could do that.
— Lily Lou
Worst: Oreo thinks people like Swedish Fish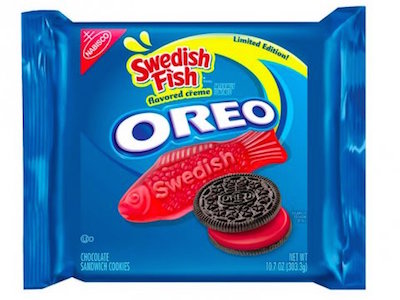 Swedish Fish combine two of candy's worst qualities, overly chewy texture and underwhelming (though still sugary) flavor. The only thing that could improve Swedish Fish would be getting rid of them. Mixing something bad with something good doesn't make it better, and stuffing an Oreo with Swedish Fish creme only taints the sanctity of milk's favorite cookie, especially when it makes the sweet sandwich taste like cough medicine. Fortunately, these limited-edition Oreo mutants were only marketed through Kroger, so they were at least somewhat escapable.
— Sarra Sedghi
Best: Chick-Fil-A nixes cole slaw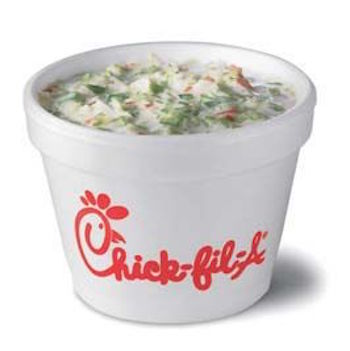 At the beginning of 2016, Chick-Fil-A made resolutions to eat healthier a little easier by removing their unhealthiest item — cole slaw. Personally, I am heartbroken by the magical mayonnaise-and-sugar-ambrosia's departure, but people who actually like cole slaw are a small minority, and the recipe is floating around somewhere in the internet. Life without this cole slaw is bleak, but it's also longer.
— Sarra Sedghi
Worst: Chick-Fil-A drops spicy chicken biscuits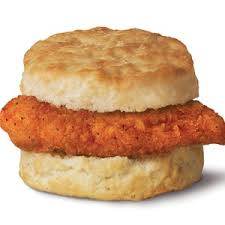 The worst fast food decision of the year was the best for my own personal health: I no longer get Chick-Fil-A for breakfast four days a week since they dropped the spicy chicken biscuit from the menu over the summer. I would trade whatever extra years I might now get back at the tail end of my life for one more taste of that righteous burn, which contrasts so much better with the lightness of the morning biscuit than the regular sandwich bun. Like that first cup of coffee, the spicy chicken biscuit was an almost mandatory jolt to the system that got me ready to deal with the day ahead. It was unlike any other fast food breakfast item, and its absence has turned Chick-Fil-A's breakfast menu into a sad, perverted shadow of what it once was.
— Garret Martin
Best: Ben & Jerry's announces Chocolate Cherry Garcia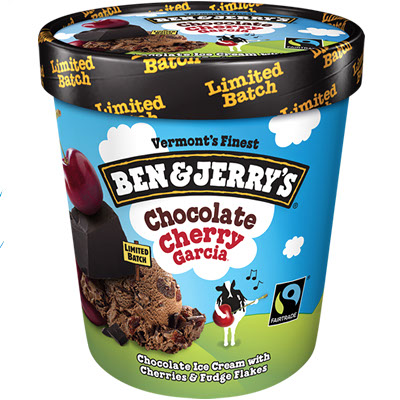 As a child, I had a deep affinity towards cherry-flavored foods: Cheerwine, cherry Icees, and the like. So, you can imagine my excitement when I discovered Ben and Jerry's Cherry Garcia, cherry ice cream with chunks of fudge and cherries mixed in. Unlike the other artificially flavored cherry foods, this one actually used real cherries in it and didn't turn my tongue red. It was the cherry flavor that I had been missing out on, and it soon became a favorite. My childhood excitement returned again in November when Ben and Jerry's launched the Chocolate Cherry Garcia, the limited-edition chocolate ice cream version of it. Though the cherry ice cream has been replaced, it feels like a grown-up version of the classic and the added chocolate has arguably made it even better. Even though I'm a huge a fan of cherries, I don't quite miss them in the new Chocolate Cherry Garcia.
— Lily Lou
Worst: Burger King introduces hot dogs, Whopperito, additional monstrosities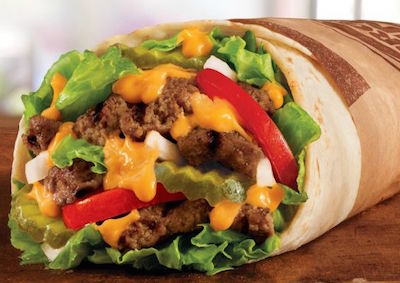 There are few things in fast food that look more desperate than suddenly trotting out a big promotion for a type of food entirely different from your company's core offerings. What are we supposed to think, when Burger King announces that it's in the "flame-grilled hot dogs" business? Or weirder still, selling stacks of pancakes for 89 cents? I love those pancake commercials in particular because they go out of their way to specify that you get three "LARGE pancakes," as if the company is selling multiple sizes of flapjack—small, medium and Paul Bunyan. But in the same year when this company is floundering with "Extra Long Buttery Cheeseburgers," perhaps this kind of weapons-grade weirdness is just to be expected
— Jim Vorel
Best: Hi-C brings back Ecto Cooler

I remember begging on bent knees for my mom to pop one of these in my lunch box, as did many a millennial in their elementary school days. With the release of the new Ghostbusters movie this past summer, it's the perfect time for this classic juicebox from Hi-C to be brought back from the dead. Feel free to drink it by blowing bubbles into the box and letting it push the green-orange sugar water down your throat (I can't be the only one who did that—right?).
— Ashley Blom
Worst: Nobody asks for Crystal Pepsi, it returns anyway
Ok, Pepsi. We hear you loud and, ahem, clear. You're out of ideas. That's why you're bringing back Crystal Pepsi, right? You have run out of flavors and colors, so you're recycling old ones. Did you hire the Blair Witch team as your marketing squad? Or is that #squad? There was clearly not an adult in the room to remind everyone how bad it was the first time around. "But the numbers show it was a huge success!" That's because Van Halen pitched it during your 1993 Super Bowl ad. We were mesmerized. It only took one year before people realized it was crap. The first time around, Crystal Pepsi tasted like, well, bad pepsi. It's gimmick was that it tasted different than it looked, and it looked just fine. Luckily, this is a limited revival. Unless it comes to a soda fountain near you, where it will be unidentifiable as soda in your "water cup," there is no reason to even consider trying this reboot.
— Nick Grizzle
Best: Chipotle experiments with chorizo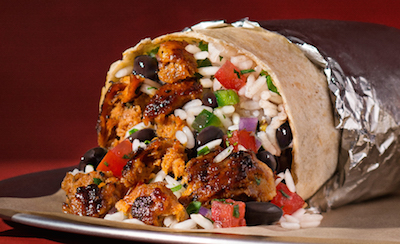 This was a rough year for Chipotle, given its devastating E. coli outbreak, but the company at least attempted to bounce back with a rare menu addition: Chorizo. This is only the second protein that Chipotle has added in 23 years in operation, after the vegetarian sofritas in 2014. Reviews of the actual chorizo sausage experience have been mixed, but we at least appreciate having another meat option to stuff in a burrito. Here's hoping that Chipotle can stay out of the news for the wrong reasons in 2017.
— Jim Vorel
Worst: Chipotle's E. coli outbreak
As previously mentioned, the E. coli outbreak proved devastating to Chipotle's business throughout 2016. Rarely has any kind of consumer food scare so profoundly affected a company's bottom line, and for such a long period of time. Even after Chipotle apparently cleaned up its act, sales are still way down. Meanwhile, other "fast casual" competitor chains such as Qdoba, Moe's Southwest Grill and even Panera have been thriving and growing in its place. A company marketing executive was even arrested for cocaine possession back in the summer. Suffice to say, this has been one ugly year for the burrito-slinging chain.
— Jim Vorel
Best: Girl Scout Cookies expand into baking mix, cereal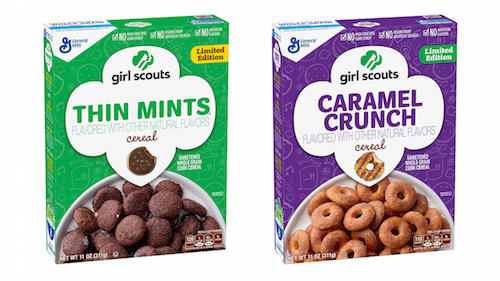 The Girl Scouts of America have always been forward thinkers, and when it comes to Girl Scout Cookie season, well, they're smart cookies. Thanks to capitalism and nostalgia, we can now enjoy cookie-inspired treats perennially. This year, the fearless females made Samoas and Thin Mints even more accessible by introducing baking mix — not cookies, but close — and announcing the approach of Girl Scout Cookie cereal. One young entrepreneur was even clever enough to hack cookies in front of a marijuana dispensary.
— Sarra Sedghi
Worst: KFC expands to edible nail polish, tries to make Colonel Sanders sexy
If you were a nail-biter as a kid, you may remember the bitter-flavored nail polish your mom would make you wear to discourage biting. Luckily, adult nail-biters can relive those painful memories by flavoring their nails with fried chicken grease. You'll be so disgusted, your nails will be magazine-worthy in no time! Bonus: perhaps your pungent nail odor will be enough to catch the eye of the new (sexy??) Colonel Sanders. Yummy.
— Ashley Blom
Best: Lays introduces Korean Barbecue Kettle Chips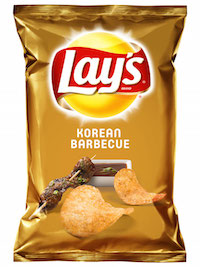 Most Kettle Chips flavors are bullshit. Sour Cream & Onion? Bullshit. Sriracha? Cut me a break. Dlll Pickle? More like "Will Puke-l!" They're usually snackable enough thanks to that magic blend of salt and crunch, but once you've chomped through a whole bag—and it's near-impossible to eat less than a full bag in one sitting—you'll find yourself grimly licking crumbs off the back of your teeth, questioning not only this choice but every other choice you made before it. Enter Korean Barbecue. The flavors come at you in waves, like movements of a symphony: overtures of smoky garlic, light flutelike flurries of ginger and tomato, then the trumpet's blast of soy, sesame and sweet onion. The heat—that glorious, summertime heat, the flag blowing in the yard, the smoke billowing from the grill—sneaks up on you at the end, watering the eyes, beckoning another mouthful. Go ahead. This one's worth it.
— Seth Simons
Worst: Burger King introduces Mac n' Cheetos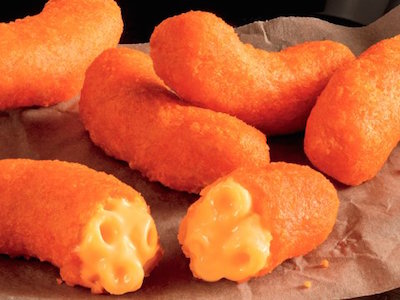 I was with a friend when I first tried Mac n' Cheetos — we were full of excitement and apprehension, nervous jitters jolting our spines as we walked up to the counter and asked for BK's fancy new portmanteau. Just one order between the two of us, because we really had no idea if these were going to be mind-blowingly good or bad. Either way, it would make a worthy memory.
We received our orange-dusted, fried glory sticks, took our seats, and, with a knowing glance at each other, bit in. And the result was…nothing. They didn't taste like anything to me.
Where was that Cheetos tanginess? Clearly, the cheese powder doesn't take effect when separated from the rest of the product. Where was the viscous, creamy texture of Kraft Mac-n-Cheese? I could see the noodles when I dissected the stick with my teeth, but had I been blindfolded, I would not have known that I was eating anything besides regular old mozzarella sticks. Fucking mozzarella sticks. And not even good mozzarella sticks.
— Zach Blumenfeld