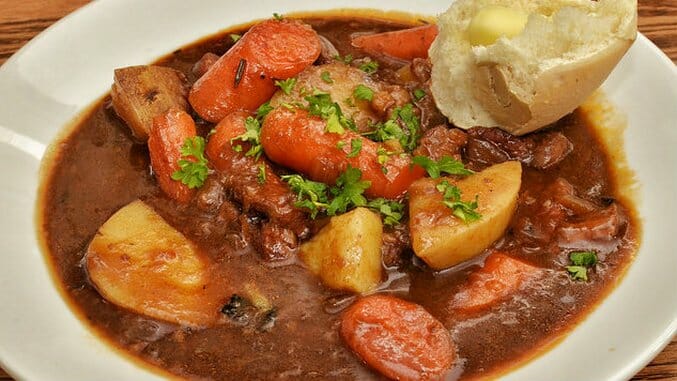 St. Patrick's Day takes place a week before Lent is over. Lent is the six weeks of the year when people of Christian faith would refrain from eating sweets, drinking alcohol, or any of that indulgent nonsense. So after several weeks of depriving yourself, it's no wonder that St. Patrick's Day devolved into an all-out booze fest.
These days, there's a movement towards celebrating an alcohol-free St. Patrick's Day however, with the likes of the "Paddy's Day Unlocked" event taking place in Dublin ("locked" is one of the many slang words we have in Ireland for "drunk"). When I still lived in Ireland, I'd avoid St. Patrick's Day gatherings, as they were all about excess and overdoing it.
If, like me, you'd prefer to eat your calories on St. Patrick's Day, rather than drink them, check out these five traditional Irish recipes.
Irish Pancakes
For a lighter start to the day, whip up a batch of these light and delightful pancakes, which are traditionally served rolled up, with just a squeeze of lemon and a sprinkling of sugar, the simple taste is but unforgettable.
This is the taste of an Irish childhood, wherein you'll be 10 again. We would usually make up these pancakes on, the aptly titled, "Pancake Tuesday," the tradition which stems from preparation for Lent. For religious folk, this was a day in early February when you'd use up those lovely baking ingredient staples in your kitchen, as you wouldn't be indulging in any treats for the Lent period ahead.
If you're not religious but you love pancakes, it's just Pancake Tuesday, and who doesn't love an excuse to make pancakes. A crowd-pleaser and perfect start for St. Patrick's Day. Here's a recipe I tried and rested recently, from the Irish Food Board.
Irish Breakfast Omelette
The typical "Full Irish Breakfast" is a plate piled high with pork sausages, eggs, rashers, black pudding, white pudding, mushrooms, beans, toast. Ridiculously chirpy Irish chef Donal Skehan does a grand job championing Irish ingredients and recipes, and the full Irish he makes is no exception.
Donal's take on the full Irish is an Irish breakfast omelette, which means you can include or leave out whichever ingredients you like. Here, Donal goes with rashers, black pudding and baby potatoes.
What are rashers? That's what we call slices of bacon. What's black pudding? Currently doing the rounds as a newly christened superfood, black pudding is erm … made from pig's blood and oats, sorry.
A lazy Sunday would usually be the day to tuck into a hearty Full Irish Breakfast, but it's allowed on a lazy St. Patrick's Day.
Buttermilk Soda Bread
Undoubtedly one of the simplest breads to make, and easily adapted with whatever extra ingredients you fancy mixing in, buttermilk soda bread is a plain pleasure. Try adding your favourite herbs or cheeses to satisfy a savoury craving, or sultanas for a sweeter bread. Simply let butter melt into thick, hot slices of soda bread fresh out of the oven, and you'll be an honorary Irish citizen on St. Patrick's Day.
I like to half-bake it, then slather it with toppings as if it's a pizza base, before finishing it off in the oven. Somehow the beautiful rise of the buttermilk dough lends itself to dollops of tomato sauce and mozzarella.
Or try mixing half white flour and half whole flour for a healthier loaf. This recipe is by Darina Allen, a leader in the Slow Food movement in Ireland, and founder of the Ballymaloe Cookery School in Ireland, which is run on an organic farm.
Irish Lamb Stew
We couldn't let you go without a dish of Irish stew. This recipe is by Rachel Allen, chef, cookbook author and daughter-in-law to Darina Allen. This lamb stew is a great dish for feeding a larger group, without being chained to the oven for the day. Like mashed potatoes, every family has their own favourite way of making a stew. Basically, fill your casserole dish with the meat and veg, and leave it to do it's thing in the oven. Whether or not you believe that searing your meat will keep the juices in, Rachel advises doing so here before stewing.
Chocolate Guinness Cake
We would only trust Nigella Lawson with baking The Black Stuff into a luscious cake. Savour the taste of Irish stout without having to actually drink it, in this Chocolate Guinness Cake. The flavour notes develop from the roasted, unmalted barley of the stout, and the typical tanginess that Guinness is known for. The genius of this recipe, apart from being scrumptious, is that it replicates how a pint of Guinness actually looks once its creamy head settles, with cream cheese frosting taking the place of that creamy 'head'. Pour me … ah, cut me another!
Elizabeth Rushe is a freelance writer and photographer from Ireland, living in Berlin. She bakes a mean Irish soda bread. What's that you're eating? Answers to @elizafoxxx.
Main photo by jeffreyw CC BY and Maurina Rara CC BY