For whatever reason, it always seems as if our refrigerators are more full of condiments than actual food. You probably already have lined that precious door shelf real estate with condiments, sauces, and pestos of all kind, if only because you needed just a tablespoon of red curry paste or a quick squirt of hot sauce for an interesting recipe. Still, there are plenty of condiments that are worth clearing out a little shelf space for.
One of those is always mustard. Mustards are incredibly versatile — perfect for making sauces, spreading on sandwiches, or mixing into salad dressings — and last forever. The combination of mustard seeds (ground or whole), vinegar, and other flavorful additions is often exactly what your meal needs to go from good to great. We've rounded up 10 of our favorite mustards — from the fancy to frivolous — that you should add to your cooking repertoire immediately.
White Castle Düsseldorf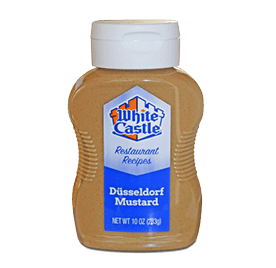 As a sort of mix between spicy brown and Dijon mustard, Düsseldorf is pungent, flavorful, and a little bit malty. It's made with yellow and brown mustard seeds, boozy vinegars, salt, and sugar, and the city in Germany has actually filed an application with the European Commission to secure "protected geographical identification status," like French Champagne. If you grew up on the East Coast, you're probably already familiar with Düsseldorf mustard via stoner heaven White Castle, which sells its own remarkably solid brand of mustard in stores. (Hint: if you've moved away from White Castle, you can bid on bottles of Düsseldorf on eBay!)
Edmund Fallot Whole Grain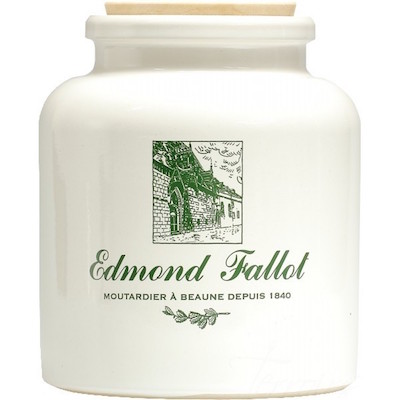 Whole grain mustards are seemingly always en vogue with chefs — ever-present on charcuterie boards and featured in sauces — but for whatever reason, we don't seem to buy those mustards for our own kitchens. Once you've purchased your first stone crock of spicy and complex Edmund Fallot whole grain mustard — David Leibovitz's personal fave — you won't be able to go back to plain yellow French's. Spread it on sandwiches, mix into homemade Caesar dressing, or just eat it from the spoon.
Chinese Hot Mustard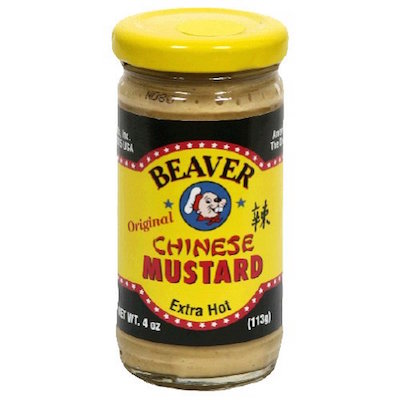 You've probably ignored those weird yellow packets of mustard that sometimes come with your Chinese take-out, but you're missing out on a spicy way to punch up basic dishes like stir-fries at home. Those packets of Chinese hot mustard aren't the best iteration, but Beaver's award-winning Extra-Hot Chinese Mustard is a condiment with a cult following. Unless you're really into spicy food, a dab of this will definitely do you.
Trader Joe's Dijon Mustard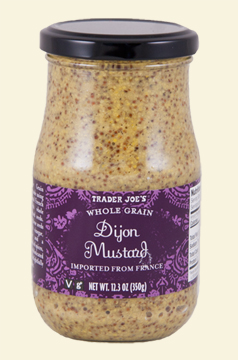 Grey Poupon is most people's preferred Dijon of choice, but you don't have to go name-brand to find a really great Dijon mustard. Trader Joe's, that standby of inexpensive specialty and gourmet foods, sells a really damn good Dijon that is incredibly cheap. This Dijon is actually made in France, and has a punch-you-in-the-mouth spiciness that is great on sandwiches or spread over grilled pork chops. And, at around $2, you can afford to go through a jar a week.
Ba-Tampte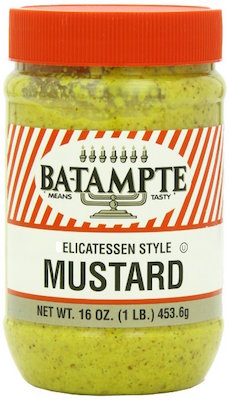 Even if you've never even tried Yiddish food, Ba-Tampte is the deli mustard of your dreams. Delicatessen mustard is made with both the mustard's seeds and bran, which gives it its own unique flavor that isn't really like any other mustard. It's a cult favorite among those who frequent the East Coast's Jewish delis, perfect spread onto a a plain sandwich or a juicy grilled sausage. Order it online if you've transplanted to a new city and can't find it on any grocer's shelves.
Inglehoffer Smoked Applewood Bacon Mustard
Bacon improves literally everything, and mustard is no exception. This mustard is only slightly spicy, plenty smoky, and has a creamier texture than most mustards you'll find. Spread onto a burger or simply served with crudite, you're going to want to buy this mustard in bulk. It manages to pack more rich flavor into a mustard than you ever thought possible.
Stone Pale Ale Mustard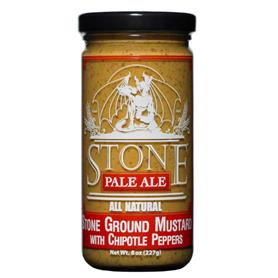 Beer and mustard are naturally great together — think bratwursts, beer, and a healthy smear of whole grain — but when you add the beer to the mustard, things really start to get interesting. Many breweries have started incorporating mustards into their repertoires because it just makes sense — the addition of a hoppy pale ale to mustard seeds is damn near magical.
Amy McCarthy is Paste's Assistant Food Editor. She enjoys cooking, lipstick, and yelling about various things on Twitter @aemccarthy.