Summer may be the heavyweight champ of the fresh produce game, with its showoff market stalls overflowing with berries, corn, and stone fruit…but spring? Spring has a way of coming quietly, almost as if it is blissfully unaware of how long we've been waiting for a taste of everything tender and green after months of hardy squash, root vegetables, and everything dried and preserved. For much of the United States, winter's been a brute this year—but our reward is on the way. Here's how to make the most of spring's bounty (not including Shamrock Shakes).
1. Radishes.
The obvious use for these is adding a spicy crunch to salads, or shaving them over Mexican food. You could also go the French route, serving sliced radishes with crusty bread, good butter, and flaky sea salt for an appetizer or a très simple lunch. Being a root vegetable (yet too cute to be lumped in with turnips and beets), they are also a natural match for roasting, which nixes the bite and brings out a mellow, earthy flavor. Exhibit A: This roasted radish and spring onion salad.
2. Leeks.

Leeks mostly get one treatment in the kitchen (the sauté pan), but they are actually quite versatile. Shaved raw leeks, for example, add a gentle onion-like flavor to spring salads. That said, if you need to bridge the gap between winter and spring, leek and potato soup is a wonderful choice for rainy, chilly days. On the other hand, if you're already enjoying t-shirt weather, vichyssoise, a classic French potato and leek soup served cold, may need to make an appearance on your table this spring.
3. Artichokes.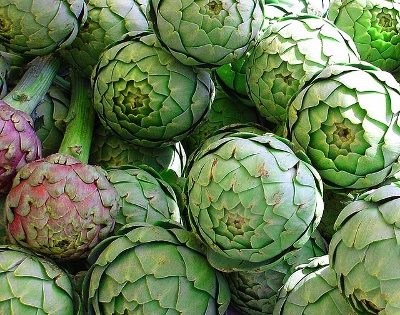 Flickr/Matthew Robinson
Frozen artichoke hearts are available year-round for your dips and pasta, but prepping and eating fresh artichokes, in all their spiky glory, is an event in and of itself. For springtime dinner party ideas, look no further than a boiling pot full of bobbing, spiky green bulbs as your focal point, alongside plenty of dipping sauce (or an assortment of condiments, if you roll like that). Think crab boil, vegetarian style—the messier, the better. For extra points, take this party outside, to the grill.
4. Rhubarb.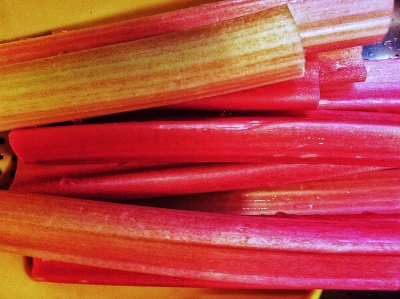 Rhubarb is much more than strawberries' second fiddle in pies. It is a natural in savory dishes, particularly as a sidekick to pork—tangy chutney like this rhubarb-ginger one and a good pan-fried chop are made for each other. Of course, rhubarb is still irresistible in desserts, whether strawberries are around or not. In the Pacific Northwest, for example, apples are still showing up full force in farmers' markets. That means rhubarb, apple, and ginger crumble, all day.
5. Nettle.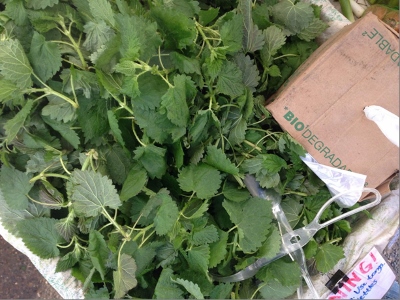 Grocery stores generally do not leave rash-inducing produce out in the open for the unsupervised general public, so a trip to the farmers' market is your best bet for finding nettle. The flavor of blanched or sautéed nettle is worth the risk. It is much like that of spinach but with a pronounced "green" quality; some describe it as slightly cucumber-like. A light pasta dish happens to be the perfect showcase for it.
6. Asparagus.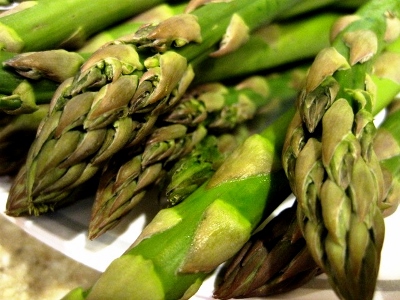 As far as good-looking spring produce goes, little can compare to the wide curl and green/white contrast of shaved asparagus. It makes a gorgeous pizza topper, or an elegant salad. If that sounds like too much work, it might be time to break in the grill for the season with the simplest route to dinner perfection there is: a nice piece of fish next to a pile of slightly charred asparagus spears sprinkled with lemon juice, coarse salt, and fresh dill.
7. Fava beans.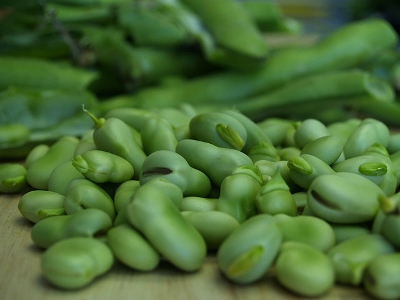 Flickr/luvjnx
There's little else in the culinary world as fussy as fava beans. First, they need to be blanched, then shelled, and only then are you ready to rock and roll. However, it's also true that very little else tastes as good. Much like with artichokes, cooking fava beans can be an event in its own right—invite your favorite people, shell some favas over a bottle of Sauvignon Blanc, and cook up a giant pot of peppered angel hair pasta with loads of spring goodness. There are probably 45,839 different ways to celebrate coming out of hibernation mode, but this is guaranteed to be the most delicious one of them all.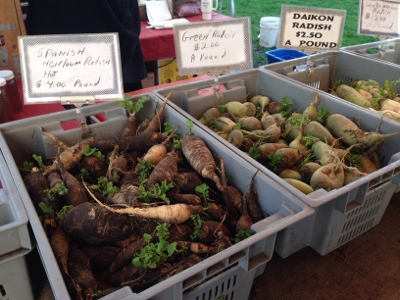 Danguole Lekaviciute cooks, eats, and drinks in Portland, and also really needs to know if you're gonna eat that pickle spear. You can check out her food blog here, or come say hi on Twitter.