A Craze for Flavor: Pushing the Envelope with Glazed & Confuzed
The innovative creations of this Denver donut shop go way beyond topping donuts with sugary cereal
Photos courtesy of Glazed & Confused
Food
Features
Josh Schwab's creations at Glazed & Confuzed Donuts have quickly become a staple of the Denver donut scene. Schwab got his start selling donuts at farmers' markets and local cafes, then opened a brick and mortar location in 2013. With donuts ranging from chipotle to root beer float, it is easy to understand how Glazed & Confuzed became so popular, but Schwab cares about more than unique flavor combinations. Using natural, organic, and local ingredients is just as important as coming up with good flavors.
Schwab's love for donuts started with a family tradition of his grandfather bringing a dozen donuts to Sunday dinner. After completing his culinary training at Le Cordon Bleu in Pasadena, California, Schwab moved to Hawaii and worked as a baker and chef at Roy's Hawaiian Fusion, where he was able to experiment and learn about different flavor combinations.
Schwab moved to Denver and started working at The Hole, a gourmet donut and beer shop that didn't last very long, but was where he first realized that there was more to donuts than just the basic glazed. After a stint in real estate, Schwab decided to make a batch of donuts and try his luck at a farmers' market. He sold out that day and every day after, and to the delight of their devoted customers, finally opened a store on Leetsdale Drive in Denver.
There is a method to the madness beyond throwing flavors together and seeing what happens, and I wanted to get some insight into the donut design process. I took a trip to Glazed & Confuzed to talk to donut artist Josh Schwab and Sarah Hafdahl, the CFO, who is also Schwab's sister-in-law.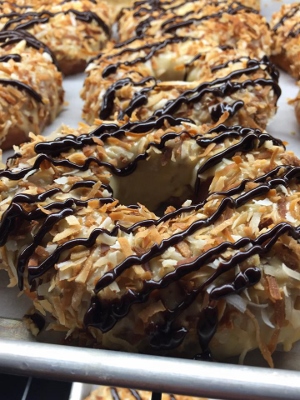 Paste: How do you come up with your ideas and flavors?
Josh Schwab: The first few ideas were from our favorite desserts, like the caramel apple donut. I also have a lot of experience building sauces with the most amount of flavor. For example, if I'm putting something together, I'll start with the brown butter, than add sugar, then cream. There are steps to developing flavors instead of just throwing something together. I also try to take basic ideas and make them a little more creative, like using macadamia nut butter instead of peanut butter.
Sarah Hafdahl: We also try to bring in traditional flavors from Hawaii, where we lived before moving to Denver, and we will try things that customers recommend, too.
Paste: How many times do you have to try out a recipe before it works?
JS: Every once in awhile, I get it on my first try, but a lot of our best donuts come from mistakes, like when root beer accidentally got poured into the chocolate and the chocolate cola donut was born. It also helps that I know the flavor profiles, so I have a good idea of what will go well together.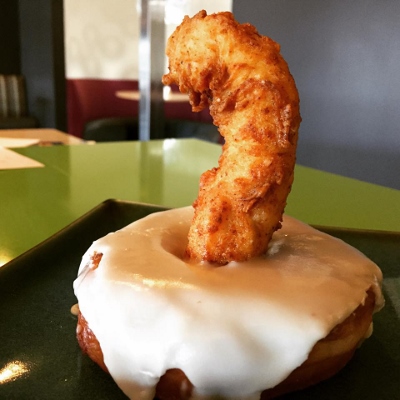 Paste: Where do you source your ingredients and why is that important to Glazed & Confuzed?
JS: First, we live in Denver. Ingredients and local sourcing is important to people. Also, donuts aren't the healthiest thing, but if there are a few things I can do to make it healthier, I'm going to do it. I know I'm doing the right thing when I'm making Glazed & Confuzed donuts.
SH: People want the natural stuff, and are becoming more aware that quality ingredients equal a better taste. We get Palisades peaches when they are in season, cream cheese, jelly, and flour locally. If we can't get it locally, we at least try to source it in the United States, with smaller companies.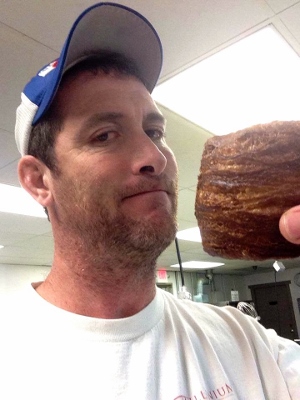 Paste: What have been customers' favorite flavors? What flavors have flopped?
SH: Our top donuts are probably Breakfast of Champions (maple bacon), Samoa (like the Girl Scout cookie), Rootbeer Float, and the Puffnutz, which is our version of the cronut. We have found that people either love or hate the watermelon donut, but people are usually just scared or intimidated to try unusual flavors.
JS: I was really surprised when our POG (passion, orange, guava and granola) flopped.
Paste: How is your style of making donuts different than other donut shops?
JS: We make fresh sauces and the dough from scratch. We also scrub the fryer everyday and keep it really clean.
SH: We hand roll and hand fry our donuts. You can't walk away from them for even a second or the donut is ruined. It would be easier and faster to use a machine, but people who know donuts notice a difference.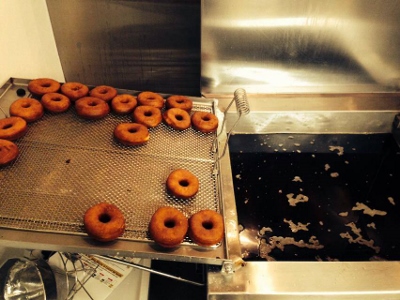 After trying Glazed & Confuzed donuts for myself, I absolutely tasted a difference. Somewhere between a fluffy raised donut and a cake donut, their donuts are a bit denser than a typical donut, and not quite as sweet. I asked Sarah if there are any other uses for Glazed & Confuzed donuts besides just picking them up and eating them.
"I make donut and egg sandwiches regularly. We are working on a chicken and waffles donut now, and have also been known to put a hamburger on them."
Abbie lives just outside Denver, Colorado and can usually be found running around outside, writing, or planning her next adventure. She is a freelance writer and life coach who loves to explore environmental and animal rights issues, food culture, and the human experience through her writing. You can find out more about her at abbiemood.com or her blog, lifediscoveryproject.com