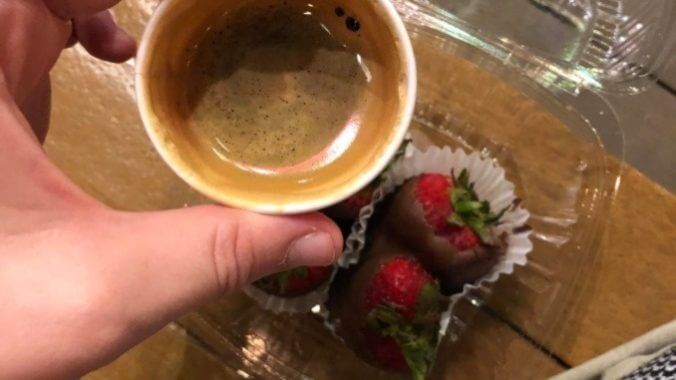 Boston may be known for many things, but its late-night food scene is not one of them. In fact, its late-night anything isn't one of them. Unlike New York City, just a few hours away, Boston shuts down painfully early in the evening; finding a place to sit down and eat an actual meal after 10 p.m. is a legitimately difficult task. And after midnight? You can pretty much forget it. There are barely a handful of spots in the city that serve anything more substantial than fries and wings past midnight.
Boston's North End, known as a hub for Italian-American cuisine, isn't an exception—most of the neighborhood's food spots close down as early as the other restaurants in the city. But tucked away on a quaint street in the center of the North End sits Bova's Bakery, a shining beacon of hope for anyone in Boston who's looking for carbs past 10 p.m.
The first time I ever visited Bova's, it was an accident. A friend was visiting from out of town, and we'd been drinking at a nearby cocktail bar. Not yet ready for the night to end, we decided to explore the neighborhood, enjoying the architecture that, for a few blocks at least, made us forget we were in the U.S. The streets were quiet, and the small businesses lining the streets were all closed for the night, the occasional server smoking one last cigarette in front of the building before locking up.
We then turned the corner and witnessed a line snaking out of a small but brightly lit shop. Not only was Bova's Bakery open, it was busy. Clearly, they were doing something right. As my friend and I gazed through the window, we saw cases stuffed with pastries and baked goods promising a reprieve from the late-night hunger pangs that had started to plague me post-cocktail.
My friend and I stood in line, finally making our way into the crowded, noisy shop where bleary-eyed customers ordered fat cannolis overflowing with cream and dotted with miniature chocolate chips, glazed, fruit-topped tarts that looked too beautiful to even consider eating and whoopie pies decorated to look like cartoon characters. I was overwhelmed. In the late-night desert of Boston's food scene, it felt like Bova's was a mirage, a dream that I had conjured after going to bed with my stomach growling.
After considering a number of options before me, I finally decided to keep things simple by ordering a plastic to-go container filled to the brim with chocolate-covered strawberries, a dessert I believe truly embodies luxury. Despite the late hour, I also asked for a shot of espresso that I quickly drank while paying for my treats. Walking back to the train from Bova's, my friend and I snacked on the strawberries, and I felt that, as a new Bostonian, I had just discovered one of the city's culinary gems. Of course, I certainly wasn't the first one: Bova's Bakery has been around since 1926, first serving just bread and slowly expanding into the dessert haven it is today.
Now that I've lived in Boston for a few years, I'm more keyed into the late-night food scene. I know that jm Curley is the best centrally located spot for a nightcap and that Anchovies is where you go if you want late-night pasta and shockingly strong martinis. But still, when it comes to late-night snacks, Bova's is my favorite. If you ever visit Boston, I hope you too wander down the quiet streets of the North End until you happen upon those brightly lit cases overflowing with treats.
---
Samantha Maxwell is a food writer and editor based in Boston. Follow her on Twitter at @samseating.