We need to eat more bugs.
If population projections are correct, and most scientists believe they are, Earth will be home to 9 billion eating and pooping human beings by 2050. That's a lot of mouths to feed, and they're going to need protein.
We can keep feeding grass and grain to cattle, and hope there's enough hamburger to go around, or we can get inventive and efficient. And a little icky. This is where bugs come in.
Entomophagy, as eating bugs is called, is nothing new. Millions around the world already eat crickets, caterpillars and beetles. And unless we all start drinking more Soylent, the rest of us might want to start stocking insects in the pantry.
But how do we begin fortifying ourselves on crunchy invertebrates? For the brave, those willing to cook mealworms and the like on their own, or eat roasted whole insects as they would nuts, there are plenty of options for ordering online. In the U.S., an increasing number of restaurants, usually Latin or Asian, serve bug cuisine.
Eating insects isn't just for cooking or a night out. Insects might already be in your grocery store in protein bar form, or a neighborhood baker might already be making pastries with edible bug flour. Here are six companies currently making insect-based edibles.
1. Chapul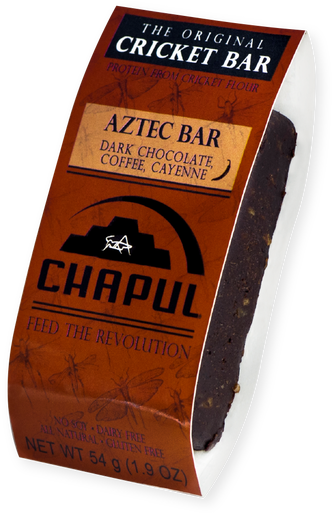 Having only recently celebrated its second year in business, Chapul dubs itself the "Original Cricket Bar." Whether or not that's true, Chapul is likely the bug-laden protein bar you've tried, if you've actually tried one. Based in Utah, Chapul found Pat Crowley even survived ABC's Shark Tank, which gave a entomophagy a bit of prime time spotlight. If Chapul can't be found at your local organic cooperative, order a box of either Thai (coconut, ginger, lime), Chaco (peanut butter and chocolate), or Aztec (dark chocolate, coffee, cayenne) bars online.
2. Bitty Foods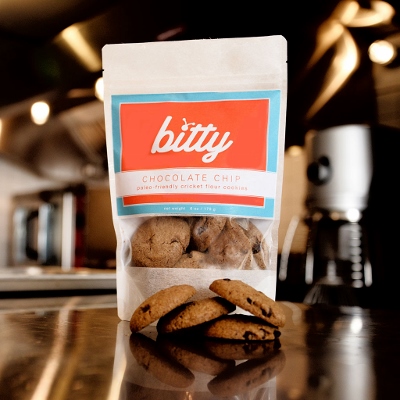 With TV chef Tyler Florence on board as spokesperson, and a duo of techworld veterans at the helm, Bitty Foods is anything but small. Bitty Foods specializes in cookies flavored three ways: Chocolate chip, chocolate cardamom and orange ginger. Order a bag online for $10, or a case of 12 for $108. If home bug-baking is more your thing, Bitty also sells its proprietary flour blend in 20 oz. packages.
3. Exo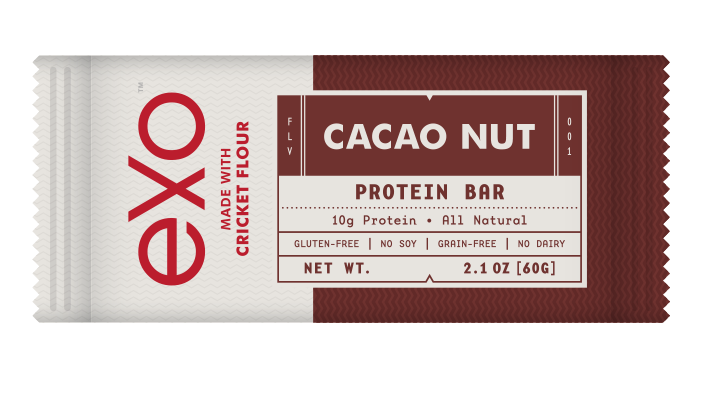 A relatively new startup with big time investors, Exo was started by Brown University graduates. (Note: Exo isn't the only edible bug startup begun while matriculating.) Founders Gabi Lewis and Greg Sewitz used a Vitamix to recipe test their company's first batch of cricket flour. The result is the well-funded launch of a line of cricket flour protein bars. Varieties include cacao, blueberry, apple cinnamon, and peanut butter and jelly.
4. Six Foods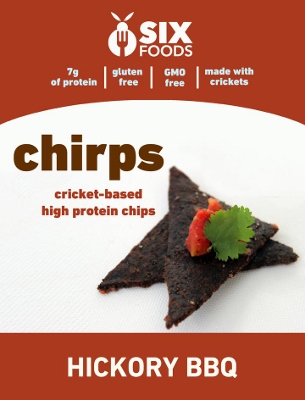 Thank Kickstarter for getting this chippy bug snack off the ground. Also offering cricket flour cookies, Six Foods is banking on the launch of Chirps, a line of chips made with beans, rice and cricket flour. Starting in February 2015, entomophagists can order Chirps in barbecue, sea salt, or aged cheddar flavors.
5. Next Millenium Farms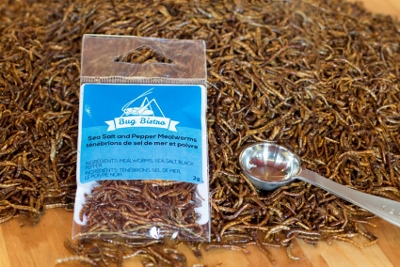 Based in Ontario, Canada, Next Millenium Farms is a one-stop shop for entomophagy enthusiasts. NMF prepares gluten-free and non-GMO lines of bug flour, and sells organic crickets in amounts as low as four ounces to five pounds. But the company's Bug Bistro line might be its meal(worm) ticket. Offered in BBQ, Moroccan, Honey Mustard, Sea Salt and Fire and Brimstone, the Bug Bistro line is whole crickets and mealworms with all the goupy insides roasted out. Meant to be snacked on like chips or trail mix, these treats retain their buggy shape and crunch. You are eating exoskeleton, after all.
6. Hopper Foods



Not as wildly successful in crowdfunding as Six Foods, Austin, Texas-based Hopper Foods is nonetheless on the market with a trio of bug-powered energy bars. With the underlying motto, shared by all bug bar makers, to increase insect consumption in the U.S., Hopper Foods is also trying out cool flavor combinations like kale, seaweed and ginger. The company also offers a berry and pistachio bar, and a peanut butter, cherry and cacao bar.
André Gallant is a writer and photographer based in Athens, Ga. He edits the food and farming zine "Crop Stories"cropstories.com, and blogs at www.andre-gallant.com.