The Food Film Festival, held in NYC, Chicago, and Charleston, S.C., just recently ended in Charleston and succeeded in expanding waistlines in a city already known for food. This festival is special. It is all about getting a taste of what you see on the screen. As one watches food-centric films from all over the world, there is usually a moment—be it a close-up shot of melting chocolate, or bread just out of the oven—where you think, "Mmm, I could go for some of that right now." The Food Film Festival grants that wish, because during each film, servers go through the crowd distributing samples of the very things you are watching. And then there's the after party, with more food and drink.
(If this works so well for food, how about that next Bradley Cooper film? Can you get him to sit beside me in the theater at the exact moment I am watching and wondering if he's single? Sigh. But I digress. For now, I guess we'll stick with food.)
This year, the festival debuted the Anthony Bourdain: Parts Unknown – Charleston episode before it aired on CNN, and this showing, of course, was the star of the festival. But there were more bites inspired by 16 other films, whose subjects ranged from a porn spoof on meatballs called Balls! to the story of a young farm couple that inspired plenty of tears.
Here are my top 5 tastes from this year's three-day festival, and the films that inspired them. You'll notice no veggies on this list. It's not that I hate veggies, it's just that the meat and carbs were the standout (thus the extra day of running this week).
1. Scott's BBQ Whole Roasted Hog (Anthony Bourdain: Parts Unknown – Charleston episode premiere)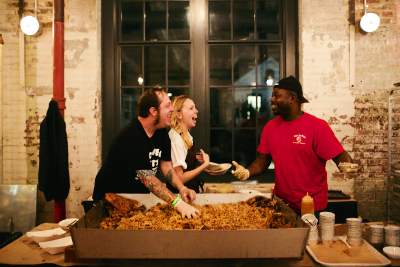 Olivia Rae James
If a pitmaster has rock star status, then Rodney Scott of Scott's BBQ that pitmaster. But it's not just because of his good looks, affable personality, or tendency to play Anthony Hamilton grooves while he cooks low and slow. Let's not forget the 'cue, which has a serious kick far removed from many mustard-based sauces synonymous with the region. He brought his rig to the festival, and his 'cue wowed both Anthony and the Food Film Fest crowd.
2. Waffle House Pecan Waffle (Anthony Bourdain: Parts Unknown – Charleston episode premiere)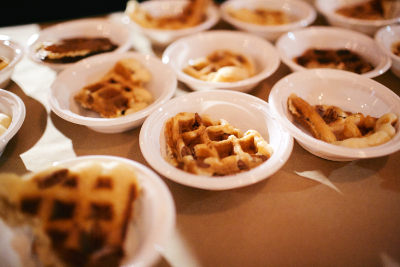 Olivia Rae James
Mind of a Chef Charleston Chef Sean Brock and Anthony Bourdain wax ultra-poetic during an extended scene at the Waffle House, and so the Waffle House crew came to us with smothered hashbrowns and my favorite waffle on earth, the pecan waffle. The fluffy goodness was just as excellent away from the diner, and I didn't need to be eating it at 1 a.m. to know its game was strong.
3. Tigelle by Root Baking Company topped with Culatello Ham, Porcini Salami, Charred Bread, and Whipped Lardo by Artisan Meat Share (AMS) (Ca'lumaco directed by Francesco Piras)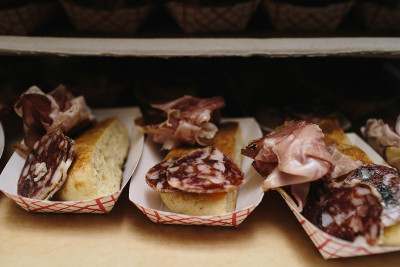 Melissa Toms
This film focuses on the Ferri family near Modena, Italy, as they carry on the traditional craft of butchery of the pigs they raise. There were no shots of killing, just sweeping Italian landscapes, sliced meat, and the family matron cooking this specific bread on a hearth. It was beautiful, and so was this bite. The bread was so perfectly chewy yet with a nice crust, and nobody does cured meat in Charleston like AMS, so the combo created a rippled murmur of delight throughout the crowd during the film.
4. Mirabelle Bakery Berry and Hazelnut Frangipane Tart (Slowberry directed by Mike O'Toole)
This tiny tart could have been syrupy and too-sweet, but instead, Pastry Chef Kelly Kleisner presented a really balanced and complex dessert, with notes of almond and a berry reduction that intensified the "berry-ness" with the perfect amount of sugar.
5. Farm Burger Decatur's Farm Burger (Happy Cows: Grass-Finished in Georgia directed by festival director George Motz)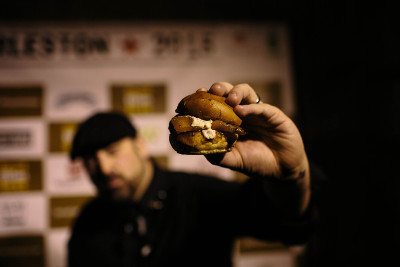 Melissa Toms
If you're familiar with TV personality and author George Motz, then you know the man loves some burgers. In fact, one of his official titles is "hamburger expert," so he wowed the crowd on the last night by sharing the story of one of his favorites, Farm Burger. In the process, I not only learned more specifics about how grass-fed benefits cow and person, but had one of the best burgers of my life. It was a petite perfect combo of squishy bun, delicious beef with that "seasoned roadside diner flattop grill char," cheese, and sauce. Damn, that George Motz has a good job.
Bonus: Best Sip: Coast Brewing Company Rye Knot American Brown Ale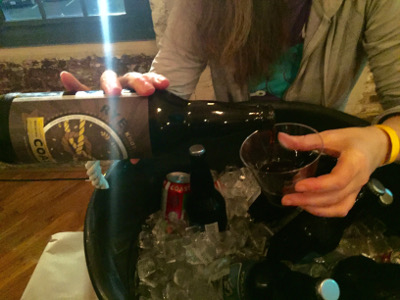 Stephanie Burt
Served in the after party to support Cultured Craft Beer directed by Tony Tassarotti, this was one of many beers served that night. It stood out because of its uniqueness among the group, which as you might suspect, had a lot of hoppy beers. This high-malt brew had nice notes of coffee, without having caffeine, and the owners cracked their limited bottle supply just for the occasion. Cheers.
Stephanie Burt lives and writes in Charleston, S.C. and lives her life by the mantra, "I could eat. Are y'all hungry?" You can find her in the kitchen, at the diner, or at @beehivesteph.
Main photo by Melissa Toms