Classic Real Housewives Moments in Food
The drama of throwing wine, starvation diets, and luxe tea parties.
Images from Bravotv.com
Food
Lists
It may be hard to believe, but the women of Bravo's hit reality television franchise The Real Housewives are some real food and drink lovers. They may not have the most admirable taste, but one thing is for certain: they do eat and drink, and they do it often.
If you aren't familiar with the Bravo series, the concept is simple. A group of all-female cast members is brought together. They have different and varying personalities, showcased as "normal, everyday" women, but this is far from the truth. Let's be honest: how many of us can say our job titles are assistant to P. Diddy (Heather Thompson, Real Housewives of New York) , or restaurant owner (several cast members), or model (many cast members)? Yeah, didn't think so. Throw in some drama and conflict, add in the Housewives all-time favorite drink of choice, Pinot Grigio (in season two of Real Housewives of New York, castmate Kelly Bensimon told fellow castmate Ramona Singer, "Your blood type is Pinot Grigio"), and you can bet your ass the sparks will fly. The series originated in Orange County in 2006, but has spawned spin-offs in New York, Atlanta, New Jersey, Miami, Washington D.C., and Beverly Hills.
If you're like me, you've probably watched the show and felt a little bit guilty at times. I like to remind myself that we're just living through all of the Housewives and their larger-than-life, over-the-top indulgences—food or otherwise. Below are some of the more important food moments in Real Housewives history.
1. Nothing compares to a Housewives dinner party.
If you can't throw a rich and fabulous dinner party in the universe of Real Housewives, then you're practically nothing in their eyes. Trust me, the glitz and glam of a Real Housewives dinner party is not like any dinner party I've ever thrown before—no paper plates or red Solo cups. They're filled with private chefs, food trucks, caterers and guest lists out the ying-yang. Real Housewives dinner parties are serious business.
Lisa Vanderpump (Real Housewives of Beverly Hills) invited all the women from the Season Three to a small afternoon tea party at her house to celebrate her British roots. Lisa hired event planner to the stars, Kevin Lee, to put together something a bit more fabulous than just scones and sandwiches, as "simple" is not in Lisa Vanderpump's repertoire. The guests feasted on cupcakes, macarons, pink champagne and fresh fruits.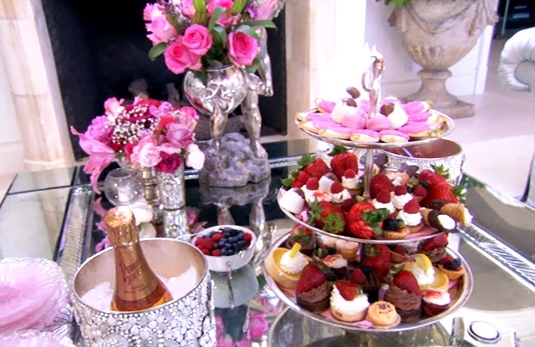 Which is quite funny, because Lisa has been known to poke fun at the rest of her castmates for, ahem, not eating enough.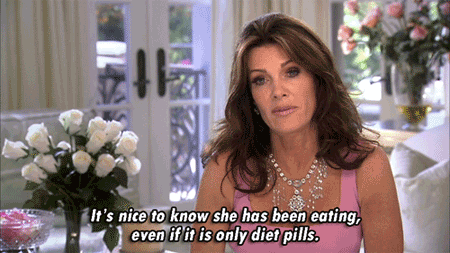 But if there is anything I have learned from watching the Housewives series, it's that a good dinner (or tea) party is much more likely to end in name-calling and table-flipping rather than hugs, kisses and congratulatory high-fives.
The best example would be in season eight when Tamra Barney (Real Housewives of Orange County) had a dinner party to launch the opening of her new gym, Cut Fitness. The party started off fine, but ended in complete chaos when Tamra dramatically kicked out castmate Alexis Bellino (her arch-enemy), screaming "FUCK YOU, GET THE FUCK OUT." Why? Alexis interjected in a conversation. How rude!
An invitation to a Real Housewives dinner party is never quite what it seems. If you think you're going for a fun evening out, think again. You're more than likely going to leave with a knife in your back.
2. Never forget family.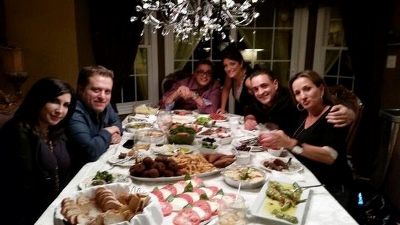 Love 'em or hate 'em, you simply can't choose your family. Families in The Real Housewives of New Jersey share a deep-rooted tradition of Sunday dinners, and they're very committed to ensuring these dinners happen.
In the New Jersey series, the family dinner is a fun night with no drama brought to the table. It can be a time for celebrations (for example, in Season Two the Manzo-Laurita family celebrated getting rid of Danielle Staub from the cast), it can be a time for serious discussion (in Season Three, the Manzo family discussed with the Laurita family how they were going to help get Ashley off criminal charges) or a time when family members introduce new partners (in Season Six, Teresa Giudice's cousin Rosie Pierri introduced her girlfriend Ellen to everyone). Nothing brings people closer together than food, perhaps we can learn something from the New Jersey cast. The majority of them cast are Italian-American, and it's been often noted that much of Italian life revolves around the family dinner table. Why say no to that?
3. Wine, wine, and more wine.
So much wine has been poured, sipped, drunk and gulped in every single spin-off of the Real Housewives, you'd think it was water. As religious watchers of the show know, Ramona Singer (The Real Housewives of New York) is addicted to Pinot Grigio and even has her own brand, Ramona Pinot Grigio. If that didn't show the true love and dedication to the grapes, Vicki Gunvalson and Tamra Barney (The Real Housewives of Orange County) began a wine club called Wines by Wives. Nene Lekes from The Real Housewives of Atlanta, meanwhile, will not show up anywhere unless there is food and liquor.
But sometimes when wine is involved, it becomes what is known as the "throwing wine." In this current season of The Real Housewives of Beverly Hills, hot mess Brandi Glanville drunkenly threw wine at newbie Eileen Davidson, for no apparent reason at all except that she wanted to feel like she was in a soap opera. In The Real Housewives of Orange County Season Six, Tamra Barney (she's a feisty one) threw a wine at her cast mate Jeana Keough for getting involved in her impending divorce. Apparently when words fail you, just throw wine. It's the Housewives way!
4. What was that diet again?
So being a Real Housewife means looking good, and there has been talk and suggestion of many bizarre diets in the past. For example, Yolanda Foster ("Real Housewives of Beverly Hills") met up with her cast-mate Kyle Richards in season three and told her all about the the Master Cleanse, which consists of a subsiding on a lemon, maple syrup and cayenne pepper drink for ten days. It's is supposed to clear out the sugar, alcohol and not-so-healthy foods from your system and then reboot your metabolism. Much like me, some of the other Housewives were um, skeptical.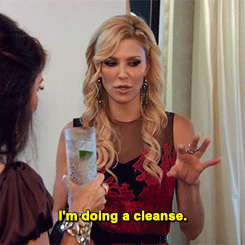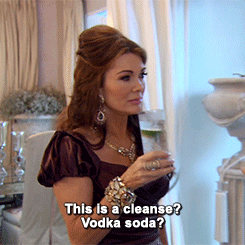 Other Housewives have introduced different approaches. Kelly Bensimon (Real Housewives of New York) created and wrote a book called I Can Make You Hot: The Supermodel Diet. The diet claims to help women lose five pounds in three days through a strict ban of oil, sugar, alcohol, salt, nuts and caffeine.
Whereas Lauren, the daughter of cast member Carolyn Manzo (Real Housewives of New Jersey) suffered through endless bouts of yo-yo dieting and ended up having a lap-band surgery. On the show, she documented her journey but also showcased the strict protein-and-vegetable diet and workouts she would undergo to maintain her "fit" body.
On the opposite end of the spectrum, Joanna Krupa (Real Housewives of Miami) shared in her first season how she struggled with an eating disorder for most of her young modelling career.
The only Real Housewives series that seems to get it is The Real Housewives of Atlanta. Eating just about anything, these ladies have really instilled confident body images for all. (Castmate Phaedra Parks has been quoted as saying, "I'm a connoisseur of finer foods. [Apollo] is not used to all this fancy stuff…he likes canned foods… he likes packed meats… he just doesn't care.") Perhaps the other Housewives should looks to these women for more positive examples.
5. Take on the food industry.
These women know how to hustle. Although many of these women have complicated relationships with food, a lot of them tend to have jobs related to the food industry. The Real Housewives of New Jersey star Teresa Giudice has written several cookbooks and has created her own sparkling wine, Fabellini. The Real Housewives of Beverly Hills star Lisa Vanderpump owns several noted restaurants, which has garnered their own spin-off series on Bravo titled Vanderpump Rules, filmed at Pump, Villa Blanca and SUR. Just recently, Jezebel writer Kara Brown did her own tour of them…with uh, rave reviews. (Prior to Housewives, Vanderpump co-owned over a dozen restaurants in London with her husband, so she has chops.) Bethenny Frankel from The Real Housewives of New York is famously known for her Skinnygirl Cocktails brand, which she sold off for $120 million.
Other ladies on the show also have hawked cookbooks, diets, wines, store-bought desserts and other food-related items. The Real Housewives name is a commodity, and apparently worth a bit of coin. Are these ladies legitimate tastemakers? That remains to be seen, but apparently they enjoy working in and being involved in the food industry in one capacity or another.
While the Real Housewives are a complicated bunch, they do have a deep-rooted love for all things food and drink. Their journeys may be overly dramatic and emotional, but it's fun to see how their over-the-top indulgences can mirror our own lives: diets, family gatherings, parties, etc. In some ways, while we use The Real Housewives for escapism, we can really learn a thing or two (like hustling harder and indulging a bit more) from them.
Just like food brings us together, so do the Real Housewives! Share with us your favorite food or drink moment from the series that we may have missed by commenting below.
Amanda (Ama) Scriver is a full-time community builder and official 'head bee in charge' of the food, fat and feminism blog, Fat Girl Food Squad. When she isn't busy kickin' ass and takin' names, she is having serious feels for all things coffee, hip-hop, the art of drag, Kardashians, pizza and Doritos. You can find more bylines from her at Eater, BizBash and Toronto is Awesome. Follow her on Twitter: @amapod.