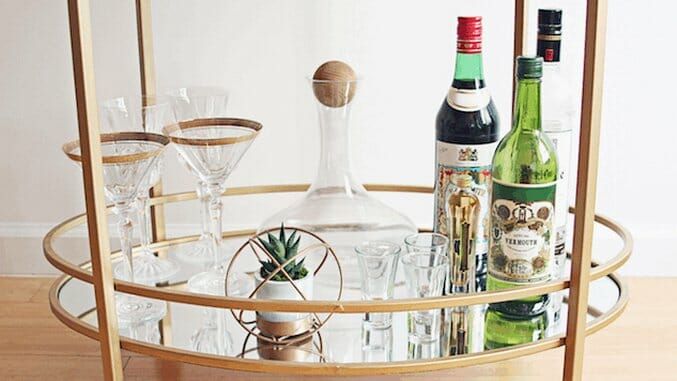 Did you know your at-home bar can multitask? It's not only capable of being there to mix drinks and cocktails – it can also be a part of making great meals. Recipes infused with alcohol have a seriously sophisticated feel to them for a good reason: the core flavors of booze, when used in cooking, infuse the other ingredients in the recipe to create more layers and denser undertones of taste.
Here are five great meals we like to make using the most basic at-home bar. You'll need only five bottles: tequila, vodka, rum, whiskey and gin – all in brands of your choice. If you're just starting to build your at-home bar, the internet abounds with advice. Note: All of these recipes are easy. We've included suggested side dishes and desserts for each meal, and some of these are ready-made.
A word of advice from an ex-chef and longtime home cook: Don't be afraid to cook. Dive in – if you mess up it's no big deal. And don't let anyone shame you for not making every single thing in any meal yourself. That's a thing, for sure, and it's just got to stop.
1. Margarita Chicken Quesadillas
This simple meal can be done in steps – buying the ingredients one day, making the Margarita Chicken the next, then putting it all together the day after. It's a great way to approach making dinner at home if you have a busy work schedule, because you really don't have to stress about time and doing it in parts can be almost mindless (which is not the opposite of mindful, merely a coping strategy). Serve with a simple green salad, vinaigrette alongside – and some fresh ripe strawberries for dessert wouldn't be a bad idea.
2. Pasta with Vodka Sauce
This recipe can be made very quickly for a nice weekday dinner or made more luxurious for a weekend by the addition of grilled shrimp or sun-dried tomatoes and peas. Other pastas can be substituted for penne or ziti, but remember – this sauce needs a pasta that can stand up to it. Serve with grilled asparagus with a squeeze of lemon. For dessert, go with sliced cantaloupe or a fruity sorbet.
3. Barbecued Rum Ribs
Remember to allow a good amount of time to make these. It's best to cook this on a day that's not scorching hot outside unless your air conditioning works really well because the oven will be on for a while, creating a lot of heat in the house. What to serve on the side? Easy. Your favorite baked beans and coleslaw. For dessert, chocolate and peanut butter ice cream.
4. Whiskey and Chili Jumbo Shrimp
Shrimp is a great ingredient to use when cooking with booze because its texture allows flavors to blend well and its flavor is distinctive enough to not be overpowered. If you're planning on serving this recipe to guests, be sure to check first to be sure they don't have any shellfish allergies and aren't afraid of getting messy. If you want to continue the casual theme with your side dishes, corn on the cob will work well, and maybe some perfectly ripe sliced tomatoes. For dessert consider a store bought or homemade Key lime pie.
5. Gin, Squash, Sage and Taleggio Cheese Risotto
There's something so elegant about risotto. It may be "only" rice, but somehow it becomes the epitome of the idea of living well when put together with ingredients that dress it up like Rihanna on the red carpet. This recipe does have a bit more cooking "technique" required than the others above, but the payoff is superb. The bacon can be left out of the recipe to create a vegetarian main dish. Serve with roast broccoli with lemon and garlic as a starter, finish with store bought or homemade baklava for dessert.
---
Karen Resta is a writer, a food culturalist, and a sometimes-fashionista who mostly loves ice cream and Brooklyn.