A Layer-by-Layer Breakdown of the New Official Burger of the Los Angeles Dodgers
Food
Features
Dodgers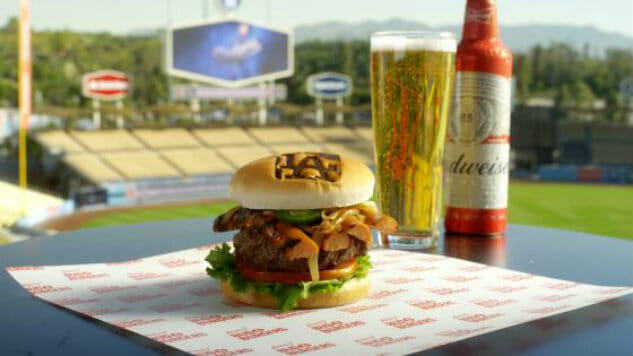 Photo courtesy of Budweiser
April in Los Angeles was a glorious month for baseball. On opening day, Dodgers Stadium was blessed with blue skies, 70 degree weather and pitching ace Clayton Kershaw on the mound. I suspect that thousands of people played hooky from work—it was a sold-out, 1:10 pm game on a Monday, after all—to watch their beloved boys in blue ultimately rout the San Diego Padres 14 to 3.
The Dodgers had a few more treats (of the toothsome variety) in store for the crowd, including new menu items like poke bowls and tricked-out tater tots. New Executive Chef Ryan Evans also seriously upped the dessert game at the stadium offering made-to-order funnel cake and churros and fair favorites deep-fried Oreos and Twinkies.
While the aforementioned items were all previewed earlier during media day at the ballpark, the Dodgers unveiled one last food gem on gameday: the Official Burger of the L.A. Dodgers. This hamburger is the perfect solution to a dilemma that plagues many fans at the concession stand—burgers or Dodger Dogs? With this Budweiser-sponsored creation, the answer is a no-brainer because eaters get both. Yep, a hot dog tops a ground chuck patty, along with fried jalapenos, caramelized onions, tomato slices, BBQ sauce in between a brioche bun.
If you think about it (and I have), this burger-dog is not only the answer for indecisive eaters, but it's also an edible homage to the city. I'll break it down through a rundown of its main ingredients paired with a little history on the side.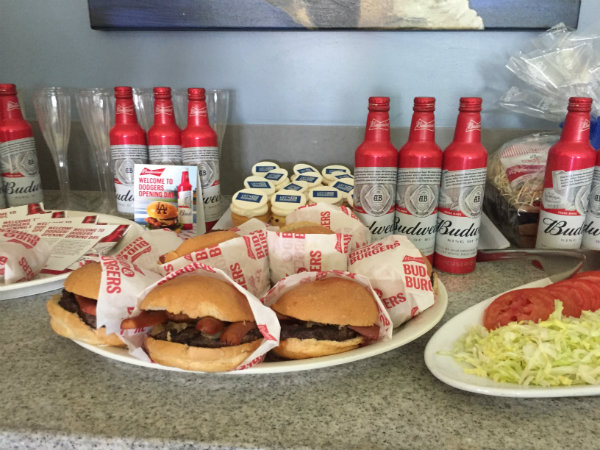 Photo by Christine N. Ziemba
Brioche Buns
For L.A.'s sophisticated hipster palates, the hamburger bun from Ralphs (aka Kroger grocery stores) won't do. Nope, the slightly sweet and more decadent French brioche better fits the bill. Not only has brioche become the standard for an upscale burger, but brioche was a luxury for the wealthy in Early Modern France who could afford the extra eggs and butter for this type of bread. Dodgers fans, you deserve only the best.
Farmer John
This Southern California-based meat company's hot dogs have been a Dodgers' tradition for more than 50 years. Farmer John introduced its Dodger Dogs in the late 1950s, shortly after the team moved here from Brooklyn. The hot dogs, served up in a steamed bun, have been a stadium tradition ever since. While the debate continues on steaming vs. grilling the hot dog (and you can get both at the stadium), purists prefer their dogs grilled. It's also the version used in the Official Burger, in a nod to tradition.
Certified Angus Beef Ground Chuck
While the origins of the hamburger are hotly contested, there's no disputing that the burger has become an American staple, right up there with apple pie. Google the origins of the hamburger in America and you'll read claims from Wisconsin, Texas, Pennsylvania, Ohio and points in between. The hamburger is a good symbol for L.A., since many residents aren't native Angelenos anyway.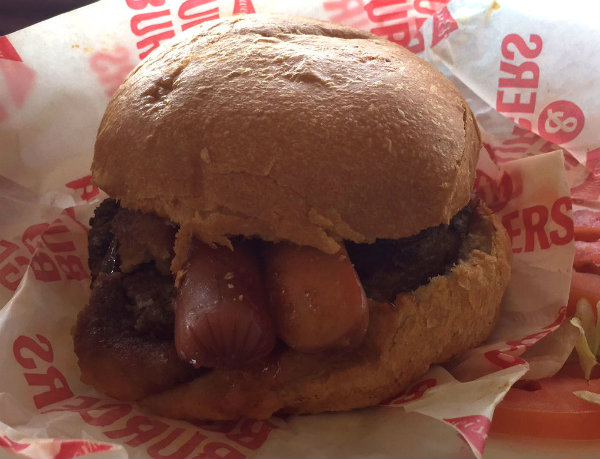 Photo by Christine N. Ziemba
Fried Jalapeños
Of course, the jalapeños are an homage to L.A.'s Mexican heritage. (The peppers were also featured prominently in the chili, cheese, jalapeño and salsa-topped "Doyer Dog," introduced in 2011). But I'd be remiss in not mentioning that it's an ironic little nod considering the contentious history of Chavez Ravine, where Dodgers Stadium now sits. In a CliffsNotes version: Chavez Ravine was home to a bustling a Mexican-American community that was taken over by eminent domain. The last longtime residents were forced to leave their homes with little compensation in 1959 so that stadium construction could begin. It's a fascinating, yet maddening story.
Condiments
Because everything is sponsored these days, and Budweiser helped create this Dodger Burger recipe, of course the recipe calls for a layering of the bottom of the brioche bun with Budweiser BBQ sauce, tomatoes, jalapenos and caramelized onions. I'll let the shilling slide this time just because the Dodger Burger was a palate pleaser. The slightly sweeter brioche complemented the spice of the jalapeño peppers, and the hot dog-on-a-burger was surprisingly tasty.
The Official Burger can be found in Dodgers Stadium's Bud & Burgers stand on the field level of the third-base line. It'll set you back $13.50, but it's par for the course at stadiums. Now, the only thing we're waiting for is an Impossible meat "bleeding" veggie burger patty and Field Roast frankfurter version (inside a gluten-free brioche bun, natch) to make it a truly next-level L.A. experience—but I can wait until next season.
Christine N. Ziemba is a Los Angeles-based freelance pop culture writer and a regular contributor to Paste. You can follow her on Twitter and Instagram.