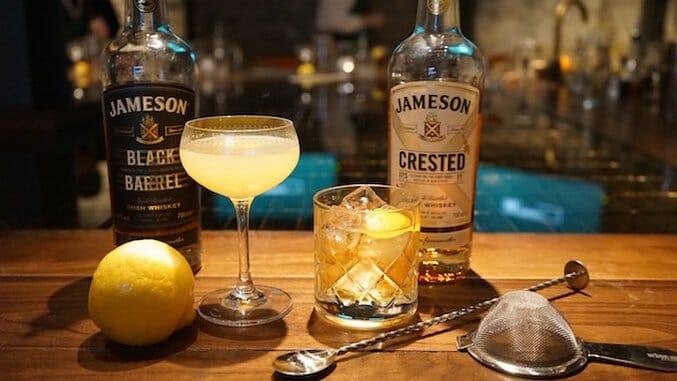 Europe may be all museums and cathedral tours for some, but when you're travelling to the whiskey epicenter of the world, Ireland, prepare to nerd out in the booziest way. Home to many a whiskey destination, Dublin City now boasts an impressive whiskey museum, cocktail school and brown spirits bar, all at Jameson's historic Bow Street home in the trendy neighborhood of Smithfield.
Though Jameson whiskey is now distilled a few hours south of Dublin, in Midleton (at a compound that's also open to tourists and whiskey geeks), the iconic Irish brand's beginnings point to Bow Street, where John Jameson, and his son, also John Jameson, established a liquor empire in the late 18th Century. In the decades that followed, The Bow Street Distillery became its own mini village in the decades that followed, housing not only a massive whiskey production site but also space for coopers to build barrels as well as blacksmiths, coppersmiths, engineers and more trade workers essential to running a massive whiskey production.
And though the distillery moved down to Midleton in 1971, the birthplace of Jameson still remains tucked into an alley in Smithfield, undergoing a massive renovation in September 2016 to create a beverage tourist's destination along the likes of Amsterdam's Heineken Experience and Atlanta's World of Coca-Cola— experience design firm, BRC Imagination Arts, is actually behind all of these liquid-themed destinations
This past St. Patrick's Day, Jameson's Bow Street Distillery reopened to the public, boasting an impressive bar, top notch gift shop (limited edition whiskeys!) and historical tour which lets you imbibe, learn and, well, drink some more at this institution that goes above and beyond the stuffy traditions of museum culture.
Photo by Melissa Kravitz
Beyond J.J.'s bar, which welcomes you into the historic space with a cold whiskey drink starting at 9:30 a.m., you can experience three distinct tours: The 40-minute Bow Street experience, which runs through whiskey history complete with a tasting comparing American whiskey and Scotch to the Irish booze; the 90-minute makers experience, a master class guiding you through a tasting of four distinct whiskeys with the opportunity to blend your own bottle; and the 90-minute shakers experience, arguably the most fun of all the opportunities, because you'll learn to make legit cocktails i.e. bartender quality cocktails you probably never thought you could make if you're accustomed to stirring Jameson and ginger together and calling that a drink.
The multimedia tour starts with an overview of the Jameson story, though you won't be reading any museum plaques or brochures for details. A tour guide will walk you through the Jameson story complete with light effects and projected historic recreations, which eventually lead you to learning about how whiskey is made, smelling and tasting the components that go into a bottle of whiskey and doing a short comparative tasting of the whiskeys from different regions. Warning: Listening to a museum audio guide anywhere else after this will be tough once you see how legitimately modern and interactive a museum experience can be.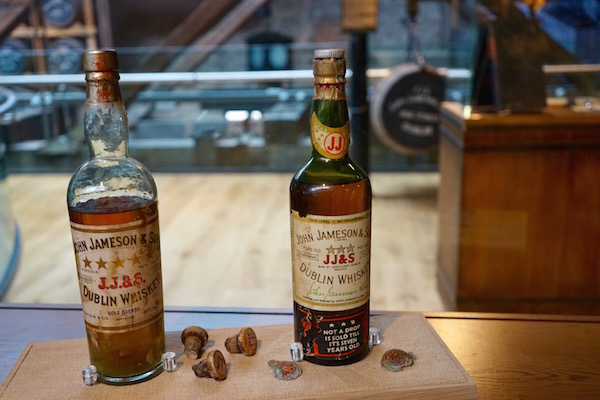 Photo by Melissa Kravitz
Following the condensed history and distilling lesson, groups of up to 16 are led to the Jameson Shakers room, where you can don an apron and start calling yourself a mixologist as a legit whiskey expert leads you through the making of three cocktails typically more suited to a bar menu than your home kitchen.
Having never worked behind a bar, I was intrigued at learning how to shake up egg white to create a foamy whiskey sour, how little details like adding ice to your glass and emptying it just before straining your cocktail in can make it taste crisp, how to gently stir the oft-coveted perfect Old Fashioned and how a little fresh ginger in a blended punch bowl adds a big kick. Though the short class didn't leave me a mixology expert, the ability to use professional tools (rather than, say, a butter knife to stir my drink in a wholly inappropriate juice cup), patiently follow a cocktail recipe and create appealing drinks rivaling what the instructor shook up provided an intriguing intro to mixology I'm eager to show off.
Click here to book tickets for the Jameson Distillery Bow St.
---
Melissa Kravitz is a writer living in New York. Follow her at @melissabethk.