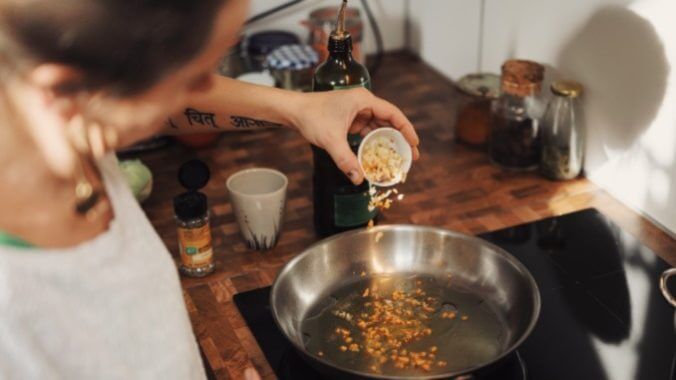 The act of tearing a fresh roti, twirling it into a cone and scooping up the right ratios of dal, meat or veggies is ritualistic. I didn't always feel this way—as a child, my mother's efforts to ensure we were connected to our Indianness outside India through food were often scoffed at—but the comfort a home-cooked meal brings me is core to my identity.
And it turns out I'm not alone. Home-cooked food is so essential to Indian palates; we crave it when we're away.
"Duuuude, all they eat here is bread and cheese and the odd bit of meat," a friend studying in Switzerland told me over a FaceTime call. My mother felt the same when we spent two months in a hotel when my father's work took us to Abu Dhabi in the early 2000s. Although Mum sought out every Indian restaurant near our hotel, she insisted it just wasn't the same, especially because most of these restaurants did the generic Punjabi-Mughlai fusion most people know as "Indian food" outside India.
Don't get me wrong, that sort of "Indian food" is delicious—and I like sopping up the reddish butter chicken curry with a garlic naan as much as the next person—but it's heavy, which is why it's not something that's eaten every day. It's "sometimes food." It takes longer to prepare, is often more demanding in both technique and ingredients and is largely not worth the effort. For most home cooks, it's not feasible to make at home. (Try as you may to recreate it at home, a naan made in a clay tandoor is better!)
So, when people make sweeping statements like "Indian food is heavy," I am equal parts grumble and gloom at how limited their understanding of India and its food actually is.
"Indian food," is both a monolith and a misnomer. Culinary traditions and sometimes even cuisines change every few hundred yards. From Sikkimese thukpa and momos to Keralite appams and stews, there is no one "Indian" food. Even biryani is wildly different depending on where it comes from. It follows, then, that the dishes that comprise "everyday food" change depending on where in India you come from (my heritage is best described as patchwork, with my grandparents each from different parts of India). It still goes without saying, however, that everyday Indian food is light.
And it's for this same reason that many hotels in India, especially those offering long-term stays to executives, offer a "ghar ka khana" ("home-style food") menu. "A home away from home experience, customized for those missing their mother's cooking," one such menu reads.
Where the monolithic "Indian" restaurant serves a flour-forward bread menu (naan, roomali roti), you'll likely see whole-grain rotis in homes, sometimes with indigenous Indian grains such as jowar (sorghum) and ragi (finger millet). Sometimes, there will be veggies kneaded into the dough (beetroot-pink and spinach-green rotis remain a personal source of immense joy).
After Abu Dhabi, I'd move to several other cities around the world, first with my family and then on my own. My tastebuds were subsequently introduced to an abundance of cuisines from all the places I've lived, and I've never really craved "home-cooked" food in the same manner my mother did.
I frequently crave laksa and Singaporean "carrot cake" and Emirati supermarket-style samoons (the softest, most cloud-like bread I've encountered to date, best enjoyed with whipped cream cheese). But I now cherish the feeling of sitting down with a home-cooked meal: a simple curd-rice, or khichadi (amazing for hangovers, in my opinion), a home-style chicken curry with roti. And few things beat tearing a steaming, will-burn-your-tongue-so-blow-on-it aloo paratha, gathering the right amount of the tangy-sweet green chili pickle that sits on the corner of my plate and tempering the combination with fridge-cold yogurt.
Even though I live in India now, food remains core to my identity, offsetting pangs of shame and guilt when I question my Indian-ness. This is the food I think of first when I think of "Indian food;" it's personal to me, just as it is to the billion Indians on the planet.
Akanksha Singh is a journalist based between Mumbai, India, and Lisbon, Portugal. Her work has appeared in Bon Appétit, CNN, Lonely Planet, Saveur and more. Read her work here, her tweets here, and about the time Nigella Lawson called her toaster oven madeleines "beautiful" over on Instagram.