When Heather Morgan and her family moved into a tiny house, they not only downsized their square-footage, but their fridge space as well. She, her husband Zach, and their two daughters are now eating out of a dorm-style mini-fridge—and absolutely loving it, although it has changed the ways in which the family purchases, stores and cooks food.
When the Morgans first married, they moved into a 900 square foot apartment in Louisiana, which soon filled up with their combined belongings. This was followed by similar experiences in increasingly larger homes, as they—both Zach and Amy were enlisted—moved with the Army.
Along the way, Heather became enamored with the tiny house concept, which was just becoming popular on minimalistic-lifestyle blogs and Pinterest. The square footage for a house to be considered a "tiny house" is debated, but the typical tiny home falls between 100 and 400 square feet, compared to the average US home size of 2,600 square feet. Heather liked the idea of downsizing, but after having her first daughter—and seeing how much space their current belongings took up—the tiny house just stayed a dream.
However, while deployed to Afghanistan, Heather lived in a 8-foot by 25-foot containerized housing unit, of which Heather only used about a third. "And it was at that point that I realized, 'You know, we could do this!'" Heather said.
The family had a specialized builder in Washington create a custom tiny house. It came in around 300 square feet and was built on wheels so they could transport it easily in the case of another transfer, which is how the Morgans ended up across the country at a campground by Elkhorn Creek, right outside of Frankfort, Kentucky.
There are a now a number of builders—like the one the Morgans used—who focus exclusively on "building tiny." For example Dan Louche, the founder of Tiny Home Builders. He says there are plenty of ways to ease the transition from normal-sized homes, especially in the kitchen where people have a distinct idea of what they want in that space.
"The biggest thing that I encourage people to do is invest in appliances that can be put away when they aren't being used so as not to clutter the countertops," Louche explained. "My mom actually lives in a tiny house, the very first one I ever built, and I got her an induction cooktop that she could store when it wasn't in use."
Another important tip for those looking to downsize is learning how to effectively use all available storage space. "An example just off the top of my head is a recent house we designed with stairs leading up to the sleeping loft," Louch continued. "In most normal houses that space underneath the stairs would either be nothing, or just a small closet, however in this one, the entire area under the steps was pantry storage."
The Morgans utilized these tips and more in their quest to go tiny. Here are some ways that cooking in a new home has been different than in a regular-sized kitchen.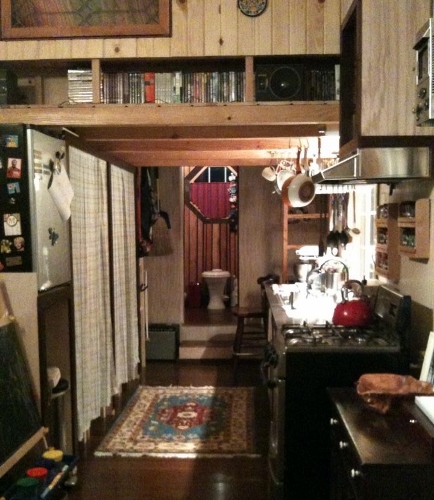 On Food Storage
According to Heather, food storage is always an issue regardless of house size.
"When we had a full-sized fridge, it was tough, even with weekly menus planned, to see everything and use it before it went bad," she said. This isn't an uncommon sentiment; a 2010 report from the Natural Resources Defense Council found that 40 percent of US food is wasted annually. However, using a mini-fridge has caused the family to rethink how they store food, especially frozen goods.
"It was easy to give up on ice cream, which is now just a treat we'll go out for, and we eat less sugar now as a result. It was harder to work around things like storing breast milk while nursing, but we made it through baby's first year nursing and just decided it was not practical to keep a large supply of that in our fridge," Heather said.
She continued by saying that having a little more experience as a mom the second time, she felt it was a relatively small risk to take, and that stockpiling milk as a first-time, working mom had been more of an "emotional safety blanket," anyway.
Heather said, "That applies to food storage in general. The food we keep for emergencies is not perishable, so a smaller refrigerator size cuts to the core of our tendency to just have food around 'in case.' After more than a year in our house, we notice less and less of that, because we have to be intentional about planning menus, and cooking what we planned. Less food gets wasted in the process, we think."
The Morgans' pantry is ample, and, according to Heather, this is one thing that can be prioritized even in tiny houses. That said, she keeps simpler staples than before. "I now leave the baking to more talented people, and so I have no need for a full compliment of sugars, flours or bakeware. Our shelves are adjustable, so if we need more room for food, we make it."
Heather does indulge in three 'convenience' foods for work mornings and fast lunches, when doing lots of dishes doesn't seem smart: dry noodles of various types, low-sugar breakfast cookies, and bulk, raw nuts mixed with dried fruit ahead of time.
"We don't have room for chips and drink mixes and empty calories like that. This has been good for our waistlines," Heather explained. "My one concession to baby foods has been crackers, and for about three months, puffed cereal. I keep canned fruit in its own juice, and some canned beans and veggies without sodium added, which I did not used to do." The family used to buy fresh, and about a quarter to a third of the produce would go bad before they could use it.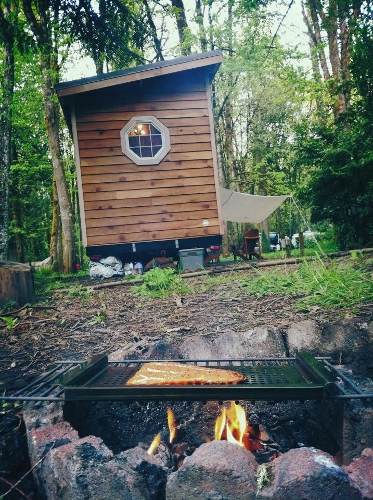 On Downsizing and New Kitchen Essentials
Initially, Heather and Zach though that their favorite kitchen gadgets—a standing mixer, a coffee maker, an espresso maker, a blender—were essentials that they would have to make room for in their new, down-sized kitchen. However, when you're tight on space, you have to reassess what is actually essential.
Easy answer: coffee.
"Zach learned that to roast his own coffee beans; he only needed a small-batch, dedicated cast-iron skillet, a handheld grinder, and a two-cup French press," Heather said. "We just upgraded, after a year, to a four-cup press because we have visitors and often like to make them coffee without having to do it in batches."
All this takes up less than the space that one small espresso maker might take up, requires no electricity and is easier to keep clean. Now, instead of the heavy, electric standing mixer and the blender, the family has an egg beater and a small hand-powered food chopper.
On Adjusting Family Meals
Since going tiny, Heather has been able to use a lot more fresh herbs and nuts in the family's daily repertoire, since they take up less space. These have been used to make fresh sauces and dressings for vegetables and whole grains, rather than dairy and meat-based dishes, which spoil sooner.
"Isa Does It is a vegan cookbook that has taken us on a real adventure, and we love eating less meat and dairy as part of a healthy diet, while still eating things we enjoy and that satisfy," Heather said. "I have started keeping new staples on hand: couscous, quinoa, pine nuts and pumpkin seeds, which we have gained a newfound respect for."
Before the family moved in, Heather downsized most of her baking stuff because she realized that, despite being enjoyable, it wasn't even on her top-five list of favorite hobbies, so it wasn't a great use of spare time or cabinet space.
"This was a relief to the competition for that space: books, fabric and sewing machine, and our board games, which we kept," Heather said. "We bake socially at grandma's, and support our local bakery when we need items we can't make."
On Adjusting to 'Too Many Cooks in the Kitchen'
"Especially with little ones, it doesn't matter how large the house is: I am magnet for other humans in our house. In our large site-built homes, we used to all end up in the same square-meter during peak times, such as morning and bedtime, making meals, and cleaning up," Heather said. "When it bothers me, I am reminded that these times and places in our routine draw us together: everyone wants to be in the kitchen because it smells so good, or what's going on in so interesting."
Heather thinks that the family's smaller space has helped them to differentiate chores a bit better, and there are fewer unmet and unspoken expectations. Zach enjoys cooking, so she cleans up afterwards. Heather also believes that being in a smaller space drives a greater appreciation of all the hard work that goes into preparing a meal for a family; you are in the same space where it is being created and see the effort put forth to create something meant to share.
"It builds our anticipation—and appetite!—before eating together, and people also have to work together and appreciate the act of clearing and cleaning up, because you can't move on to something else until it happens," Heather said.
In planning the home, Zach and Heather requested a long, functional counters pace and collapsible stepping stools so that, if needed, their entire family can participate in making a meal or cleaning up together.
"There are still anxious moments where I have a child on each leg while washing dishes, or where we have to wait for each other to step aside in order to put something away, but what we do with that moment of frustration makes a difference—humor goes a long way," Heather said. "We think it cultivates mindfulness and gratitude for each other and the process."
Ashlie Stevens is a freelance writer pursuing an MFA in Creative Nonfiction at the University of Kentucky. Her work has been featured at Slate, Salon The Guardian, and National Geographic's The Plate.